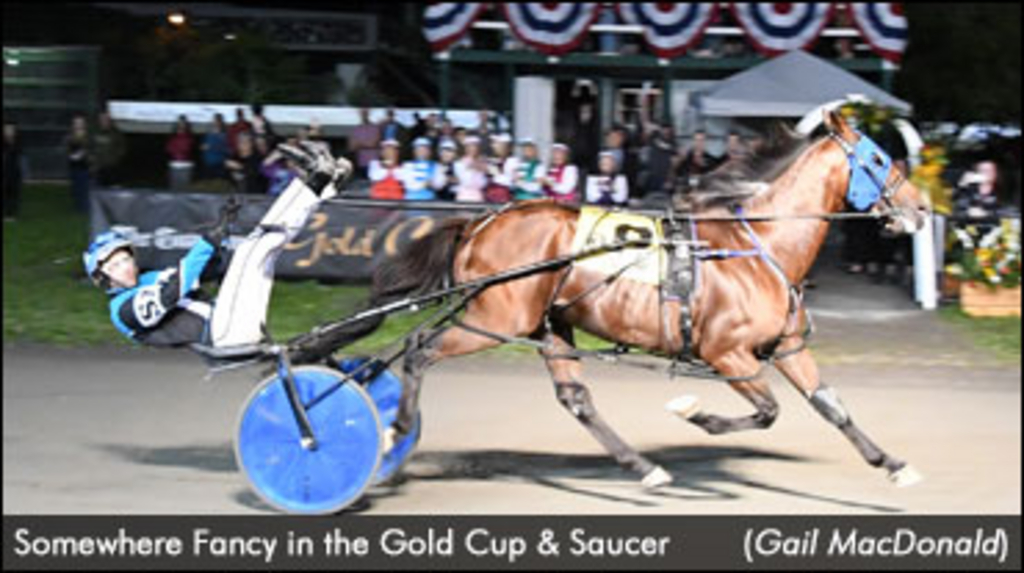 The Allard brothers provided a fancy finish to Old Home Week as they teamed up to win the 59th running of the $60,000 Guardian Gold Cup & Saucer with pacer Somewhere Fancy on Sunday night (August 19) at Red Shores Racetrack & Casino at the Charlottetown Driving Park.
Red Shores' signature race, which marks the conclusion of Old Home Week, was pushed to Sunday night following weather concerns on Saturday.
Owned by John Mehlenbacher of Oakville, Ont., Somewhere Fancy was one of two Trial winners in the race trained by Rene Allard.
The Allard-trained Bet On Brett established the early lead from post four ahead of the favoured inside starter Rockin In Heaven, but was looped by the even-money choice near the :27.2 quarter mark. Rose Run Quest got away third, with ASAP Hanover jumping off stride early on.
Meanwhile, Somewhere Fancy followed in fourth before Simon Allard made the winning move past the :54.3 half-mile mark. The seven-year-old son of Somebeachsomewhere advanced first-up to take command on the way to three-quarters in 1:23.1 and drew off around the final turn. He crossed the wire three lengths in front with Allard kicking up his heels in the bike. The final time was 1:50.4, just three-fifths of a second off the all-age track record.
Somewhere Fancy paid $8.30 to win as the 3-1 third choice while his stablemate ended up fifth. Rockin In Heaven finished second ahead of Rose Run Quest, with Always N The Money getting a fourth-place paycheque.
"It was a speed race, it was great. I love speed," said Simon Allard.
"Everybody knows in the Gold Cup they go a little crazy sometimes. I was hoping they were doing it because they're was no way I was going to cross over those guys [from post six]. It was great, I got away in a perfect spot. I got lucky."
The win was trainer Rene Allard's third in the Gold Cup & Saucer, following up his previous successful trips with Bigtown Hero (driven by Brad Forward) in 2014 and track record holder Y S Lotus (reined by Louis-Philippe Roy) in 2016.
Simon Allard prefaced his Gold Cup & Saucer triumph with a victory in the $6,500 Spud Island Classic Mares Open Pace aboard Ms Mac N Cheese for trainer/owner David Ratchford of North Sydney, N.S. The six-year-old Badlands Hanover mare notched her win fourth in a row on the east coast, scoring in 1:54.2.
Ms Mac N Cheese sat a loose pocket behind early speedster Dustlanemissmolly through a :27.2 opening quarter and :55.2 half before rushing by. She hit three-quarters in 1:25.2 with Ramblinglily approaching, but shook off that mare and then held inside closer Sodwana Bay at bay by half a length. Prettyndangerous finished third over Ramblinglily.
The Gold Cup & Saucer undercard featured the Joe O'Brien Memorial Stakes for three-year-old pacing colts and geldings. Sock It Away continued his perfect sophomore campaign winning one of the $10,000 Gold divisions for trainer Kevin MacLean and owner Reginald MacPherson of Stratford, P.E.I.
Sock It Away extended his win streak to 10 with a front-end effort in rein to Marc Campbell. The Panh Shui gelding left from post three and cleared inside starter The Colonel by the :28.2 quarter mark then carved out middle splits of :58.1 and 1:27.2 en route to the four and a half length victory in 1:55.1. Weekend Atnannies and Tobins Lightning rounded out the top three finish order.
In the other Gold division, even-money favourite Woodmere Ideal Art protected his pylon position into the first turn and led the field through a :29.1 first quarter and half in :58.1 before being confronted by the first-up Half Cut, who gained a short lead past three-quarters in 1:27.3. However, Woodmere Ideal Art fought back and then held off Flash In The Pang and Red Dirt Rebel in the stretch for the 1:55.4 victory. The Articulator gelding was driven by Jason Hughes and is owned by trainer Sifroi Melanson's Ultimate Stable.
Driver Jody Jamieson and trainer Blaine McKenna teamed up to sweep the $6,500 Grassroots divisions during the afternoon program with Easy Flyer in 1:58.1 and Hunger Pangs in 1:58.4.
Jamieson was awarded top percentage driver of Old Home Week and capped off his Sunday in Charlottetown with three wins in a row during the evening program courtesy of the George Rennison-trained pacer Distinctive Rusty, Open trotter Stan The Man from the Ronald MacDonald stable, and Alpine Claiming Series champion Young Man Matt, who was acquired by trainer/owner Terry Gallant in the second leg of the series.
"Any time I can be in Prince Edward Island for any event, any time of the year, I'm just ecstatic," said Jamieson. "It's been an amazing week."
The claiming series consolation was won by Unicorn Hanover and trainer/owner Patrick Shepherd, who drove him to victory.
Do Over Hanover provided Hughes with another highlight on the night, winning the $7,500 Atlantic Canada Invitational Pace in front-end fashion. Trained by Chris MacKay, the five-year-old Western Ideal gelding bested Winter Blast by one length in 1:54.3 for back-to-back victories. He is owned by Don MacRae of Vernon Bridge, P.E.I. and Allard Racing Inc. of Saint-Esprit, Que.
The Melanson-trained Keep Coming led all the way to win the $2,500 Premier's Pace in 1:54.1 with Robert Shepherd aboard while Ultimatelyhandsome went from last to first in the $2,100 Papermaker Pace, prevailing in 1:54.1 for driver Travis Cullen and trainer Brian Andrew.
To view Sunday's harness racing results from Charlottetown, click on the following links: Afternoon / Night.