The Saturday afternoon card at Red Shores Racetrack and Casino at the Charlottetown Driving Park featured Atlantic Sires Stakes action for three-year-old pacing fillies, with the betting public accurately assessing the most photogenic pacers in each of two $13,300 A divisions.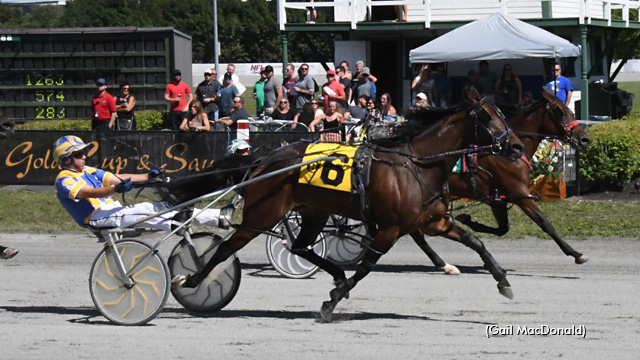 Give Bettim Jackie an A for effort as the pacing filly earned her victory in the first AtSS A division the hard way: first up for the majority of the mile while holding off the pocket sitter late. A returning-home Robert Shepherd was at the controls behind Bettim Jackie, who wore down pacesetter R Es Shabla (Mike McGuigan) and then held off the late bid of Tobins Terror (Marc Campbell) for the win by a neck in 1:55.2.
Bettim Jackie (Andreoli Hanover - Bettim Laura) is trained by breeder Jeff Lilley, who co-owns with Blair Maclauchlan of Charlottetown, P.E.I and Danny Purcell of Newport, N.S. She boasts three win in her last four starts after struggling to find the form she demonstrated over the winter months in Ontario. In 17 seasonal starts, Bettim Jackie now sports a 7-3-0 summary with $74,845 in earnings.
Also delivering as the public choice was Royaltywestho, winning her AtSS A division comfortably to close out the card.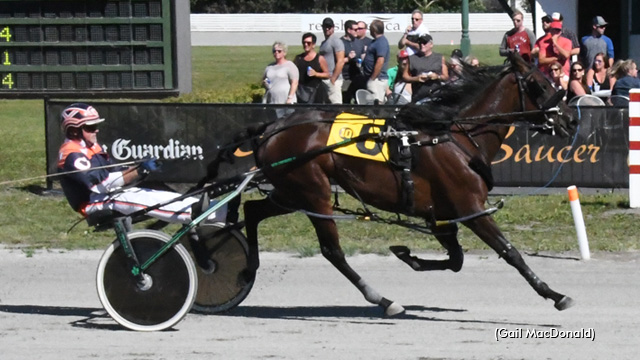 With regular pilot Walter Cheverie in the racebike, Royaltywestho made every call a winning one against her seven rivals. After clearing to the top through a :28.4 opening quarter, Cheverie received some front-end respect and stole a :30.2 second split for a :59.1 half. Chocolate Terror (Darren Crowe) tried to make it interesting with a first-up challenge heading into the half and through the 1:27.4 third panel but Royaltywestho gave her the cold shoulder and pulled away to a 1:56.3 score with more than two lengths to spare.
Royaltywestho (Westwardho Hanover-Lady Kelleigh Anne) is trained by Joseph Baxter, who co-owns with Gregory Francis of Windsor, N.S. Showing that same form that provided her with multiple stakes wins at two, Royaltywestho boasts an impressive 7-1-0 slate from eight sophomore starts for a lifetime record of 14-3-0 in 18 outings. The winner's share of the purse bumps her lifetime earnings to $83,916.
Three $2,500 B divisions were also contested on the Saturday afternoon program, with wins from Silverhill Misty (Jason Hughes; 1:58.2), Gigolos Rose (Hughes; 1:58.1) and Moramappo (Gilles Barrieau; 2:01.2).
Veteran campaigner Saulsbrook Quick also warrants mention for opening the card with a victory, the 60th of his career. The 12-year-old son of Quick Comeback, who made his pari-mutuel debut in September 2008, will make his 300th career start on Monday afternoon at Charlottetown.
To view the results from Saturday afternoon's card of harness racing, click the following link: Saturday Afternoon Results - Red Shores Racetrack and Casino at the Charlottetown Driving Park.