Amidst all of the Hall of Fame induction speeches and industry honours, the Monticello-Goshen chapter of the United States Harness Writers Association made its annual donation to the Harness Racing Museum & Hall of Fame on July 1.
Museum president Larry DeVan was on hand to accept the donation from longtime chapter trailblazer and current chairman of the board John Manzi.
DeVan noted, "The Harness Racing Museum is fortunate to have such a dedicated group of writers that have consistently raised thousands of dollars annually on our behalf. We are truly grateful, and appreciate the 'raise' as well!"
The amount of the donation has increased to $4,000 from past years, thanks in part to a new fundraising venture, the Iron Horse Poker Run, a recent motorcycle event that brought over 120 Harley-Davidson enthusiasts to Goshen's Hall of Fame.
Manzi outlined the efforts of the chapter over the last several decades, and noted that, "This is our Cooperstown, and we are proud to continue to support our Hall of Fame."
DeVan and Manzi were flanked by chapter secretary Janet Terhune, chapter treasurer and National president Shawn Wiles and chapter president Chris Tully.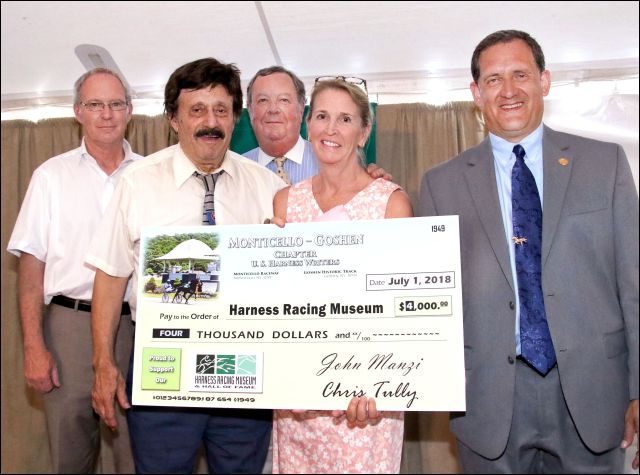 (Left to right) Shawn Wiles, John Manzi, Larry DeVan, Janet Terhune, Chris Tully (Mark Hall / USTA)
In addition to other efforts, a successful banquet and souvenir journal are the primary fundraising mechanisms which allow the benevolent organization to make annual donations to both Goshen Historic Track and the Harness Racing Museum & Hall of Fame, two separate and distinct entities that share the same hallowed ground and a mutual purpose of preserving and promoting harness racing.
This year's banquet will be the chapter's 60th annual event and will be held at the Fountains at Wallkill Golf Club on Sunday, December 2, 2018, with the main honouree being Frank 'the elder' Antonacci of Lindy Farms.
(USHWA)