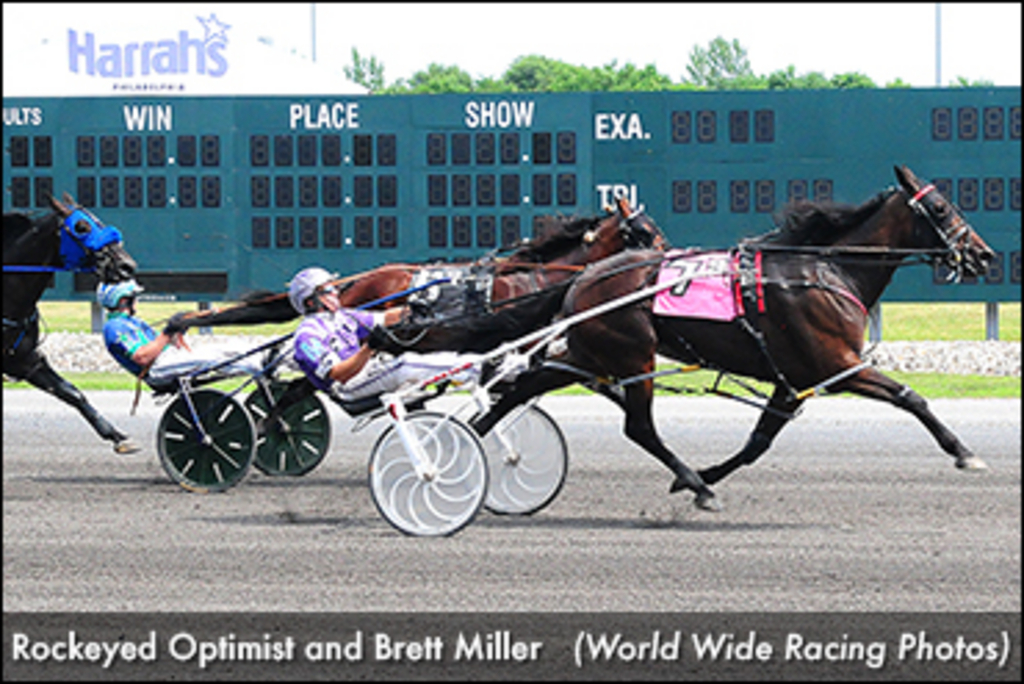 Rockeyed Optimist ($5.20) proved strongest of all in Sunday afternoon's (July 1) featured $30,000 Great Northeast Open Series pacing event at Harrah's Philadelphia, using an extended first-over push to wear down Emeritus Maximus for a 1:49.2 score.
Brett Miller put the seven-year-old Rocknroll Hanover gelding in play from the far outside as the gates folded, and the pair were able to land in third behind the pacesetting pair of Emeritus Maximus (Andy Miller) and Sunfire Blue Chip (Andy McCarthy) through a blistering :26 first quarter. On approach to the bridge turn, Rockeyed Optimist angled off the pegs and worked into a narrow second through a :54.3 half before turning up the pressure on the backstretch.
After Rockeyed Optimist forced a :26.3 third split, it appeared as though Emeritus Maximus would be able to parry his threat nearing head-stretch, but the longtime pacesetter was engulfed a sixteenth from home. Rockeyed Optimist surged to the fore in mid-stretch, holding off a late bid from pocket rival Sunfire Blue Chip by a length in 1:49.2. Robbie Burns N (Corey Callahan) rallied down the grandstand to finish third.
Jake Leamon trains 32-time winner Rockeyed Optimist for the partnership of Anthony Perretti, Virginia Berkner, the A and B Stable and Joseph Battaglia.
(Harrah's Philadelphia)