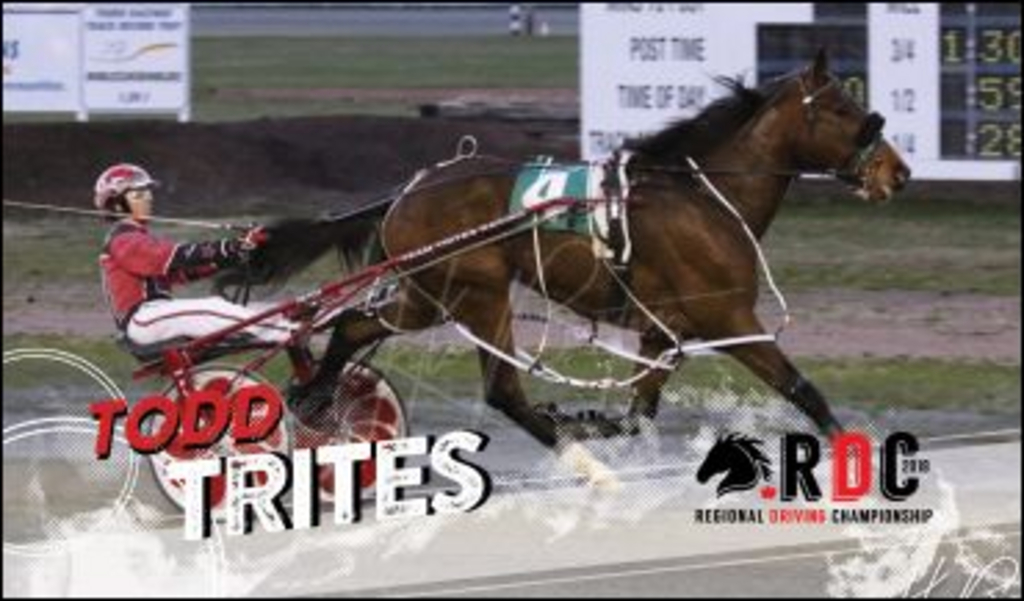 On Friday, June 29, Todd Trites, will be looking to advance for the first time to the National Driving Championship with a first or second-place finish in the Atlantic Regional Driving Championship at Truro Raceway.
This marks the third time the New Brunswick horseman has competed in the Atlantic Regional, but he's yet to advance to the Nationals.
"This is a great group of talent this year," said Trites. "Horses and draw will be a big factor and it should be wide open."
Trites does feel that being a regular on the Truro oval is an advantage. "Both Darren Crowe and myself have hands-on experience with a lot of the horses that will be in the event."
Trites, who was Truro's leading driver in 2017, works full-time as a foreman with NB Power. He's been with the company since 1998. "It's a great place to work and I enjoy the challenges. Good pension, benefits, and security, which takes the pressure off to provide for my family regardless of how I'm doing on the track.
"My family and home life is more important to me now than ever, as a father of four beautiful girls and grandfather to one very special princess. My heart is full! My wife, Paula, is my best friend and, as busy as we are, we always find time for each other. I hate missing a drive or card of racing, but perhaps making up for lost time I now try to take more time to spend with my family before they are all grown up."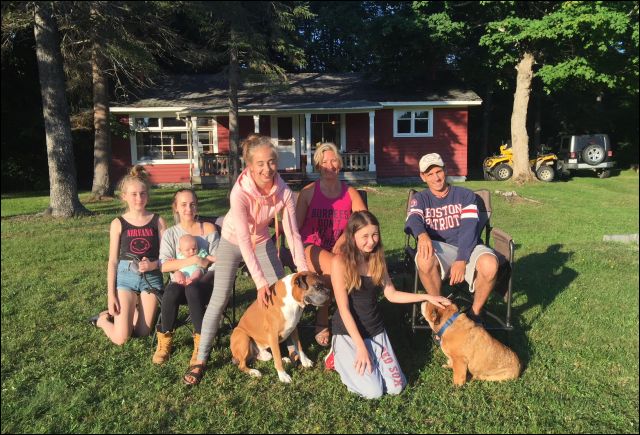 (Left to right) Todd Trites' daughters, Sidney, Taylor (granddaughter Lilah on her lap) and Stephanie; his wife, Paula; daughter Samantha; and himself.
The 2008 season was a campaign that stood out for Trites, as he won more than 200 races during the year. He drove 206 winners, most of them on the road, while sacrificing a lot of other things in the process. "I'm glad my dad was around to see it; he was a co-pilot for a lot of those road trips. I miss that…."
Todd's first driving win was, in fact, with a horse owned by his father, Angels Class. The memorable victory took place at Fredericton Raceway, his home track, in 1991, during what was his first season of driving (he tallied three wins from 25 drives that year).
When he's not driving horses, Todd enjoys golf, hunting, fishing, working in the woods, and anything he "can talk his wife into doing!"
During his 28 years of driving, Trites has recorded 2,220 wins and has driven his mounts to purse earnings of almost $3.5 million.
As for his 2018, he admits, "I'm on my third year of my 'retirement from racing tour,' according to what I've told my family. #Havewhipwilltravel was my hashtag before there were hashtags!"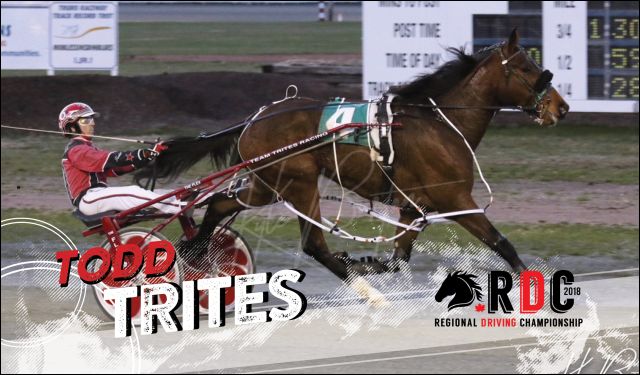 The Atlantic Regional Driving Championship will take place on Friday, June 29 at Truro Raceway, and racing starts at 6:30 p.m. In addition to Trites, the field includes will include Gilles Barrieau, Marc Campbell, Darren Crowe, Redmond Doucet, Jason Hughes, Gerard Kennedy, and Ken Murphy.
The eight drivers will participate in eight competition races. Each race will have a field of eight and each driver will drive from every post position.
Drivers will receive points based on their finishing position, and the top two drivers from the nine-race competition will join six other drivers at the 2018 National Driving Championship (NDC) at Grand River Raceway.
The winner of the 2018 NDC will have the opportunity to represent Canada in the WDC, and join 2017 World Driving Champion James MacDonald in the 2019 WDC in Sweden.
Following the Atlantic Regional, there will be one more event:
► Quebec / Eastern Ontario Regional (Includes drivers that compete regularly at Kawartha Downs and Rideau Carleton Raceway, in addition to Hippodrome 3R) Kawartha Downs -- Saturday, June 30
Trevor Henry and Louis-Philippe Roy finished first and second in the Ontario Regional Driving Championship, which took place on Wednesday, May 16 at The Raceway at Western Fair District, and have advanced to the NDC.
Kelly Hoerdt won Saturday's Western Regional with Jamie Gray finishing second and they also advance to the NDC. For complete information, click here.