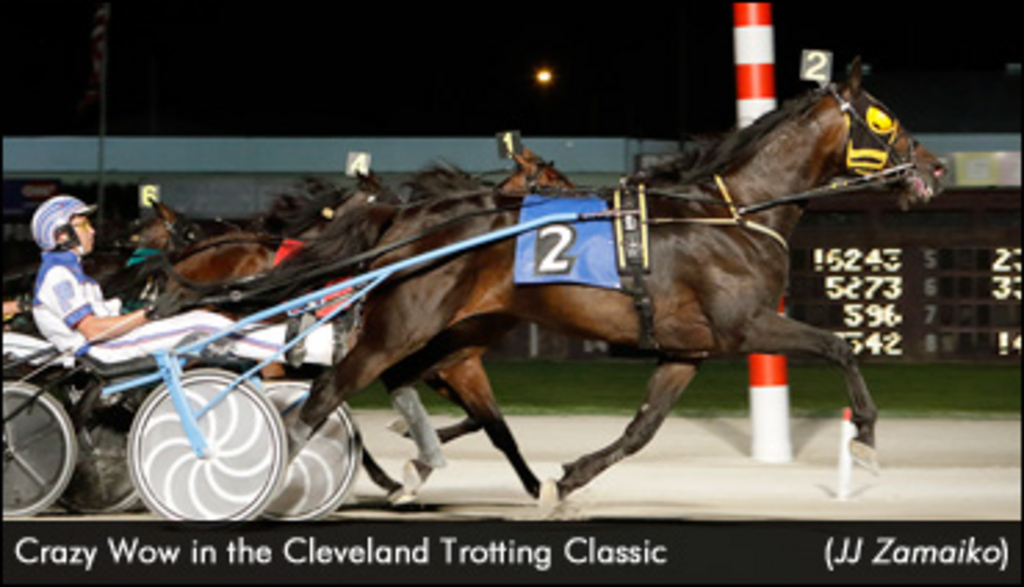 Ron Burke believes Crazy Wow feels at home in the Midwest. Chris Page is not going to argue.
"I don't know what it is, but I know I've had good luck with him out here," said Page, who will drive Crazy Wow for trainer Burke in Saturday's $200,000 Charlie Hill Memorial for older trotters at Eldorado Scioto Downs. Page teamed with Crazy Wow to win last year's edition of the race with a track record 1:52 mile.
"He was very good last year. What I like about him is you can do it anyway you want; you can be on the front, two hole, off the pace. There's not really a bad trip for the horse on the track. It's an honour to drive him. We'll see if we can keep the crown from last year. It's just a pleasure in itself to get the opportunity."
Page drove Crazy Wow three times overall last year, adding a win in the Cleveland Trotting Classic and a second in the Dayton Trotting Derby.
"I wouldn't say I fit the horse any better than anybody else, I think I just got to drive him when he was sharp," Page said. "He's been very sharp each time I've driven him."
For his career, the six-year-old Crazy Wow has raced 12 times in either Ohio or Indiana and posted six victories, three seconds and a third.
"This is a good spot; he likes those tracks," Burke said. "He did good last year in the Midwest and hopefully that will continue this year."
Crazy Wow, who has won 21 of 63 lifetime races and earned $2.27 million, will start the Charlie Hill Memorial from Post 3 and is 7-2 on the morning line.
Will Take Charge, who won the Maxie Lee Memorial at Harrah's Philadelphia in world-record-equalling 1:50.3 on May 27, is the 3-1 early favourite from Post 6. The field was also expected to include two-time Dan Patch Award winner Marion Marauder, but the horse was scratched because of sickness.
"It looks like Will Take Charge is the one to beat," Page said. "I drew inside so I hope to get a good trip in there. If I can work out a trip and get some fractions, that's going to help."
Page, an Ohio native, is second in the driver standings at Scioto Downs, behind Dan Noble. For his career, Page has won 4,241 races.
"I'm very fortunate to drive for Ron Burke," Page said. "That's the best account to have. He's got overnight horses for me to drive, he's got stakes horses for me to drive, and I even get a little Grand Circuit work. He's given me the opportunity to drive horses that growing up as a little kid in this business you just dream about watching. It's definitely an honour, to say the least."
Among the remaining horses in the Hill Memorial is In Secret, also part of the 'Burke Brigade.' In Secret heads to the event off a win in a division of the Great Northeast Open Series on June 3 at The Downs at Mohegan Sun Pocono. For the season, In Secret has won three of 11 starts while racing primarily at Yonkers.
Burke hopes a change in scenery will benefit In Secret, who will start from Post 1 in the Hill Memorial.
"Last week he was real good," Burke said. "I think he will be especially good from off the rail in there. I'm excited to see him race.
"I think he was a little bit bored with Yonkers every week. Yonkers is tough. It can be mentally taxing on horses, I think. For him to get away from there a little bit I think will be good and maybe breathe a little life into that horse."
The Charlie Hill Memorial honours Hall of Famer Charles Hill, who was the founder and former president and chairman of the board of Scioto Downs.
Racing begins at 6:30 p.m. (EDT) Saturday at Scioto Downs. Following is the field for the Charlie Hill Memorial with drivers, trainers, and morning line. The Hill is Race 7 on the card, with an 8:30 p.m. approximate post time.
(PP-Horse-Driver-Trainer-ML)
1-In Secret-Ronnie Wrenn Jr.-Ron Burke-8/1
2-I Know My Chip-Sam Widger-Walter Haynes Jr.-6/1
3-Crazy Wow-Chris Page-Ron Burke-7/2
4-Homicide Hunter-Aaron Merriman-Chris Oakes-8/1
5-Another Breath-Dan Noble-Jeff Johnson Jr.-15/1
6-Will Take Charge-Jim Morrill Jr.-Jeff Gillis-3/1
7-Charmed Life-Tyler Smith-Rene Allard-10/1
8-Smalltownthrowdown-Simon Allard-Rene Allard-8/1
(USTA)