Freshened by a month off, Looking For Zelda grabbed the early lead from Post 4 for Tony Hall and rolled home in a stakes-record 1:54.1 in a division of the $73,835 Currier & Ives for three-year-old filly trotters at The Meadows on Tuesday, June 6. The stakes was conducted over three divisions, with Mike Wilder and trainer John Butenschoen teaming to take the other splits with Nixie Volo and Bills Lady.
Looking for Zelda hadn't raced since finishing third in a May 4 Ohio Sires Stake at Miami Valley. Trainer Norm Parker said the vacation just happened to work out that way — and work for the best — for the daughter of Break The Bank K — My Winning Way K.
"Any time a filly has to ship down to near Cincinnati to race twice, it's a little bit stressful for her," Parker said. "The break was a good thing. She came back really good."
In the Currier & Ives, she thwarted the first-over bid of Msnaughtyashill and held off the Lightning Lane charge of Kenziesky Hanover by a half length. Msnaughtyashill saved show. The time knocked a tick from the previous stake mark established by Smokinmombo in 2015.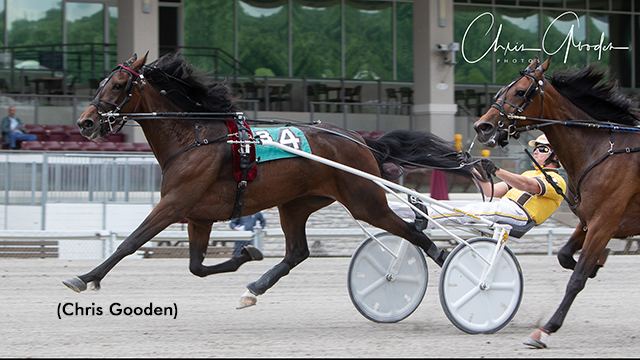 Parker said Bob Key's homebred, who lifted her career bankroll to $271,902, would next race Monday in an Ohio Sires Stake at Northfield Park.
Nixie Volo entered the Currier & Ives off a powerful 1:54.3 score in a Pennsylvania Sires Stake at Pocono, and bettors took note, hammering her down to 1-9. The daughter of Yankee Glide-No I'm Not did not disappoint, seizing the lead from post 6 and coasting to victory in 1:56. Donato's Jewel rallied for place, two-and-a-quarter lengths back, while Lady Palema completed the ticket.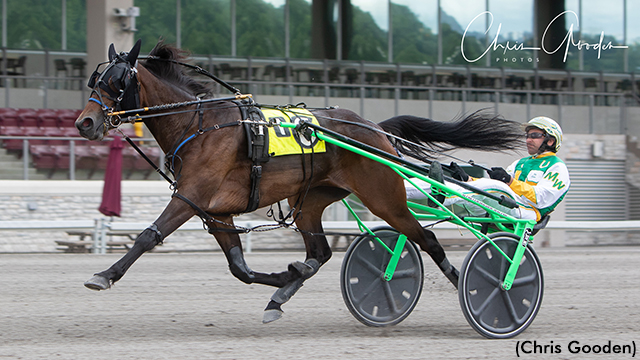 "I talked to John [Butenschoen] about her today, and he really couldn't tell me anything I wouldn't like about her," Wilder said. "I tried to keep her out of harm's way, and she did the rest. I think she has a pretty bright future."
Nixie Volo now has earned $127,486 for Kentuckiana Racing Stable, VIP Internet Stable and 83 Racing.
Bills Lady made it look just as easy, moving to the point past the quarter and opening a 4-length lead at the half. The daughter of Donato Hanover-Homefortheholidays cruised home in 1:56.3, one-and-one-half lengths better than the rallying Andovermizbrenda, with DBomb third.
"I drove her once last year and got her beat on the lead," Wilder said. "It was late in the season [in the Keystone Classic], so she might have been getting a little tired, but she sure seems good this year. She matured quite a bit."
William Wiswell and M&L Of Delaware campaign Bill's Lady, who vaulted over $100,000 in lifetime earnings.
Wilder finished the 13-race card with four wins while Dave Palone and Hall each fashioned a triple.
Wednesday's card at The Meadows features the $110,260 open division of the Currier & Ives, which goes as races 1 and 3. First post is 1:05 p.m.
(With files from The Meadows)