Three-year-old pacing fillies opened the 2018 Atlantic Sires Stakes season on Friday night (June 1) at Truro Raceway.
This Old Millie and driver Marc Campbell won the season's first event, a $2,500 'B' division, rallying wide to go from last to first in 2:01.1. Trained by Frank Fraser for owner Charles Fraser, the Westwardho Hanover-Future Millbank filly broke her maiden in her 17th career start defeating Gigolos Rose by one and a half lengths, with Avajeanski third.
The first of three $8,000-plus 'A' divisions was awarded to Tobins Terror and trainer/driver Gary Chappell after a judges' placing. On the move from third, Tobins Terror was interfered with by Chocolate Terror, who pulled the pocket down the backstretch to confront popular pacesetter Woodmere Saphire but broke stride then reset and circled up to take the lead into the stretch. Tobins Terror finished half a length behind Chocolate Terror at the wire in 2:01.1, but was declared the official winner following the interference ruling. The Stonebridge Terror-Hot Fusion filly, who notched her third win in a row, is owned by Daniel Ross and Boyd Macdonald Produce Ltd. Dustylane Artiste finished one and a quarter lengths behind in third.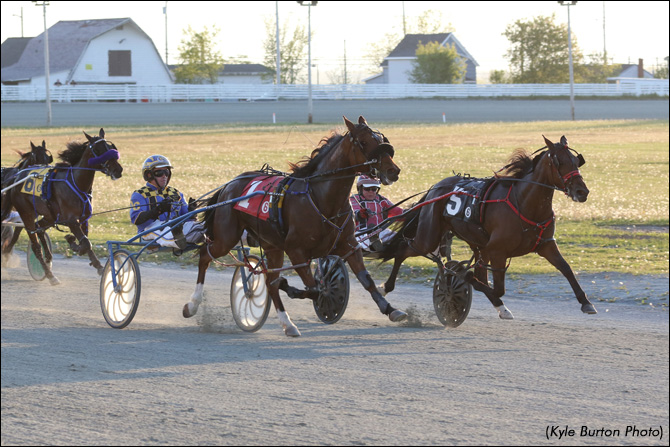 The season-debuting Maritime Breeders champion Royaltywestho began to drawn away from her foes on the lead heading into the final turn in the second split and held off the late-closing Woodmere Wyldstyle, who had regrouped from a miscue, to win by one length in 1:58 flat. Walter Cheverie drove the Westwardho Hanover-Lady Kelleigh Anne filly for trainer Joseph Baxter, who co-owns with Gregory Francis. Elm Grove Misty finished third.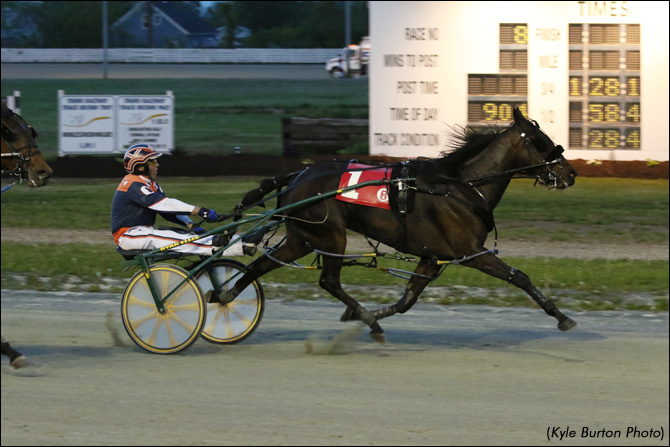 In the final division, reigning divisional Sires Stakes champion Woodmere Ceilidh forged three-wide from fifth down the backstretch and prevailed over the pocket-pulling Woodmere Chella by three-quarters of a length in 1:57.3, with Izzies Angel coming from last to show. Owned and trained by Clare MacDonald, the Articulator-Highland Dancer filly is undefeated in three starts this year for owner Chris Neville.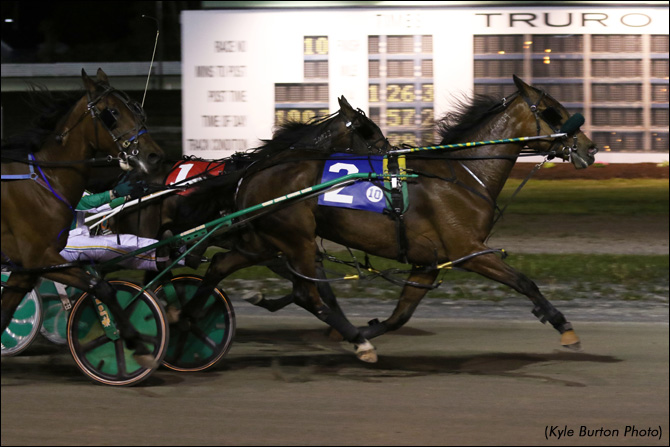 In regular racing action, the pocket-pulling K D Overdrive and driver Gilles Barrieau got the jump on the advancing Goliath Reigns down the backstretch in the $1,675 top class and beat that pacing foe to the wire in 1:57, winning by nearly four lengths for trainer Stephen Mason and owner Stephen Downey. There was a dead-heat for third between Woodmere Finesse and Rusty Riley.
During Friday night's program, Truro Raceway paid tribute to avid harness racing fan Walter Perrin, who passed away on May 23 at the age of 96, with a moment of silence following the sixth race.
To view Friday's harness racing results, click on the following link: Friday Results - Truro Raceway.