Top trainer John Butenschoen has an unconventional approach to rigging his three-year-olds. Once he begins preparing them for their sophomore campaigns, he looks at the equipment cards he used for them at two, puts the cards aside and pays no attention to them.
"We start them back like yearlings that haven't been broken," he says. "Then if they start showing there's something they need here or there, we add that."
Thus, when his fillies, Bills Lady and Nixie Volo, go postward in Saturday's $168,237 Pennsylvania Sire Stakes for three-year-old filly trotters at the Meadows, they'll be sporting new looks. Bills Lady is set to start from Post 7 with Corey Callahan in the first race, while Callahan will guide Nixie Volo from Post 4 in Race 4.
Saturday's card will also feature a pair of total-pool guarantees — $7,500 for the Pick 4 (Races 4-7) and $5,000 for the Pick 5 (Races 8-12). First post will be at 1:05 p.m.
Bills Lady, a daughter of Donato Hanover-Homefortheholidays campaigned by William Wiswell and M&L Of Delaware, was good enough to earn $90,982 at two and equal the track record of 1:55.1 in the Reynolds at Tioga Downs. She opened her three-year-old campaign with a rallying show finish in a Harrah's Philadelphia overnight.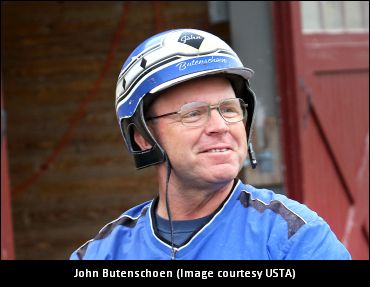 "She was physically and mentally immature last year," Butenschoen says of the $22,000 yearling acquisition. "She was a little tricky to get along with. You kind of had to watch what you did with her. She's still a little immature, so we try to keep her as happy and as quiet as we can.
"She's rigged pretty simply. She got a little 'grabby' when Corey tried to put her in a hole last week, so put the hopples back. That was a huge trip for her. There's no question the talent's there."
Nixie Volo reached the championship leg of the Kentucky Sire Stakes — she's both Kentucky and Pennsylvania eligible — but took herself out of that $250,000 race with costly breaks.
"She had a 'filly moment' in that one," Butenschoen says. "But she's trained back real well. She trained like she was shot out of a cannon."
As with her stablemate, Butenschoen started from scratch with her rigging for her season's debut in an overnight at Pocono — she, too, was a rallying third — ditching her hopples and adding more grab to her shoes. On Saturday, however, the daughter of Yankee Glide-No Im Not will don hopples once more and return to her original shoeing. The partnership of Kentuckiana Racing Stable, VIP Internet Stable, 83 Racing and Eddie Gran owns Nixie Volo, also a $22,000 yearling purchase.
Butenschoen acknowledges that his rigging schemes for his three-year-olds can be works in progress, but he's confident in his approach.
"We're responding to what they need this year, not last year," he says. "Mother Nature may have taken care of what was bothering them last year."
(Meadows)