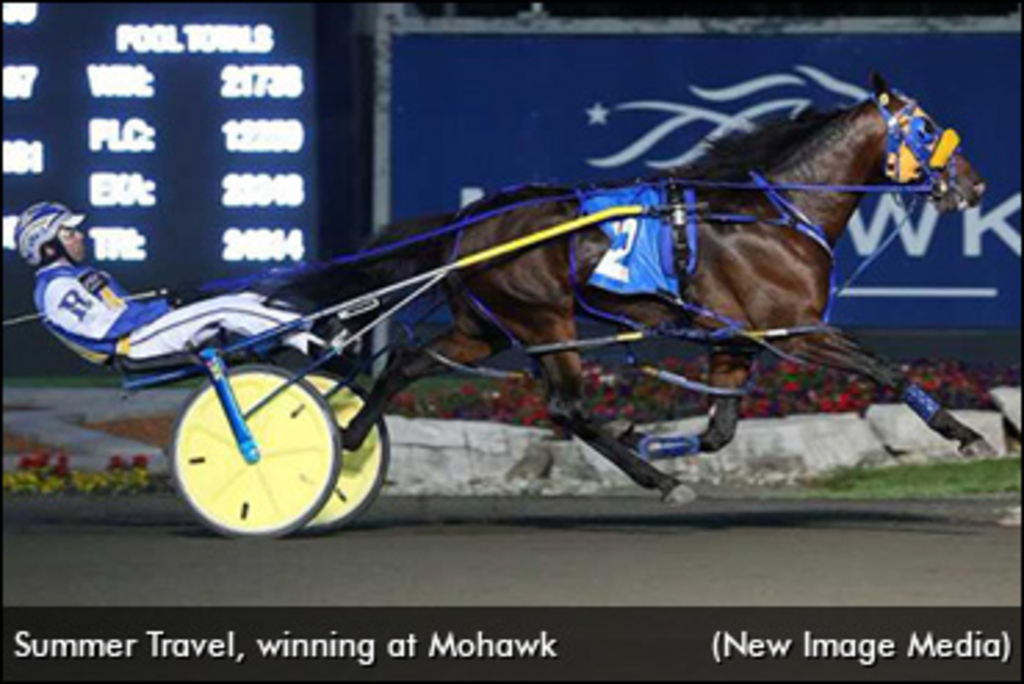 Mother Nature wasn't exactly in a kind mood to provide ideal conditions for Friday morning's qualifiers at Woodbine Mohawk Park.
A thick fog made the first few qualifiers almost impossible to view. Aggressive winds then blew in and sent the fog packing, but didn't let up through the remainder of the eight-race qualifying session. The track was listed as "Good" with a one-second variant.
The first qualifier featured Pepsi North America Cup eligibles Western Passage and Burning Midnight in action. The three-year-old pacing geldings had to settle for second and third, as five-year-old pacing mare Lyons River Pride was a wire-to-wire winner in 1:54.
The morning fog was at its thickest for the opening qualifier and those on track were only able to see the pacers in deep stretch. Lyons River Pride went to the front, while Western Passage got away third with Burning Midnight not far behind. The winner's final-quarter was clocked in :28 with Western Passage and Burning Midnight finishing side-by-side in second and third, beat half a length.
Trained by Casie Coleman, Western Passage was turning in his second qualifier of the season after finishing third a week ago in 1:54.3. Doug McNair was once again in the sulky behind last season's OSS Super Final champion.
Burning Midnight was making his season debut Friday morning. The Corey Giles trainee won three of eight starts last season, including an OSS Gold leg.
Lyons River Pride was making her second qualifying appearance of the season. The Bruce Goit trainee won six of 32 and banked $110,360 last season. She is once again eligible to the Roses Are Red and Milton Stakes.
Coleman trainee and Cup-eligible Summer Travel delivered a strong performance in the morning's final qualifier.
Summer Travel and McNair went to the front and posted a :29.4 opener. The duo allowed Phantom Seelster to grab the lead entering the backstretch before quickly retaking and pacing off to victory.
The speedy son of Western Ideal paced a :27.2 third-quarter before powering through the stiff stretch headwind in :28.2 for a 1:54.3 score.
Summer Travel won three of four starts last season. After winning the Dream Maker Series Final, the Coleman trainee was scratched from both the Nassagaweya and Champlain. He would next compete in the Metro Pace eliminations, finishing sixth with broken equipment, to end his rookie season.
Friday's qualifier was the second of the season for Summer Travel. He finished second, timed in 1:54.2, one week ago.
A pair of Friday's qualifiers were for sophomore pacing fillies and they ladies didn't disappoint.
Mark Steacy trainee Parisian Blue Chip converted off a two-hole trip to win the fifth-qualifier in 1:54.4 with a last-quarter of :27.3. James MacDonald was sitting behind the daughter of Bettors Delight, who was turning in her second qualifier of the season after a brief rookie campaign with just two 2017 starts.
Firestorm, who finished fourth in last year's Breeders Crown, led throughout most of the mile but surrendered the lead late and finished second, beat two lengths. The Ciaran Morrison-trained daughter of Shadow Play has now qualified twice this season after winning three of seven last year.
Gregg McNair trainee Pleasant Beauty finished just over two lengths back in third, pacing a final-quarter of :27.3. The Art Major filly and full-sister to O'Brien Award winner Precocious Beauty was qualifying for the second time this season.
Play The Bell, who won last year's Battle of the Belles, finished five-lengths back of the winner in fourth. The Casie Coleman trainee sat mid-pack throughout and paced a :27.4 kicker. A daughter of Shadow Play, Play The Bell had won her season debut qualifier a week ago in 1:55.3. She won three of 11 and banked $192,761 during her rookie campaign.
The morning's seventh qualifier saw a tremendous effort from three-year-old pacing filly Neon Moon. The Jack Darling-trained daughter of Sportswriter and driver Jody Jamieson rallied from nine lengths off at three-quarters to split rivals and win in 1:56.2.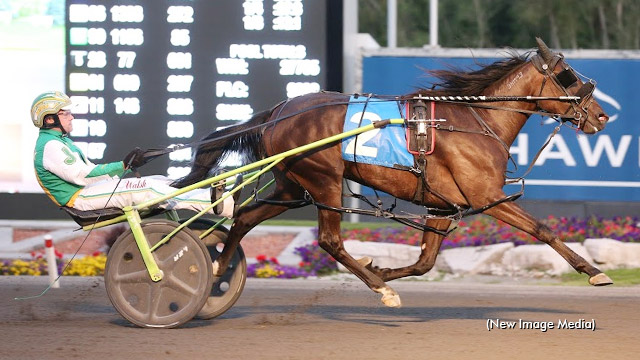 Neon Moon was qualifying for the second week in a row after winning five of nine and banking $63,507 last season. She wrapped up her rookie season with a runner-up finish in the OSS Grassroots Championship.
New York Sires Stakes champion Alexis Faith made a first-turn break while dropping into second during this qualifier. The Coleman trainee dropped to the back, but still finished up with a :26.4 final quarter to claim fourth.
Alexis Faith, who won six of nine and banked $231,960 last season, was qualifying for the second time this season after finishing second in 1:55.1 last Friday.
Over on the trotting side, sophomore filly Kadabra Queen worked hard to win her second qualifier of the season. The Chad Milner trainee left from post eight with driver Scott Coulter and the duo never saw the rail.
Kadabra Queen got away eighth and then made her way towards the front during the middle half, trotting up to third at three-quarters. In the stretch, the Milner trainee powered by her rivals and finished up in :28.4 for a 1:58.4 victory.
A daughter of Kadabra, Kadabra Queen captured last year's OSS Super Final for rookie trotting fillies. Her impressive rookie season saw her win five of 10 starts and bank $328,380.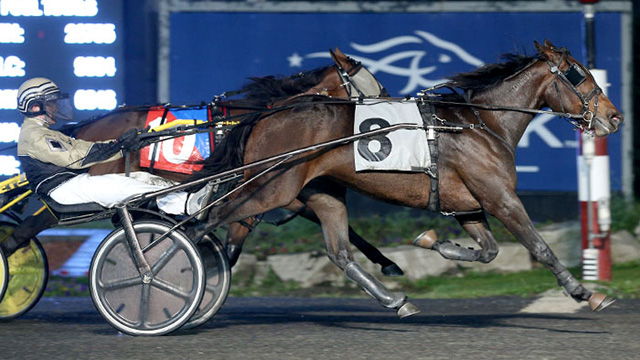 The first OSS Gold leg of the season for three-year-old trotting fillies is June 4 at Woodbine Mohawk Park.
To view the charted results from Friday's qualifying session, click the following link: Friday Qualifiers - Woodbine Mohawk Park.
(with files from Woodbine)