Panocchio earned his 60th career victory on Sunday night (April 29) at Pompano Park. He scored the milestone win in the featured Open II Pace in 1:51.3.
Panocchio posted the win over Four Socks (driven by Tyler Shehan) and Kotre Yael (Corey Braden). The favoured Rebellious and Major Starlight also earned minor awards in the classy septet.
Wally Hennessey was in the gelding's sulky for the occasion – for the 38th time at Pompano Park – and, despite being assigned the outside post position, he went wire to wire and cut the fractions in :27.3, :56 and 1:23.3.
After the event, Hennessey related, "He's eight years old now and might not be able to go in track record time anymore, but he's tough as nails, especially when he grabs the racetrack. He sure knows how to dig in when they're coming at him and tonight was no different.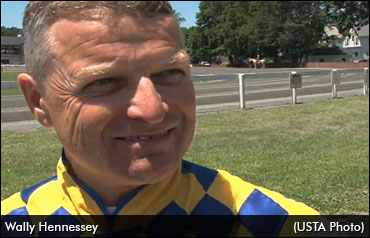 "I had to send him from this outside post because he's always anxious to join the party when the gate opens. Once on top, he did the rest all on his own. There's no use to ask him for more because he knows what job hew has to do and he does the best he can."
Trained by Jim Mattison, who co-owns with Emile Johnson Jr., Panocchio now sports a lifetime bankroll of $520,843.
The victory was the fifth on the card for Hennessey, which vaulted him over the 200 mark for the 2017-2018 season at Pompano. Hennessey also won with Warhorse, Caviart Reagan, Art Again and Prairie Panther.
Earlier in the evening, the Florida Amateur Driving Club held its weekly event, which saw Dein Spriggs win with his own Garlandsandpearls in a thrilling three-horse photo finish. The win time was 1:59.1.
In a winner's circle presentation after the race, club president Dein Spriggs was joined in the winner's circle by FADC members to present a generous donation to Latinos Salud, founded 10 years ago to create a safe space for Latino gentlemen and their partners for support and resources covering HIV testing, intervention, counseling and health programs.
Executive director Dr. Stephen Fallon accepted the donation by saying, "We appreciate the generosity and interest shown Latinos Salud and salute the harness racing community and the Florida Amateur Driving Club in assisting us with this much needed donation."
Racing at Pompano will continue on Wednesday night with a Super Hi-5 carryover of $5,102.
Post time for the card is set for 7:20 p.m.
(With files from Pompano)