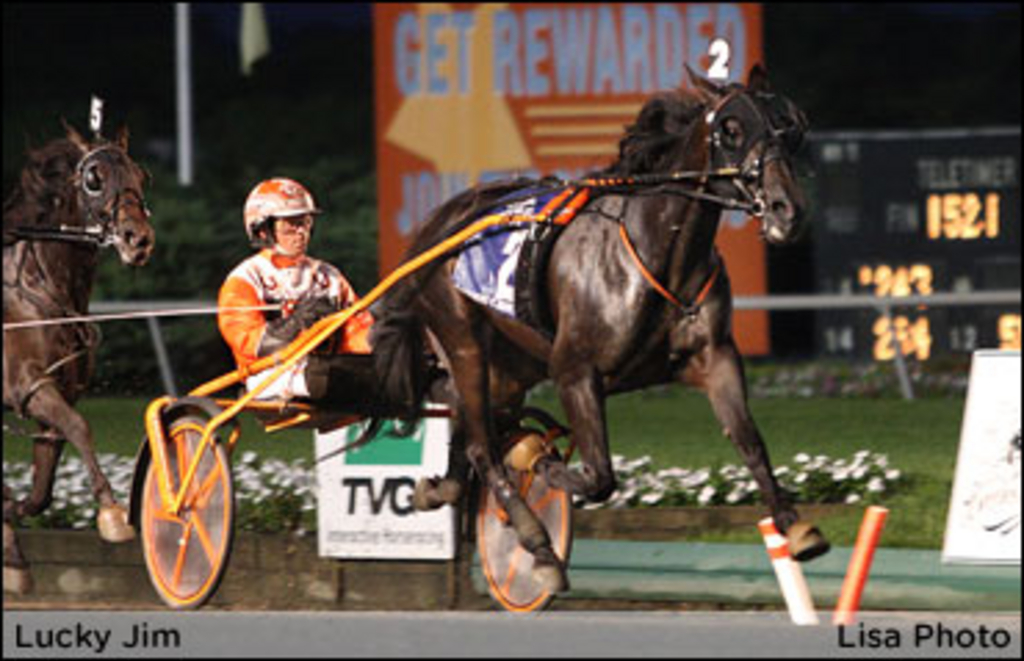 Lucky Jim punctuated his storybook season with a victory in the $600,000 Breeders Crown Open Trot, one of four championships for older horses worth a combined $1.6 million, on Saturday at the Meadowlands
.
The victory was Lucky Jim's 17th in 18 starts this year and 14th consecutive win at the Meadowlands, a track record for a trotter. The four-year-old gelding, who was winless at three, surpassed $1 million in earnings this year for trainer Julie Miller, her husband, driver Andy Miller, and owners David and John Prushnok of Punxsutawney and William Gregg of Indiana, Pennsylvania.
Lucky Jim [$2.10, $2.10] and driver Andy Miller settled into fourth off the gate before rolling up to clear the lead from Lanson in a swift :55.3 half. Lucky Jim easily rebuffed a challenge by Arch Madness [$3.60] entering the lane and edged away to a length and a half victory in 1:52.1 over a track rated good. Lanson held third.
"I just wanted to control the race," Andy Miller said. "He felt good so I just decided to make a move up the backside.
"I think we are going to shut him down and get him ready for a big campaign next year," Miller added.
Lucky Jim's only loss this year came in the Maple Leaf Trot at Mohawk, when he finished third to San Pail. He rebounded with a world-record equaling 1:50.1 mile in the Nat Ray Invitational on August 8 at the Meadowlands.
"Unfortunately it's our time to shut him down, the way we staked him out," David Prushnok noted. "We are looking forward to next year's campaign, which will be pretty similar to what he had [this year] with the major stakes, but we are probably going to try and work [the Elitlopp in] Sweden into that."
Won The West burst through on the pylons to take the $500,000 Breeders Crown Open Pace by 1 1/4 lengths over Shadow Play in 1:47, the fastest mile in Crown history.
Won The West, a 15-1 shot, and driver Jim Morrill Jr. sat third as Art Official cruised through preliminary fractions of :26.1, :54.1 and 1:20.4. Art Official briefly extended his lead around the final turn but could not hold off the late rushes of the pocket sitting Shadow Play to his outside and Won The West on the rail.
"I thought this was the way it was going go down, to hope for some racing room late," Morrill said. "Everything worked out perfectly like that. The track's a little sticky, so I would say that mile tonight was a heck of a mile."
Won The West was one of two Crown champions on the card for trainer Ron Burke, who also sent out Buck I St Pat to victory in the Mare Trot.
"This one was a little more of a surprise [than Buck I St Pat], but we always believed in this horse," Burke said. "Jimmy's [Morrill Jr.] a perfect fit for this horse. No one saves ground better than he does. The horse wants to run in and Jimmy chased him on his left side and moved him back out, so everything went perfectly and he still paced 1:47.
"When Shark Gesture started to take back, I thought it was good for us, that now the race was going to be raced by [Bettor Sweet] up front," Burke continued. "Shadow Play looked like he was going to run out and I hoped we'd find room inside."
Strollin Stable, Robinson and Koehler's Won The West notched his second win in 14 starts this season. The five-year-old gelding boosted his bankroll to $1.75 million with the victory.
Hana Hanover got up in the final strides to win the $331,500 Breeders Crown Mare Pace in a stakes and world-record tying 1:48.4 mile.
Hana Hanover equaled Frightening P's world record clocking for an aged pacing mare on a mile track, set in 2002 at the Meadowlands, and supplanted the previous Crown stakes record of 1:49.2 shared by Always Cam (2004) and Burning Point (2006).
Driven by George Brennan, Hana Hanover popped out of the pocket in the stretch and prevailed by a length over the pacesetter Tug River Princess.
The victory was Hana Hanover's first in four Crown appearances. Mark Steacy trains the five-year-old daughter of Western Hanover for David Reid, David McDonald and Stan Klemencic, all of Ontario, and Dr. Malcolm Man Son Hing of British Columbia. The victory was the millionaire's 16th in 52 career starts.
"I knew I could out foot all the inside horses," Brennan said. "I knew Tug River Princess would lay in, and we already had Southwind Tempo behind the eight ball with the nine-hole. I definitely took advantage of it. I hustled [my horse] out of there. I was able to get back out and move late. We set a perfect trip and she did great."
Darlins Delight, the sentimental favourite, rallied from second over to finish third in the race, making her 0-5 in Crown competition but one notch higher on the all-time earnings list among mares. She has been the runner-up three times (2005, 2006 and 2008) in the Crown.
"She put in a tremendous effort, but just had too far to come in the stretch," trainer Jeff Stafford said of Darlins Delight. "What we're really pleased about is that with that check, she becomes the second leading money-winning mare of all time."
Darlins Delight's $82,275 third-place check boosted her career earnings to $2,886,686 (US), placing her behind only Eternal Camnation ($3.7 million).
Buck I St Pat tipped off cover in the stretch and soared to a stakes record 1:52 win in the $250,000 Breeders Crown Mare Trot. Lavec Dream finished three lengths behind in second, while Spice Queen was a distanced third.
Driven by Tim Tetrick, Buck I St Pat shattered the previous record of 1:53.1 set by Peaceful Way in 2005.
"She can just absolutely fly when she's on her game," Tetrick said. "She can get off someone's helmet like a pacer. She's just amazing."
With a record of 10 wins in 14 starts, Buck I St Pat was the 2008 Dan Patch award winner as best older female trotter, but a tendon injury kept her out of last year's Crown. This year, she has six victories in 12 starts for trainer Ron Burke and owners Howard Taylor of Penn Valley, Ed Gold of Phoenixville, Pennsylvania, Abe Basen of Las Vegas, Nevada and Ron Fuller of Newark, Ohio. A six-year-old daughter of Jailhouse Jesse, Buck I St Pat is a career winner of $1.2 million.
"This is our first Breeders Crown and hers, so it's big for us, too," Burke noted.
For recaps of tonight's Woodrow Wilson and Sweetheart finals, click here.
To view Saturday's harness racing results, click here.
(With files from NJSEA)