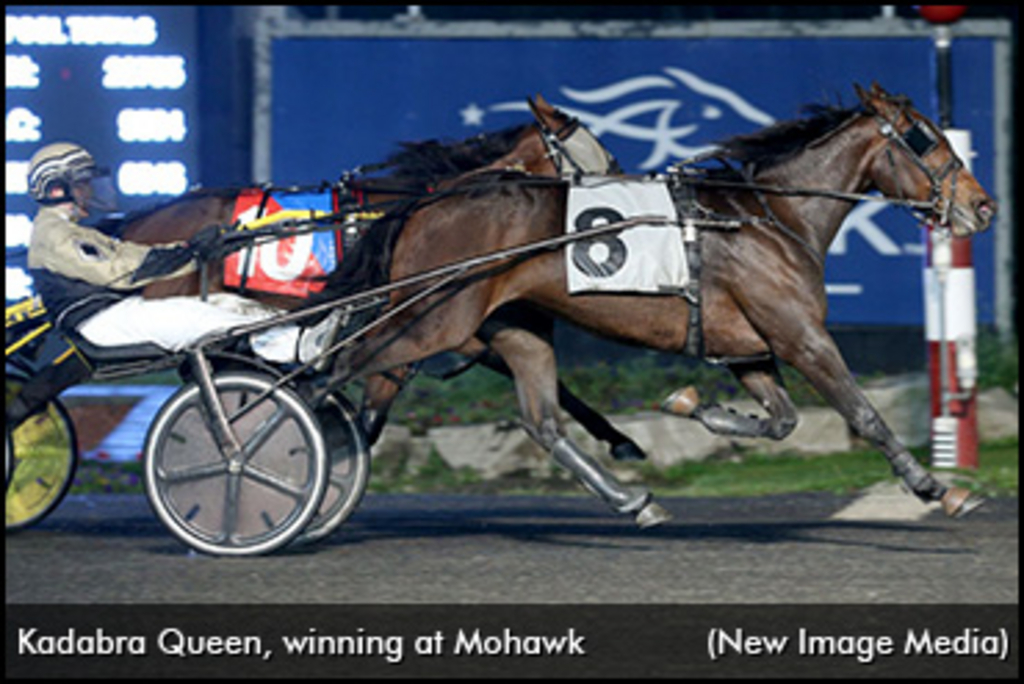 Canada's Two-Year-Old Trotting Filly of the Year for 2017, Kadabra Queen made her three-year-old debut successfully during qualifying action at Woodbine Mohawk Park.
Kadabra Queen lined up in a field of six for Monday's penultimate qualifier at Mohawk and the sophomore filly was a comfortable 1:59.3 winner for driver Scott Coulter.
"I was happy with her," trainer Chad Milner told Trot Insider. "I told Scotty to go between 1:58 and 2:00, I trained her in 2:00 the week before, just wanted company with her and I was quite happy with how she did it.
"Scott said her last quarter was her best quarter and she was strong on the end of her mile."
A homebred owned by Mileo & Jean Monte (as Harness Horsepower Inc.) of Campbellville, Kadabra Queen won five of 10 races and more than $328,000 on the season. All five of her victories were in the Ontario Sires Stakes, including a win in the season-ending Ontario Sires Stakes Super Final at Mohawk Racetrack, her final start of the season. Since that time, Milner reports that the daughter of Kadabra - Queen Street has grown some from her freshman season with by stating she's "a little bit taller and a lot thicker."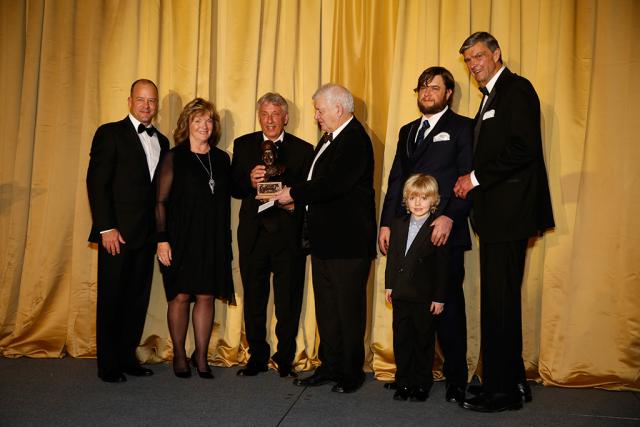 Fred MacDonald, Editor of Atlantic Post Calls and columnist for The Guardian newspaper in Charlottetown, PEI makes the presentation to the winning connections. Left to right: Scott Coulter, Jean & Mileo Monte, Fred MacDonald, Chad Milner, Marcus Milner (in front) and Tom Milner.
The connections of Kadabra Queen are aiming for a three-year-old pari-mutuel debut in the 2018 SBOA Stakes, slated for May 12 Woodbine Mohawk Park. An on-track appearance between now and then, however, is still to be determined.
"I have to see what classes they write [at Woodbine Mohawk Park]. Obviously she has a lot of money on her card," noted Milner. "I was actually planning on qualifying her the following week but I just wanted a flat line in case of bad weather or something goes awry. That's why I said :58 or 2:00 would be good enough."