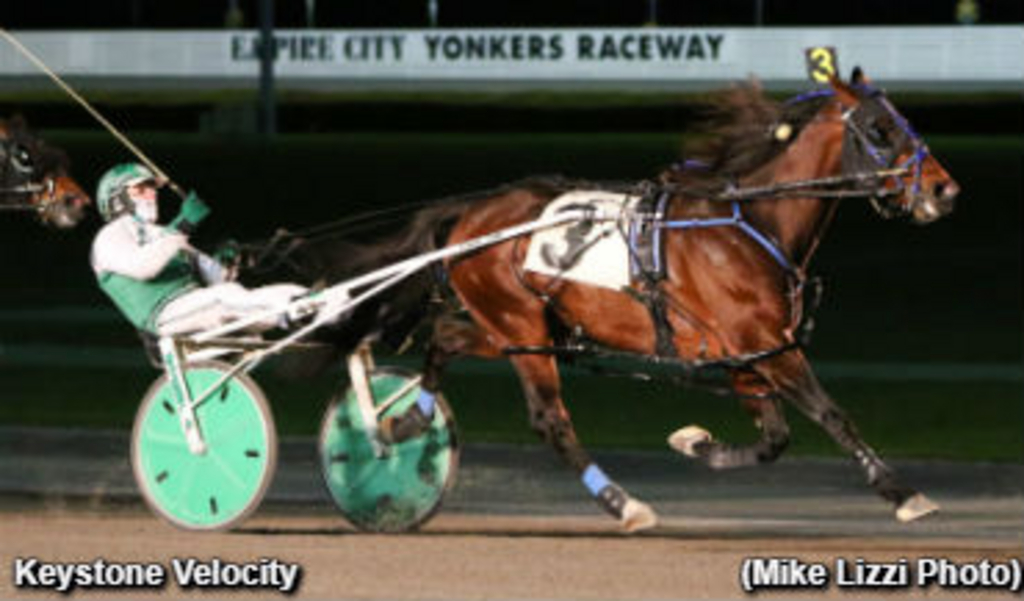 Many of the sport's top older pacers were on display Saturday evening at Yonkers Raceway, as the half-mile oval hosted a set of rich tilts – the $373,000 Blue Chip Matchmaker Series for distaffers and the $532,000 George Morton Levy Series for their male counterparts.
Keystone Velocity defended his title winning the George Morton Levy Series final for the second consecutive season.
Dan Dube hustled the 10-year-old son of Western Hanover-Venus Killean through fractions of :26.4, :56.2 and 1:23.4 before using a :28.1 closing quarter to win in 1:52 over Bit Of A Legend A and Somewhere In L A.
"He's tough horse," Dube said. "I think he's better when he's racing from behind, but he drew well and we were able to get a breather, it was good."
"He doesn't know he's 10," sait trainer Rene Allard. "There are just so many people who work with him that deserve the credit. Me? I was more nervous last season, so I'm able to enjoy this one."
The veteran races for Allard Racing Inc, Kapildeo Singh, Earl Hill Jr and VIP Internet Stable LLC. The 29-time winner, who now owns a 2-2-0 record from six trips to the track this season, saw his bankroll balloon to $1,649,612.
After a nightmarish performance in last week's leg of the Blue Chip Matchmaker Series, Shartin N bounced back and blew away the foes she faced in Saturday's $373,000 final.
Tim Tetrick, who watched the mare make multiple breaks last week en route to finishing a disappointing eighth, was steady as she goes throughout the rich final. She laid off the early speed set by Sell A Bit N (:27.2 and :57) before taking charge in the backstretch. Shartin N blazed by the three-quarter pole in 1:24 before using a :28.2 closing quarter to win comfortably over Sell A Bit N in 1:52.2. Motu Moonbeam N was third.
The five-year-old daughter of Tintin In America-Bagdarin improved her 2018 record to 8-1-0 from 10 trips to the track with the win. Joann Looney King and Richard Poillucci own the 15-time winner who upped her lifetime earnings to $368,992.
Always At My Place erupted for a 22-1 upset in the $100,000 George Morton Levy Consolation, and that was music to the ears of driver George Brennan and trainer Ron Burke.
The seven-year-old son of Always A Virgin-Best Place watched Missile J and race favourite Christen Me N take turns on the lead through panels of :26.2, :56.3 and 1:24.2, but Always At My Place turned in a sharp, late rally and came away victorious in the last stride in 1:52.1. Killer Martini was a bang-up second, with Long Live Rock taking home the show dough in the rich tilt.
Burke Racing Stable LLC, Weaver Bruscemi LLC, Lawrence Karr and Phillip Collura share ownership on the 39-time winner who is now 2-for-6 this season. The classy campaigner pushed his lifetime earnings to $854,297 with the win.
Mackenzie A, the winner of last year's Blue Chip Matchmaker Series, failed to advance to this year's final but took care of business in the $75,000 Blue Chip Matchmaker Consolation for the team of driver Jordan Stratton and trainer Peter Tritton.
Call Me Queen Be powered to the lead and laid down lethal fractions of :26.1, :55.1 and 1:24.1. She was prompted most of the mile by the parked out L A Delight, who eventually tired and faded out of contention. Call Me Queen Be opened up a huge lead at the head of the lane, but Mackenzie A steamrolled past her in the closing strides for the 1:53.1 score. Call Me Queen Be settled for second money, with third prize going to Mach It A Par.
Vonknoblauch Stable LLC and Ellen Kinser share ownership on the career winner of $487,263. The six-year-old daughter of Rock N Roll Heaven-Kept For Pleasure is now 3-for-5 this season and 17-for-39 in her career.
Birthday boy Great Vintage - born exactly 10 years ago to the day - used come-from-behind tactics to capture the $30,000 Preferred Handicap in 1:52.2 for the tandem of driver Yannick Gingras and trainer Jimmy Takter.
Bullet Bob shot to the lead and hammered out panels of :27, :55.3 and 1:23.3, but he couldn't fend off late pressure from Great Vintage. The veteran kicked off second-over cover and fired home in :28.3 to post the 5-1 upset over Bullet Bob and Beat The Drum.
Christina Takter, John Fielding, Goran Anderberg and Goran Falk share ownership on the 10-year-old son of American Ideal-Arts Vintage. It was the 43rd lifetime victory for the winner in excess of $1.2 million.
Newborn Sassy wired up the foes she faced in the $40,000 Mares Free For All for Blue Chip Matchmaker Series eligibles. Tim Tetrick hustled her through fractions of :27.2, :56.4 and 1:25 before using a :27.3 kicker to win in 1:52.3. Gina Grace N was next best, with third prize going to Vintage Babe.
Jim King, Jr. trains the five-year-old daughter of Western Ideal-Sass Newton for CC Racing LLC and Joann Looney King. The 24-time winner lifted her lifetime earnings past $800,000 with the victory.
Somewhere Fancy scooted up the cones late and came away victorious in the $40,000 Open Handicap for the duo of trainer Rene Allard and driver Dan Dube.
Melmerby Beach sped the field through fractions of :27, :55.3 and 1:23.2 before drifting slightly in the lane and giving Somewhere Fancy just enough room to sneak through for the 1:52.4 triumph. Melmerby Beach stayed on for the deuce, while Badix Hanover rounded out the Trifecta ticket.
John Mehlenbacher of Oakville, Ont. owns the seven-year-old son of Somebeachsomewhere who is now a four-time winner from 11 trips to the track this season. The career winner of 31 races bumped his lifetime earnings to $553,890 with the win.
Will Take Charge blasted four-wide in the lane and mowed down tempo-setting Crazshana to win the $30,000 Preferred Handicap for trotters.
Crazshana stole away with comfortable panels of :28, :58 and 1:26.4, but despite the heads-up rating the gelding couldn't fend off the ferocious bid of race favourite Will Take Charge in the closing strides. Will Take Charge rallied to win in 1:56.1 over Crazshana and Mostinterestingman.
Tim Tetrick mapped out the winning trip for the Jeff Gillis trainee who is owned by Mac Nichol of Burlington, Ont. The five-year-old son of Kadabra-Celebrity Angel now owns a 4-2-1 record from eight trips to the track this season. The 16-time winner has banked $647,330 to date.
(With quotes from Yonkers)