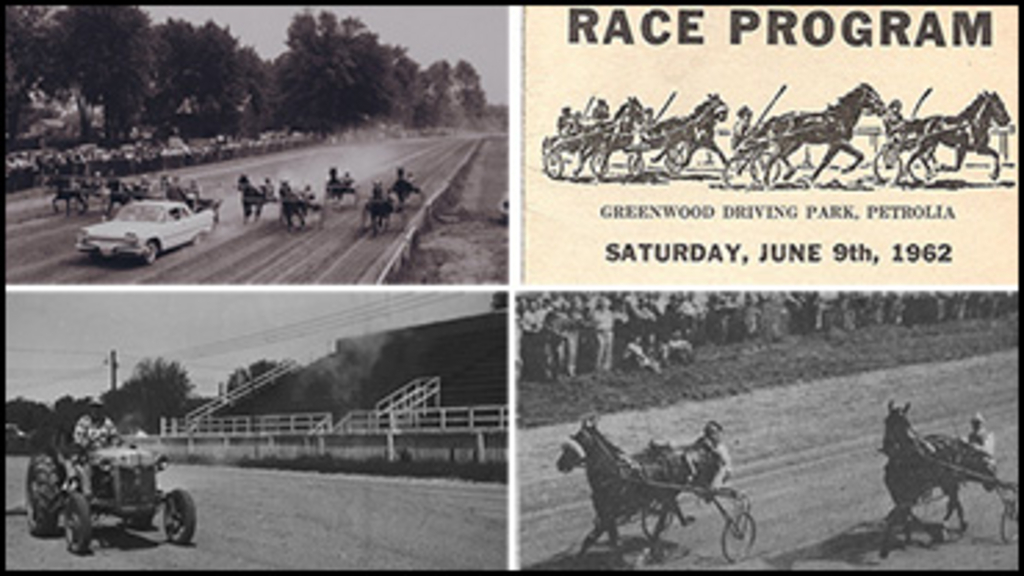 In this week's edition of Rewind Robert Smith recalls the days when small-town racetracks were the backbone of the sport. His rather nostalgic piece profiles the once- popular Greenwood Park in Petrolia, Ont. and includes vintage pictures and some of the names associated with the old Lambton County track. This story is part of the ongoing monthly Golden Memories series.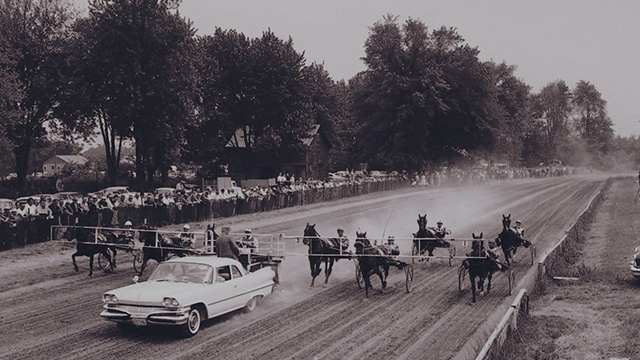 ​A field of horses approaches the starting point at the Greenwood Park track under the watchful eye of starter Art Whitesell. While undated this picture was probably taken in the late 1950's judging from the starting gate. Lots of fans lined the track (Courtesy petroliaheritage.com)
In the early years of harness racing, the many small-town tracks across the land that hosted race days were an important part of the annual calendar. Generally speaking, the racing season began in the spring with racing on the 24th of May holiday and went through to Thanksgiving weekend in mid-October. Many towns prided themselves in the quality of their race meetings and their measure of success was often gauged by the size of the crowds that attended. This in turn translated into better purses and improved facilities. The most popular spots also featured betting privileges courtesy of a bookmaker such as Cliff Chapman Jr., better known just as "Chappy".
Most places had their own local Turf or Driving Clubs that looked after the tracks, collected stall rent and arranged the race days. Most Clubs held an annual banquet to raise funds and also spend an evening socializing. There was also usually quite a bond that existed among those who stabled at a particular location. Not unheard of was also a sort of meeting place (often in someone's tack room) where card games took place as well as a central spot where "discussions" about important topics could be held. One of the barns at Petrolia had a bit of a story to it. It was first located at the Point Edward track near Sarnia and when that facility was taken out the barn was moved to Petrolia.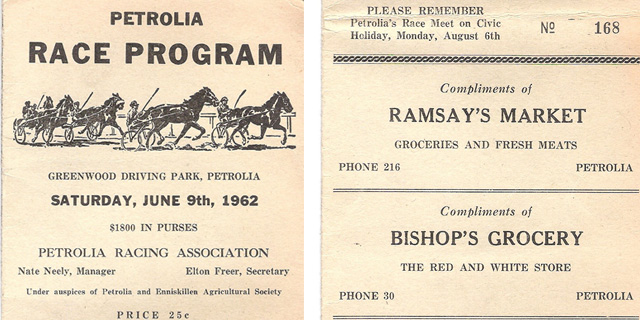 The top (L) and bottom (R) of an old Scorecard from Petrolia's Greenwood Park from 1962. Price 25 cents. Elton Freer, Secretary was the one-time Mayor of Petrolia.
​
For many years -- dating back to who knows when? -- the Town of Petrolia located in Lambton County hosted multiple race days each year; most often three per year. They usually raced in early June, again on Civic Holiday in early August and closed out the season with races at the annual fair. Throughout many decades all of the better horsemen and their horses raced at Petrolia. While many who stabled at the track formed the nucleus of the entries, other well-known stables were annual participants. Most small-town tracks didn't have a name; Petrolia did and it was a good one: Greenwood Park.
In later years when racing charters were still a legal requirement, the ones from Petrolia appeared at the Greenwood track in Toronto. Old programs used to list the various ones in use. There is even a slim possibility that when the big Toronto track selected its name there may have been a link to this small-town oval. That is just a guess that has never been substantiated.
The familiar names of Lyle and Ken Bogart, Duncan Campbell along with sons, Jack and Ray, Allan Elliot, Tom Keck, Mel and John Lester, Jiggs McFadden, Elmer McLean, Marshall and Alf Moore, Gordon Lawrence, Stu Simpson, Glen Tiffin, Stan Williams, Lorne Johnston and sons Ross and Gerald, and many more were most often part of the race day summaries. On race days they shipped in to do battle with the many locals.
Always prominent among the names of Petrolia residents who owned and raced horses as well as arranging of race days was the name Neely. Two brothers, Nate and Orton were long-time fixtures as was their brother-in-law "Shorty" Powell who often drove locally. To this day the name Ainsworth remains prominent in the sport as Larry Ainsworth is the grandson of Nate Neely and his son Jim a great-grandson. While no one seems to recall exactly who officially held the track's speed record it may have been a Neely-owned horse named Alice G., named after Nate's wife Alice (nee Gee).
A partial list of those people associated with Greenwood Park or the Petrolia area in general would include the following and certainly there would have been many more if anyone cares to add their names. Arnold Armstrong, John Bell, Randy Clark, Everette, Tom and Jim Coke, L.K. Dobbin, Ray, Fred and Stan Freer, W.J. Hyatt, Alex, Bruce, Earl, Stan and Murray Hyatt, Darryl Laver, Jack Mavity, Clarence McLeod, Ken Ramsey, Ray Taylor, Jack Turner, Al Weatherstone, Billy Wilson.
​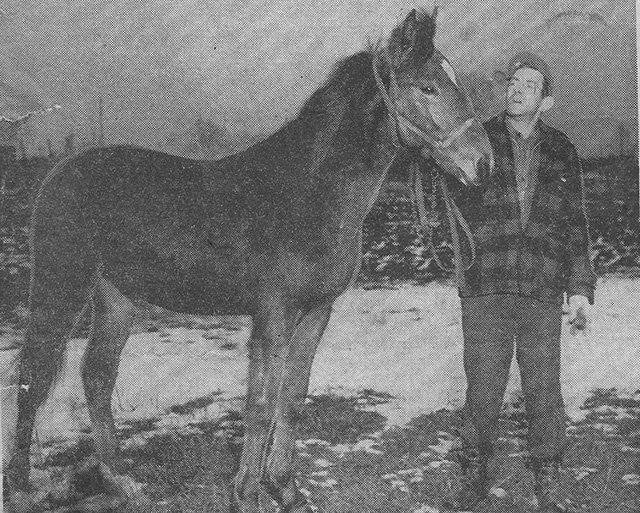 Cecil Stone was a long-time resident trainer at the Greenwood track along with his father James, who was a blacksmith as well as a horse owner. Above photo shows Cecil with a stable hopeful Dear John prior to the start of the 1955 season. The Stones raced their horses at numerous Canadian and U.S. tracks over the years. Many of the horses they raised were given the name Stone such as Lucky Stone, Shadow Stone, Soap Stone, etc.
​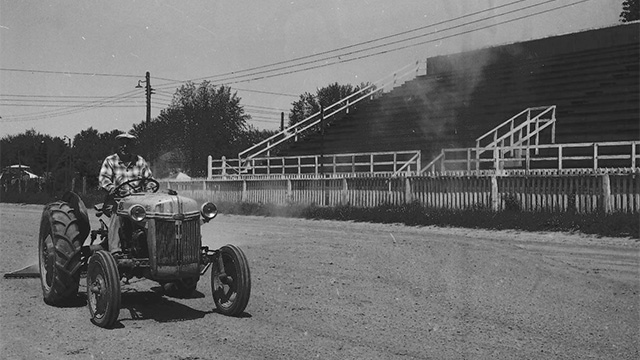 An unidentified volunteer grooms the Petrolia track. (Courtesy petroliaheritage.com)
In 1956 race organizers encountered a bit of a problem as many horses in the area were affected by a distemper outbreak which greatly diminished the entries. In order to provide as many races as possible, a special match race was arranged between two local horses.
​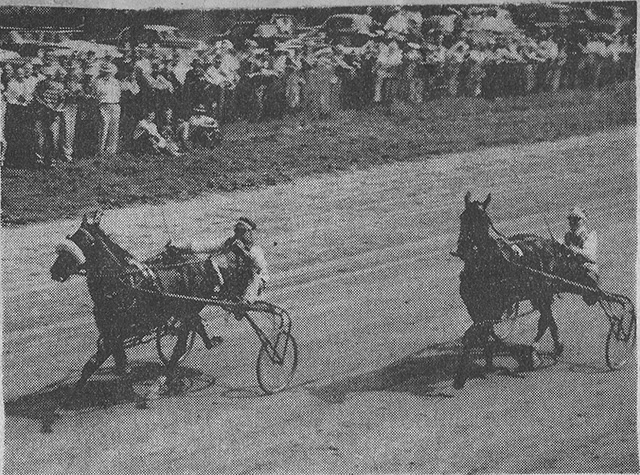 Shown above winning one heat is NOW, owner-driven by Max Emery while Betty Brooke B finishes second for driver Nate Neely and owner Ward Boyle of Sarnia. The overall winner of the event was Now, based on his fastest mile of the two-heat affair in which each horse scored a win. A crowd reported at 2,000 was on hand that year to watch the four events which carried purses totalling $1,400.
In the fall of 1960 a young lad who had literally grown up at the track made his first drive at the Greenwood track. A then 17-year-old Wes Coke drove a horse named Chief Killean to a 2-5 standing to launch what would become a long and successful career in harness racing. Perhaps ironically, the winning driver in his race was one of his mentors, Cecil Stone the man who had first employed Wes' father Cecil Coke in the horse business. Maybe he was giving the youngster one last lesson.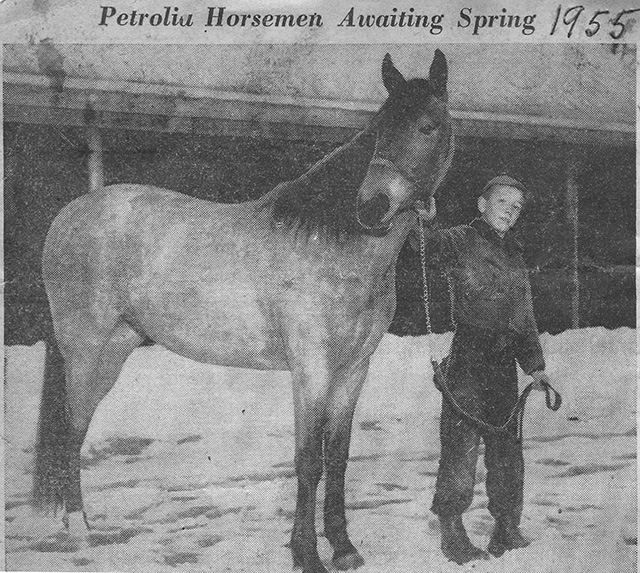 Wes Coke at age 12 appears in this old newspaper clipping with the roan mare Betty Hal S ​at Greenwood Park. Local horsemen were eagerly awaiting the arrival of spring and the melting of the snow which was visible in the background to prepare for the first race meeting of the 1955 season.
After decades upon decades of race days spanning parts of two centuries, the great gatherings eventually came to an end. From what I can gather, the last race meeting at the old Greenwood Park track was held in 1971. Today after over 45 years since that last race day, little remains beyond the odd old picture and a few lingering memories. The fairgrounds is still very much in use and hosts the town's annual fair, but only a few can recall where the track and barns were once located. Baseball and soccer fields now occupy the grounds.
Gone are the days when so many small towns staged their special day or days of racing. Fans gathered early, stayed late and many packed a picnic lunch. They visited with friends and neighbours, cheered on their favourites and as my late father often said how most old-time accounts of important events ended with the words "And A Good Time Was Had By All."
Who Is It?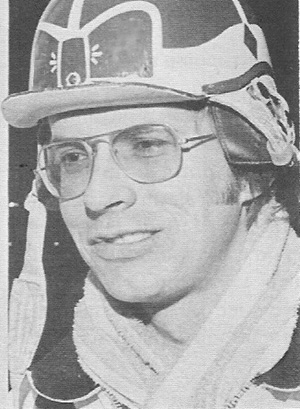 ​
Can you identify this fellow? As always, the correct answer will be given during the coming week.