Getter Queen Flush is coming off back-to-back solid efforts while joining forces with pilot Steve Wiseman for the first time, the most recent resulting in a head victory last weekend.
The six-year-old pacing daughter of JK Royal Flush is owned by trainer George Reider, Dave and Rob Haness and Richard Thomas. The mare lowered her lifetime mark to 1:53.1 at Cal Expo in February with Mooney Svendsen in the bike.
Two starts back, Getter Queen Flush ended up in a tough spot at the back of the pack early and found herself with too much to do in the lane. She eventually finished second, but had clear sailing during her race last week and prevailed as the 3-5 favourite.
As for Reider, he's became a real fan of his hard-knocking performer. "There isn't anything I don't like about this mare," he noted. "She's a pleasure to be around and she tries hard every time."
Reider also noted that Getter Queen Flush didn't know what a carrot or an apple was when she came to his barn, "But now she's a carrot and apple eating machine."
She's also turned into quite a 'machine' over the Cal Expo layout, as she has posed for snapshots following four of her 12 races this year.
Eastender Has Top Billing In Featured Pace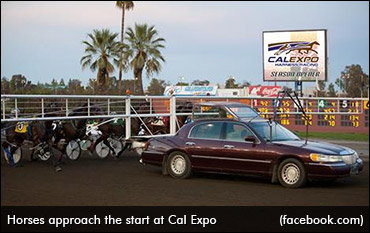 Eastender, who has been knocking heads with the top pacers at Cal Expo, will get some class relief for Friday night's main event.
Watch and Wager LLC will present 12 races, and first post is set for 6:10 p.m. There will also be a trio of California Sire Stakes for four-year-old pacers and trotters, which will be decided as non-betting events prior to the regular card.
A seven-year-old son of Cheyenne Rei out of the Abercrombie mare Eastside Becky, Eastender is owned by Maryann Plano and Nikki Hudson and is reined and trained by Luke Plano.
Eastender will be looking for his first win of the year in what will be his seventh trip to the post. He has been doing the majority of his work at the Open level while taking on the likes of division leaders Allymxsliventexas and Im An Athlete.
Eastender made nine trips to the winner's circle last season, including a lifetime-best 1:52.2 score over Cal Expo, and should hit very hard in Friday's softer spot. He will do his work from Post 6 in the field of seven.
Gordie Graham will send out a solid pair in Bettor In The Bank and Prodigal, and they will both have a serious say in the outcome with their top miles.
Rounding out the cast will be Dontdoubthelakers, who takes his lessons from Lester Smith; the Lino Pacheco-conditioned Pancetta; Julerica, from the Richard Remillard shed row; and the Rene Goulet trained-and-driven Blue Star Maverick.
(With files from Cal Expo)