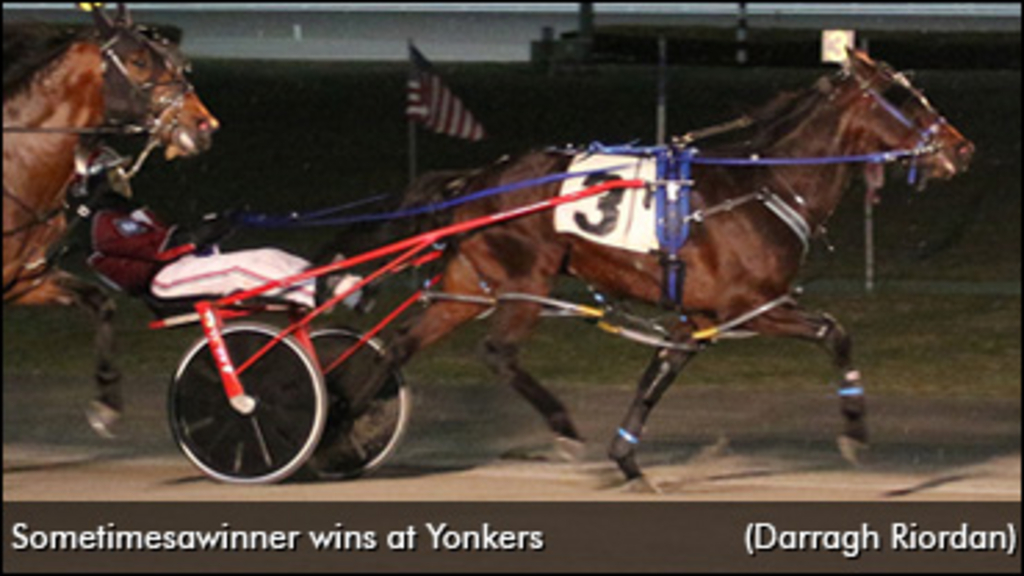 Odds-on favourite Sometimesawinner delivered in the $63,400 final of the Sagamore Hill Pacing Series on Tuesday, March 27 at Yonkers Raceway.
"He's just push-button," George Brennan, driver of Sometimesawinner, said after the race.
Nose-to-gate from post position 3 with some light rain falling, Sometimesawinner easily left around pole-sitting Abbeydorney. Point Somewhereelse got away third.
After early intervals of :27.2, and :56.2, Point Somewherelse edged first over. He moved toward the leader at three-quarters in 1:24, ducking back in when Abbeydorney backed away.
Mach N Cheese was launching a deep bid from next-to-last as Sometimeswinner widened to lead two-and-one-quarter lengths entering the lane. Point Somewherelse angled out to take another shot, but Sometimesawinner prevailed by three-quarters of a length in 1:53.2.
Mach N Cheese did get into third, with Zone Blitz and Fullback rounding out the payees. Abbeydorney, Windsun Gotham and Obscene Blue Chip completed the order.
For North America Cup-eligible Sometimesawinner, a lightly-raced three-year-old son of Well Said owned in Halifax, N.S, by David MacDonald and trained by Kevin Switzer, it was his fourth win in as many starts this season. He paid $3.80 to win.
A $30,000 series consolation was won by Gerard N Mo in a season's-best 1:53.4. Driven by Scott Zeron, he paid $7.40 to win.
The series, for three- and four-year-old young men who are/were non-winners of four races or $40,000 through Dec. 1st, offered three preliminary legs leading to the final.
(With files from Yonkers Raceway)