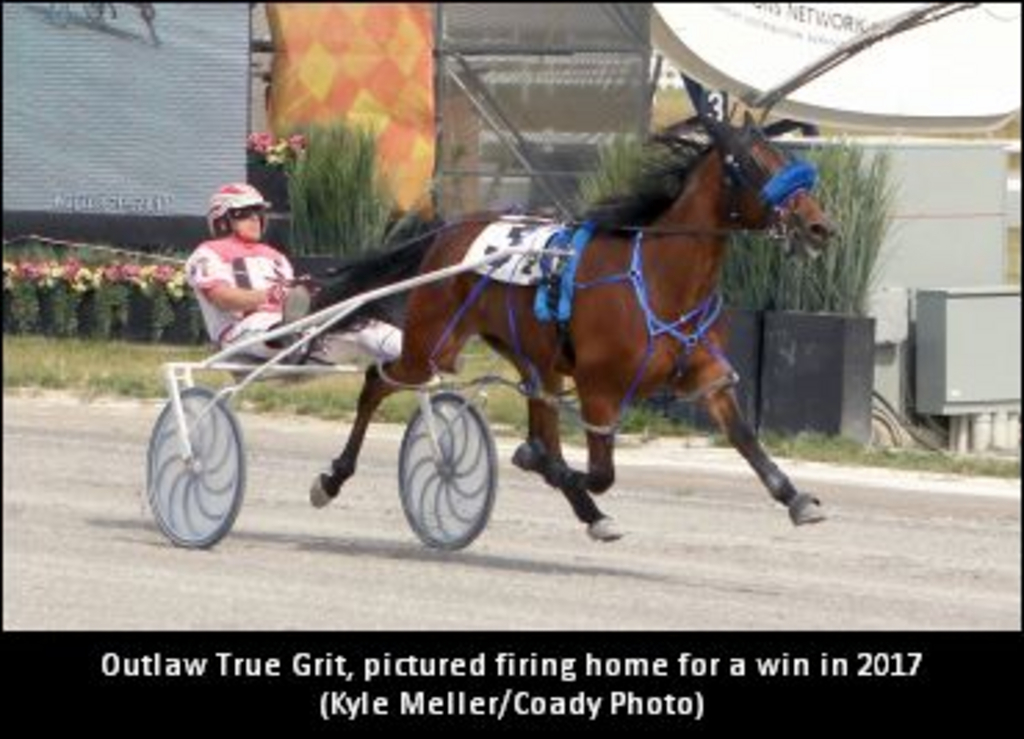 The weather limped along early Tuesday morning (January 16) at Northlands Park waiting for its chance to warm up, but trainer Rod Starkewski was already hot. He had sent out three winners the prior Saturday (January 13) – none of them in the least favoured. Then he learned that two of the horses he trains – Outlaw True Grit and Get Up Gideon – were named as finalists for divisional 2017 year-end awards in Alberta. "Pretty good couple of days," said Starkewski, his breath billowing.
Let's start with the hat trick. "It was just one of those days when all the stars aligned. The drivers all made the right moves," he said of Getup Gideon ($21), Outlawburntpopcorn ($9.20) and then the real bombshell Shes All Mine ($40.60), all of whom got home on top. "Getup Gideon and Outlawburntpopcorn benefitted by some class relief, but Shes All Mine shocked me. And the way she did it – on the front end and doing it with authority… that was a real surprise.
"A guy needs those kind of days once in a while. I can't remember the last time I had three winners on the same card." Driven by Dave Kelly, who would win four races on the card, Shes All Mine came into the race with just one win in 21 career starts, but she made her second lifetime win look pretty easy, as she went right to the top, opened up a six-length lead, and then held off the late bid of Blue Star Cascade to win by a length and three-quarters.
Getup Gideon, piloted by leading driver Phil Giesbrecht, needed some luck to win her race. In third place with nowhere to go at the top of the stretch, the odds-on-favourite, Lizard King, drifted wide, and Getup Gideon and Giesbrecht shot through the opening to win by three parts of a length.
Starkewski also got a little fortunate with Outlawburntpopcorn, who was also driven by Kelly, when the favourite, Senseless Beauty, broke at the start – which cost her several lengths and probably the win, given the way she still managed to close up for second. "Like I said, the stars all aligned," smiled Starkewski.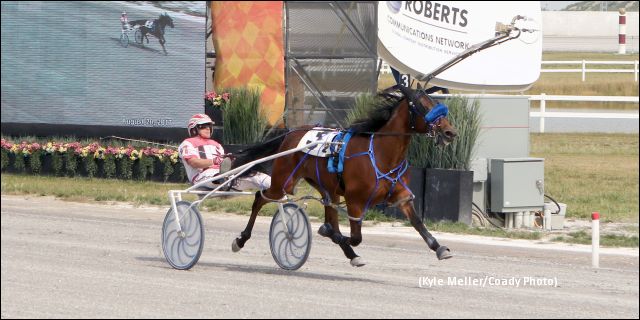 Outlaw True Grit, pictured firing home for a win in 2017 (Kyle Meller/Coady Photo)
But the stars shone on Starkewski most of last year, as he had the biggest money-won total of his career. He sent out the winners of $383,979 with a log of 322 starts, 39 wins and 52 seconds and thirds. A big part of 2017 season was due to Outlaw True Grit and Get Up Gideon. A two-year-old last year, Outlaw True Grit banked $66,265 and recorded four wins and five seconds from nine starts. He won the Rising Star, the Lodestar and Shooting Star and the ASHA colt stake, despite breaking stride before the start in the latter. One of his seconds came in the $90,000 Super Series final when he couldn't quite get to Custards Last Stand.
Get Up Gideon, who is out of Starkewski's mare Sureshowedu, earned even more – $94,148 – after having put together a log of five wins, seven seconds and four thirds. Get Up Gideon won the Gord Rumpel and a leg of the Maverick. "He always seemed to get a chunk of the prize," said Starkewski. "It was all you could ask of a little homebred."
But this is hardly the first time that Starkewski has sent out stakes winners. Crackers Hot Shot won three stakes as a two-year-old in 2012 and seven stakes as a three-year-old. She paced in 1:54 and earned $187,896. Blue Eyed Cowboy, who is still racing, has won eight stakes, has a mark of 1:52 and won $267,653.
Starkewski, 49, got into racing simply by "hanging around the track with some buddies. A neighbour had some horses and we just started going to the track. It wasn't long before we were hooked. The first guy I worked for was Max Jorgensen. Then it was Jack Beelby and then Billy Companion," who now has John Baxter, one of Alberta's all-time leading trainers and drivers, working for him.
"I was 24 when I went on my own and started training. I liked it because it was hands-on. I'm not a desk guy, although sometimes when it's 30 below you wish you did have a desk job," said Starkewski, whose stable has eight two-year-olds in its care. "I'm crossing my fingers and my toes, but some of them are already showing some ability. Last year was good. Now I'm looking to improve on it."
(Courtesy thehorses.com/Curtis Stock)