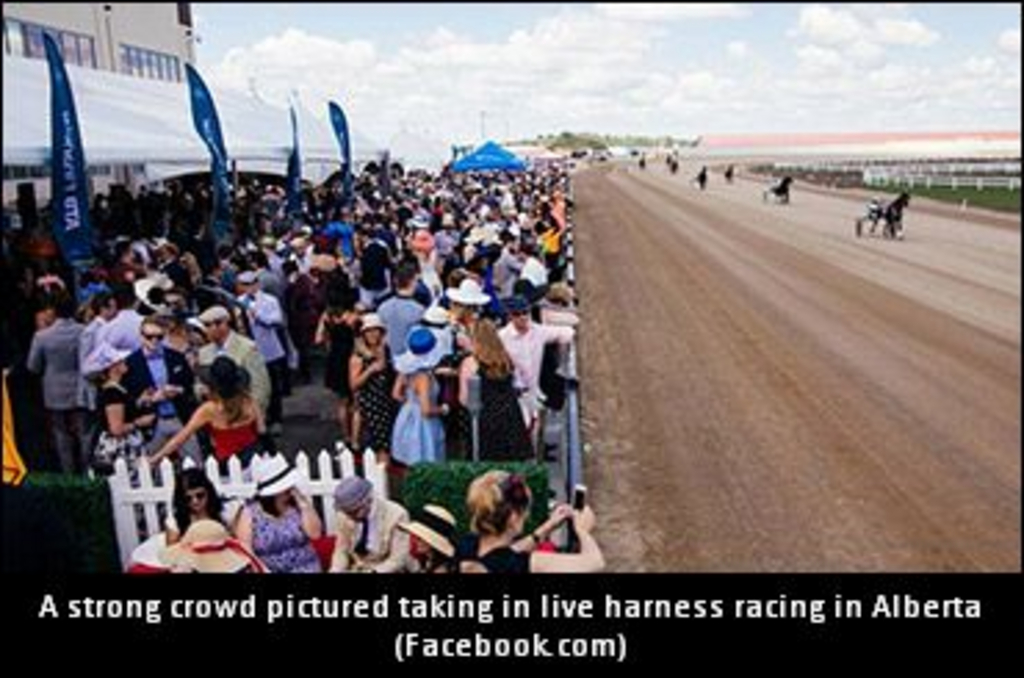 The Alberta Standardbred Horse Association has announced the finalists for the 2018 ASHA Awards, which will honour the province's champions of 2017.
The winners will be announced at the ASHA Awards Banquet, which will take place on Saturday, February 10 at Northlands Park in Edmonton.
Banquet tickets can be purchased from Shelley Gray or at the ASHA office in Airdrie for $50.
The finalists appear below.
TWO-YEAR-OLD ALBERTA-SIRED FILLY
Bearcat Josi
Cusdmagicdragon
Roaring Home
TWO-YEAR-OLD FILLY
Bearcat Josi
Maid In Alberta
Youtalktoomuch
TWO-YEAR-OLD ALBERTA COLT AND GELDING
Custards Last Stand
Freedoms Rescue
Outlaw True Grit
TWO-YEAR-OLD COLT AND GELDING
No Time At All
Outlaw True Grit
Paradise Hill
THREE-YEAR-OLD ALBERTA FILLY
Outlaw Fireball
Steady Breeze
Wedding Dance
THREE-YEAR-OLD FILLY
Outlaw Fireball
Wedding Dance
Yoga Pants
THREE-YEAR-OLD ALBERTA COLT AND GELDING
Getup Gideon
Mateo
Senga Nitro
CHAMPION AGED MARE
Nighttraintovegas
Tajmeallover
Watch My Luck
CHAMPION AGED HORSE
Cool Cowboy
Iwontdothatagain
CLAIMER (FILLIES AND MARES)
Brighten Your Life
Lucky Lucka
Take On Da Boys
CLAIMER (COLT AND GELDING)
Blue Eyed Cowboy
Lizard King
Metajka Road
TRAINER UNDER 200 STARTS
Justin Currie
Marjorie Dumont
Ryan Grundy
DRIVER UNDER 200 STARTS
Rene Goulet
Gerry Hudon
Serge Masse
TRAINER OF THE YEAR
Keith Clark
Rod Hennessey
Kelly Hoerdt
DRIVER OF THE YEAR
Mike Hennessey
Kelly Hoerdt
Jim Marino
HORSEPERSON OF THE YEAR
Mike Hennessey
Rod Hennessey
Kelly Hoerdt
OWNER OF THE YEAR
L. Duffield & R. Hennessey
J.F. Gagne, P. Seggelen, C. Warner, Tapron Holdings
Don Richardson
BREEDER OF THE YEAR
Cliff & Kathy Coonfer
Meridian Farms
Outlaw Stable
FASTEST GIRL
Watch My Luck
FASTEST BOY
Kokanee Seelster
Royal Renegade
CARETAKER OF THE YEAR
Todd Ducharme
Ashley Hudon
Mike Raymond
BREEDERS AWARD OF RECOGNITION
Gordon & Helen Empey
RON MCLEOD AWARD OF RECOGNITION
Don Bougie
HORSE OF THE YEAR
To Be Announced