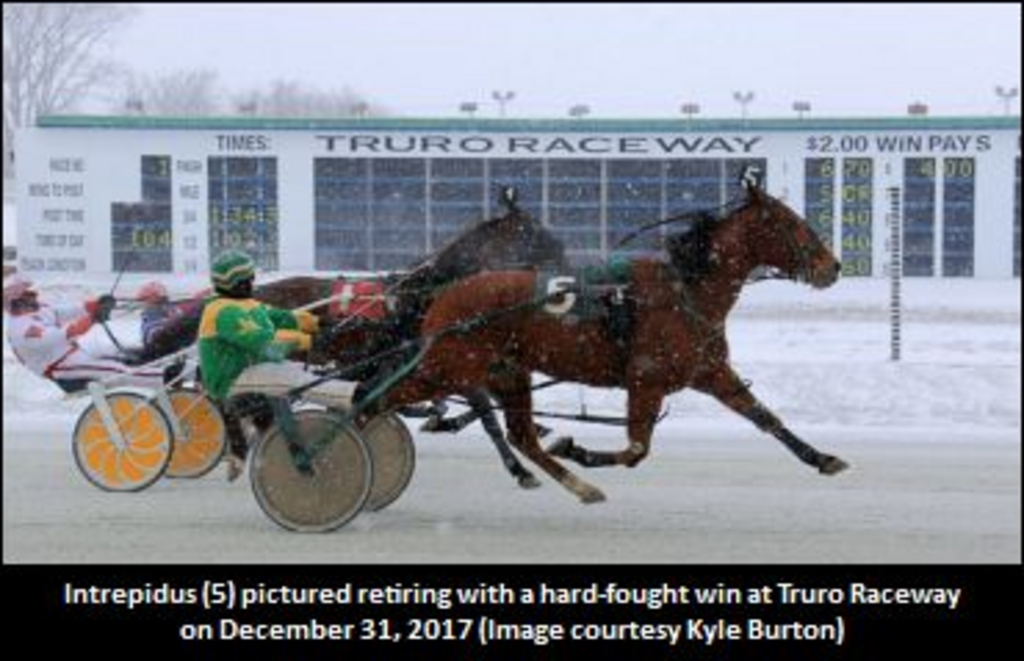 In what was their final day of eligibility for a pari-mutuel race, a pair of 14-year-old veterans bucked the odds and posted the last win of their careers on Sunday, December 31 at Truro Raceway.
The first of the 'elder statesmen' to turn the trick was the Joseph Baxter-reined and trained Intrepidus ($9.60), who laid off the early speed in Race 1 and came calling late for the win.
Intrepidus, a 14-year-old Intrepid Seelster gelding, was making the 305th start of his career. He and Baxter watched the action unfold from fourth through the :31 opening quarter and the 1:02.3 opening half.
The pair sat at the back of the pack in fifth, three and a quarter lengths from the point at the 1:34.3 three quarters, before they made their move. They were still fifth at the head of the lane, but less than three lengths from pay dirt.
After having finished with a flurry, Intrepidus got up to post a half-length win in 2:06.4 over both Eye Forty Seven (driven by Marc Whebby, who finished second) and Dontstandinmyway (Kenny Parker Jr., third).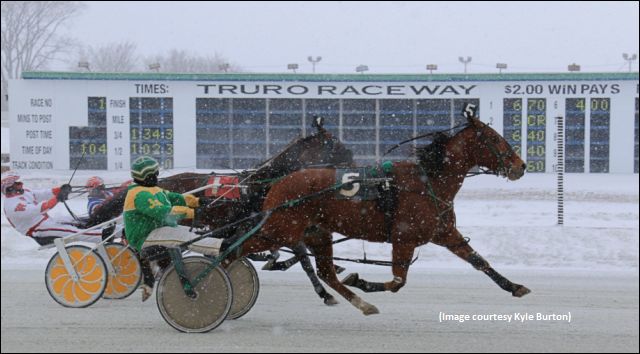 Intrepidus (5) pictured retiring with a hard-fought win at Truro Raceway on December 31, 2017 (Image courtesy Kyle Burton)
Intrepidus, who is owned by Jennifer Baxter of Windsor, Nova Scotia, retires with a slate of 39-47-35 from 305 career starts, good for over $209,000 in purse earnings.
Fast forward to Race 4 and it was the Devin O'Connor-trained and Robert Laffin-driven Sharon The Moment ($5.10) that utilized different tactics, but still hit the wire first in his tilt.
After having started from Post 2 in the six-horse affair, the 14-year-old Artiscape gelding tucked into third, observed the opening fractions (:31, 1:02.1), and launched a three-high attack at the 1:33.1 three quarters.
The move was more than effective, as Sharon The Moment was ahead by two and a half lengths at the head of the stretch. The final margin of victory was one and a half lengths. Ideal Ticket (Dale Spence) finished second and Draft Seelster (Paul Langille) finished third.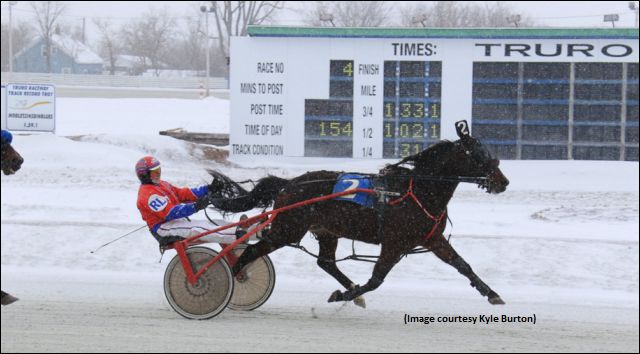 Sharon The Moment fires home full of pace on December 31, 2017 at Truro Raceway in his last-ever career race (Image courtesy Kyle Burton)
Sharon The Moment's career slate will now settle at 44 wins, 63 seconds and 72 thirds from 387 starts, good for more than $261,000 in career purse earnings.
Devin O'Connor co-owns Sharon The Moment with fellow New Glasgow, Nova Scotia resident Charles O'Connor.
Along with fellow 14-year-old Bagel Man, Intrepidus and Sharon The Moment were also recently featured in the December 2017 issue of TROT Magazine.
To view the harness racing results for Sunday at Truro Raceway, click the following link: Sunday Results – Truro Raceway.