A trio of 14-year-old Maritime pacers was officially retired on Sunday (December 17) at Truro Raceway, as the track and the Truro Harness Horse Owners Association joined to give the grizzled veterans a proper sendoff.
Two of the pacers were in action on Sunday, as geldings Intrepidus and Sharon The Moment contested the third race on the card, a $1,075 dash for $4,500 claimers. Sharon The Moment, who went postward as the odds-on choice, finished third for driver Robert Laffin, as he finished one and three-quarter lengths behind Gerries Beach, who upset at odds of 7-1 for driver Todd Trites and returned $17.60 to win. Intrepidus, who was steered by Kenny Parker Jr., finished fifth.
The third gelding that took part in the retirement ceremony was Bagel Man, a harness racing senior citizen that has raced over Truro for all of his 14-year-old campaign.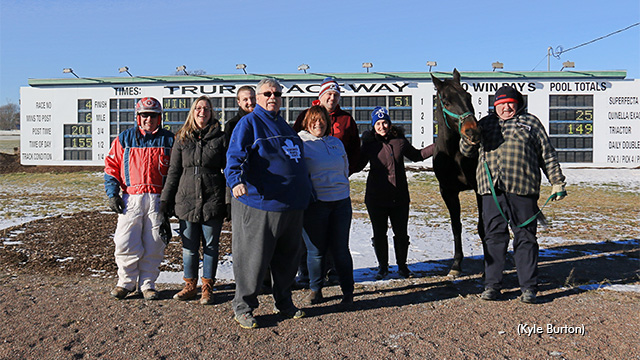 Bagel Man and his connections honoured at Truro
Intrepidus made his 304th start, carrying with him 38 wins, 47 seconds, 35 thirds and more than $208,000 in purses, while Sharon The Moment's report card shows 386 starts, 43 victories 63 seconds and 72 thirds with more than $261,000 accrued in his bank account. Bagel Man, making 409 starts in his career with earnings of $378,548 and a mark of 1:51.2, recorded his final lifetime start on December 10.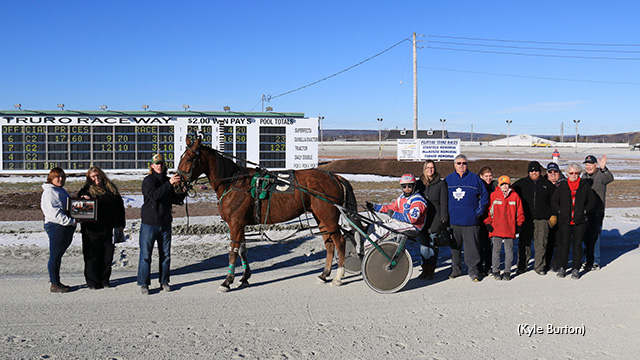 Intrepidus and his connections honoured at Truro
Bagel Man will be retiring with horsewoman, Shelley Whidden, in Old Barnes while the O'Connors are actively searching for a forever home for Sharon The Moment. Intrepidus is expected to relocate to Prince Edward Island with Parade Marshal and Heather Gamester to enjoy a dual retirement role of Matinee Racing and pleasure pony.
The three veteran pacers were also recently featured in the December 2017 issue of TROT Magazine.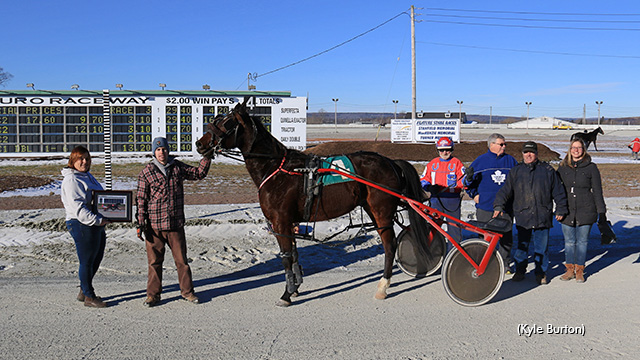 Sharon The Moment and his connections honoured at Truro
Truro's Sunday program also featured a $1,575 Winners Over Pace, which was captured by the favoured Weather Hanover (Todd Trites, $3.90), who was a gate-to-wire winner from Post 4 in 1:57.4.
To view the harness racing results for Sunday at Truro, click the following link: Sunday Results – Truro Raceway.