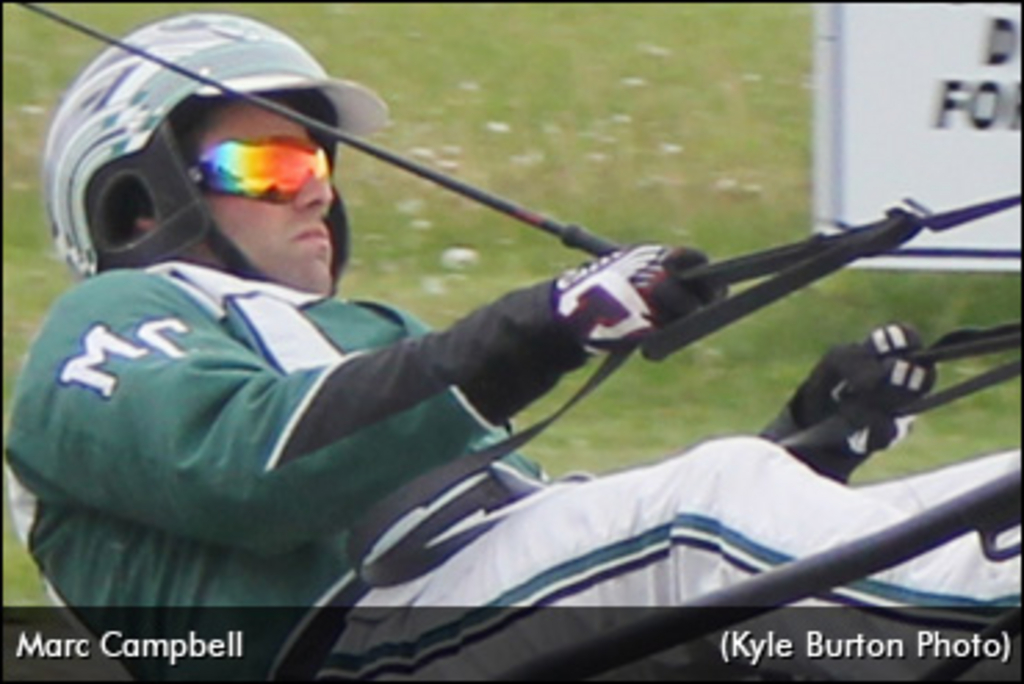 On Sunday (November 26), high percentage Maritimes pilot Marc Campbell broke his own single-season record for driving wins at Red Shores' Charlottetown Driving Park.
Campbell notched his 145th win of season over the CDP oval with the Brian Ladner-trained Best Risque in Race 8, a conditioned dash in which the duo started from the rail as the even-money second choice. Campbell and Best Risque cut all the fractions (:28.4, :59.1, 1:29.1) before holding on by a nose in the 1:58.4 effort.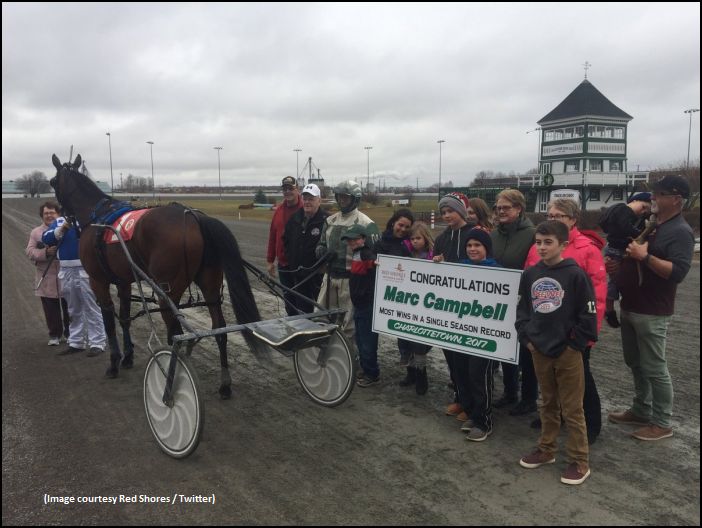 Campbell – who in recent years has annually attacked his own win record at the track – made history at the CDP last season, a campaign in which he made 144 trips to the Charlottetown winner's circle.
To go along with his dominant driving prowess at Red Shores, Campbell – who was a recipient of Standardbred Canada's O'Brien Award of Horsemanship in 2012 – has also annually racked up very impressive training numbers at Red Shores.
The record-breaking day followed up his Paul MacDonald Memorial Driving Championship win on Saturday. The championship, featuring eight of the track's top drivers, was sponsored by the P.E.I. Standardbred Horse Owner's Association as part of annual Horseperson's Day celebrations.
Corey MacPherson went into the final leg in control of the point standings by a narrow one-point lead over Campbell, Jason Hughes and Gilles Barrieau – all tied in second-place. As fate would have it, MacPherson finished fourth in the final leg with those three drivers finishing in the triactor ticket. Campbell won the race with Fly With Max in 1:57.2.
The victory secured the MacDonald Memorial trophy for Campbell, who finished with 61 points, over Jason Hughes, who finished second with 60 points, with MacPherson and Barrieau in a tie for third with 59 points each. Kenny Arsenault came in fifth with 53 points in the eight-race championship, followed by Adam Merner in sixth with 50 points, Earl Smith in seventh at 40 points and Don MacNeill eighth with 34 points.
In other action, Adkins Hanover had the fastest win of the Sunday program, capturing the $2,550 Preferred Pace in 1:55.4 for trainer Trevor Hicken and owner Perry Burke of Grosse-Ile, Que. Czar Seelster (Steven Shepherd) finished second, but was placed back to sixth for interference while on a break during the stretch drive. Rose Run Quest (Campbell) was third and placed second, while Red Magician (Adam Merner) was placed up to third.
Kyle Gillis of Charlottetown had a moment he will never forget as he scored his first lifetime driving win. The 20-year-old Truro, N.S. native steered veteran pacer Top Of The Morning to a 1:59.4 victory off a two-hole ride in Sunday's sixth race. Gillis trains and leases the now 29-time winner.
To view the harness racing results for Sunday at Charlottetown Driving Park, click the following link: Sunday Results – Charlottetown Driving Park.
(With files from Red Shores)