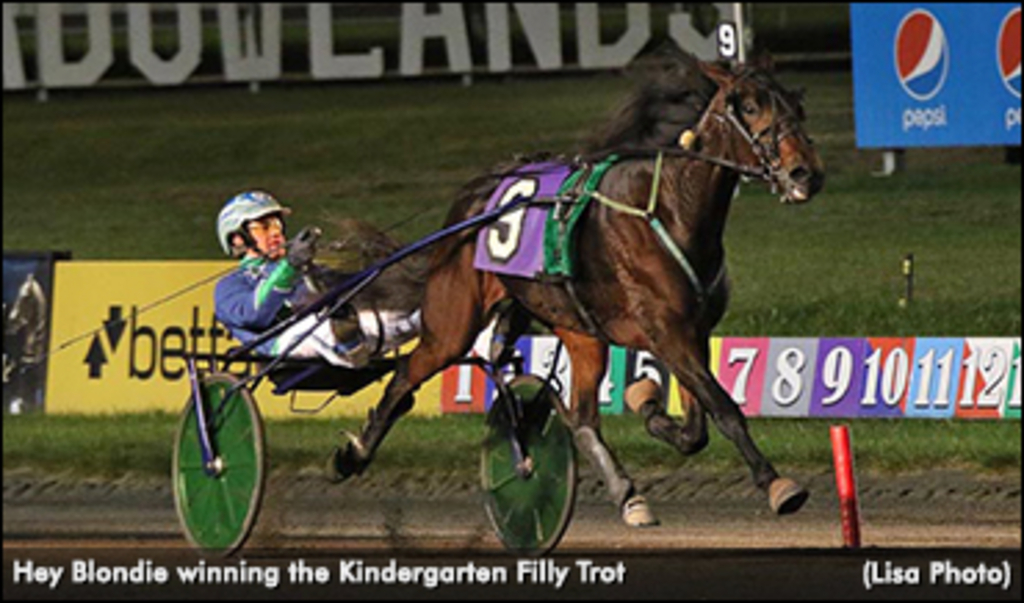 Driver Andrew McCarthy won three of the four Kindergarten Classic Finals on the opening night, Saturday, November 4, of the fall/winter meet at the Meadowlands.
McCarthy kicked off his streak in the $198,000 Filly Trot by changing tactics with Hey Blondie, who had not shown any gate speed in her previous races, including a fifth-place finish in the Breeders Crown Final last week at Hoosier Park.
"I post paraded her tonight and she felt great so I thought I would take a shot and leave out of there with her," McCarthy said. "I didn't want a slow middle half and have to come first over so I just decided to take a shot and race her from the front. She has always been strong at the end of the mile."
Hey Blondie held off favoured Basquiat to win in 1:53.4 with Dab Hanover third.
McCarthy struck again in the $214,900 Colt Trot with 7-5 favourite Tito. The Erv Miller trainee battled some sickness in July, but has rounded back in to form and scored the richest win of his young career in 1:55.
Tito will next be pointed to the Valley Victory, part of the Fall Final Four at the Meadowlands, with the finals on November 25.
In the $150,000 final for the pacing colts and geldings, Points North, a Pinske Stables homebred by Somebeachsomewhere out of the family's Northwest Hanover, held off the late kick of long-shot Fashiononthebeach to win in a lifetime-best 1:51.1.
"He's really good in the stretch," said McCarthy. "He'll keep fighting when you're driving on him. He started a little slow and he has matured as the season has gone on. I figured there would be a big first eighth of a mile. I had to pull him and in the stretch he dug in."
Kissin In She Sand bounced from her performance in the Breeders Crown eliminations, winning the $140,550 Filly Pace final.
Kissin in the Sand and Yannick Gingras parked out second-choice I'm Trigger Happy through matching opening quarters of :27.1. Im Trigger Happy wilted while Kissin in the Sand continued on the front, polishing off a lifetime-best 1:50.3 effort with a :27.3 last quarter to hold safe from runner-up Reign On Me.
"She's a little more high strung and difficult, but they're both fast," said Johansson when asked to compare the two fillies. "She's been very special from the beginning. Training down she showed a lot of speed but she was always quirky, but the first time we brought her to the Meadowlands she was professional and handled her business. She was very impressive and I don't think it took anything out of her."
The highly-anticipated Pick 10 Survivor made its debut on Saturday and handled $11,600. 33 tickets survived through the first four races and received a payout of $298.66.
Live racing resumes next Saturday, November 11, with a 7:15 p.m. post time.
(With files from the Meadowlands)