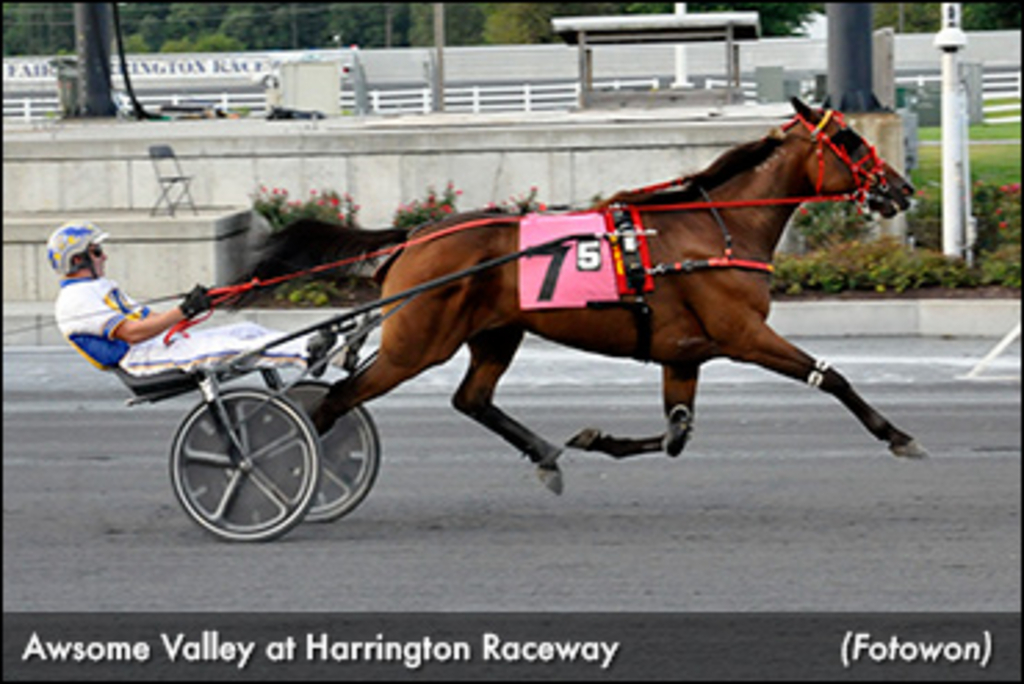 Frank Chick's Awsome Valley ($13.40, Russell Foster) was a 1:55.4 winner in the $16,000 Open Trot Wednesday (August 30) at Harrington Raceway.
Awsome Valley took the lead at the opening quarter mile in 28.1 seconds as I Like My Boss relinquished in second. The 1-to-5 favourite Wind Of The North got in gear in second-over position behind Theresademoninme while the leader marched to the half mile in 58 seconds and three-quarters in 1:26.4. Awsome Valley drew away from his rivals in the stretch for a dominant win over Theresademoninme and I Like My Boss. Wind Of The North was fourth.
It was the 39th career win for Awsome Valley, a son of Valley Victor who is trained by Kevin Lare. Foster drove three winners on the program.
In the sub-featured $11,000 Open II trot, Jonathan Newman's Heres The Magic ($6.60, Allan Davis) was a 1:56.4 winner for trainer Josh Green in his first Harrington start after competing most of the summer in New York. Davis joined Foster with a driving triple.
On the undercard ($10,000 trot), Louis Catana and Vincent Bradley's Sunset Mike ($11, Tyler Davis) had an auspicious local debut with a 1:57.3 triumph for co-owner/trainer Bradley, who recently acquired the four-year-old trotter from the Indiana racing circuit.
(Harrington Raceway)