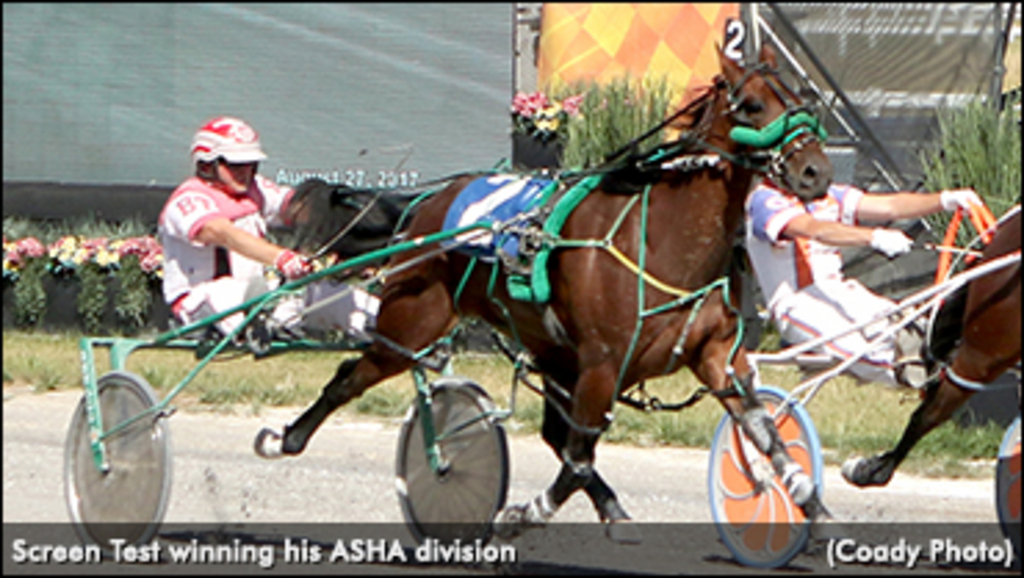 Edging to victory off a pocket trip, Screen Test got his nose in front to take the fastest of the three $10,000 ASHA divisions for two-year-old Alberta-bred colt and gelding pacers in 1:56.1 on Sunday, August 27 at Century Downs.
Outlaw Magalodon took the lead through a :28.1 opening quarter before being challenged by Freedom Rescue from first over. The two hooked up at the half in 1:00 before Outlaw Magalodon gained separation from his challenger sprinting up the backstretch, reaching three-quarters in 1:27.2. With a two-length lead at the head of the stretch, Screen Test pounced from a pocket trip to slide to a narrow victory over Outlaw Magalodon, with Freedoms Rescue six lengths behind in third.
By Vertical Horizon from the Cams Card Shark mare Starring Role, Screen Test, who is owned by William Andrew and trainer Dan Sifert and was driven by William Tainish Jr., won his second race in five starts, earning $11,115. He paid $6.80 to win.
Odds-on favourite Paradise Hill took the lead after the quarter and maintained control, progressing to a 1:57.2 victory in the opening of the three ASHA divsions.
Parked through a :29.3 quarter, Paradise Hill took the lead from Gonna Funku Up coming by the stands, going splits of :59.3 and 1:28.2 unchallenged and two-lengths clear of the pocket sitter before cruising to the wire a length-and-three-quarters in front. Gonna Funku Up held second, while No Time At All rallied from second over to finish third.
Winning his second race in four starts, Paradise Hill, by Vertical Horizon from the Grinfromeartoear mare Armbro Cool, competes for owner-trainer Rodney Hennessey along with partners Lorne Fufield and Diane Harries. Driven by Michael Hennssey, he paid $3.20 to win.
Recovering from a break at the start, Outlaw True Grit rallied from 15 lengths off the lead to take the other ASHA division in 1:57.4 by three-and-a-quarter lengths as the 2-5 favourite.
Tipping wide following a :28.2 quarter, Outlaw True Grit picked up cover after a :59 half and tracked Cheddar Jack and circled three wide to circumvent Snap Test stalled first over at three-quarters in 1:27.4. Outlaw True Grit overtook Cheddar Jack through the stretch, kicking away while Snap Test held for third.
A gelding by Blue Burner from the Cams Card Shark mare Gunslingingal, Outlaw True Grit won his second race in five starts, earning $21,249 for owner-trainer Rodney Starkewski along with partner Clauzette Byckal. Driven by William Tainsh Jr., he paid $2.80 to win.
To view Sunday's harness racing results, click on the following link: Sunday Results - Century Downs.