On Sunday (Aug. 27) Batavia Downs will once again present the very popular Family Fun Day and Wiener Dog races. It's daylong of fun for the entire family and every year it fills the Downs with thousands of kids, parents and grandparents.
There is a full schedule of free fun for the kids including pony rides sponsored by Castilone Chrysler Dodge Jeep Ram of Batavia, Pringles the Clown, Jason the Juggler, Mr. Scribbles and booths set up on the apron that will include Leroy Airbrush, face painting and sand art. These events run from 2:00 p.m. to 4:00 p.m.
$1 food items that include hot dogs, soda and sno-cones will be available from 12 noon until the last live harness race on the apron.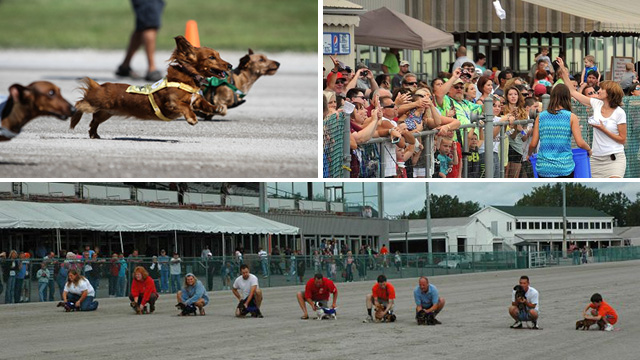 Then following the live harness racing action at approximately 4:30 p.m., the Wiener dogs hit the track for the "Dachshund Dash" sponsored by Genesee Feeds of Batavia. Ten heats with eight dogs per heat will line up before the championship field of 10 is decided. All dogs entered will be rewarded with $10 of gaming Free-play from Batavia Downs Gaming and a "doggie bag" full of gifts courtesy of Genesee Feeds. Each heat winner will receive an additional $25 in gaming Free-play. And then the winning dog and two runners-up will earn their owners Clubhouse buffets and gaming Free Play packages valued up to $200.
All the dogs must enter the tent "paddock" to register which will be set up by the valet parking entrance near the clubhouse turn. No dogs will be allowed through the main entrance of the track.
"Family Fun Day always brings in our biggest crowd of the year and it's definitely a red-letter day on our calendar" said Todd Haight, Director/General Manager of Live Racing. "Everyone, especially our marketing department, look forward to having all the dogs getting ready for their respective races, and all the families here to watch and take advantage of the fun on the apron. It's a great community day that we love to host every year."
Besides all the excitement in the grandstand, there is also a full card of exciting harness racing action on the track that features the $107,000 New York Sire Stakes (NYSS) for two-year-old trotting colts and geldings. The two divisions go as races one and four and post time for the first live harness race in 1:15 p.m.
With perfect weather forecast and speedy competition scheduled to appear, the track record for this division is almost certain to go down.
The first $53,500 division is in race one and has My Lindy Winner (Credit Winner-My Lady Lindy) slated as the 6-5 favourite.
My Lindy Winner has made only two starts in his lifetime and they couldn't have been more opposite. His first in July at Monticello Raceway was over before it began as he made a break at the gate. His second 11 days ago at Saratoga Raceway was historic.
Getting away fourth from post two, My Lindy Winner (Jim Morrill Jr.) stayed put most of the mile before tipping three-wide at the top of the stretch. From there he trotted past the front-running Purpose Blue Chip (Dan Daley) and first-over Clive Bigsby (Jason Bartlett) to win by almost two lengths in 1:56.4.
The time was a lifetime mark for My Lindy Winner but it was also a new track record at Saratoga Raceway for age, gender and gait and also made it the fastest trotting mile for a two-year-old trotting colt on a half-mile track in North America this year.
My Lindy Winner has drawn post three, has Jim Morrill Jr. back in the bike and looks to be another solid contender from the Tracy Brainard stable.
Challenging the favourite will be The Veteran (Muscle Mass-Tequila Slammer) who also raced at Saratoga his last start. In an earlier division of the NYSS, The Veteran got away third and tracked closely the whole mile as the top NYSS point-earner for this group, Fourth Dimension (Brian Sears) went gate to wire in 1:57; which for a short time was the new track record. The Veteran finished third and also trotted below the former Spa mark.
With two wins in four starts this year, The Veteran has one NYSS win to his credit and $29,645 in his bank account as a result. He will leave from post two for trainer George Ducharme who has assigned Chris Lems line-duty this week. He is 2-1 morning line.
In the second $53,500 split that is carded as race four, Clive Bigsby (Muscle Mass-Northern Flare) tries for his fifth win of the year and gets the nod as the oddsmaker's choice.
Clive Bigsby finished second last week at Saratoga to My Lindy Winner's record effort after leaving for position and then coming first-over at the half. From there he was parked the rest of the mile and provided live cover for the eventual winner. He still finished second after a very gutty effort.
For the year, Clive Bigsby has four wins out of six starts and has $66,812 in earnings. He is also the second leading NYSS point-earner this year in his division behind Fourth Dimension. He has drawn post one for trainer George Ducharme and is listed at 8-5. Chris Lems will be in the bike.
Also looking formidable in the race is Rich Uncle (Credit Winner-Royal Assets) who made an unfortunate break last week. Racing in a NYSS division at Saratoga, Rich Uncle left sharply off the gate and took a bad step in the first turn just as he was getting ready to drop in third. Prior to that he put in a stellar effort at Yonkers where he finished third in a 1:57 mile and the start before that, a NYSS win at Monticello where he was used twice during the mile.
Rich Uncle is trained by Ron Burke who has Jim Morrill Jr. up to drive. The pair will leave from post six and have been tabbed at 3-1 morning line.
The track record for two-year-old trotting colts at Batavia Downs is 1:58.1, which oddly enough was the same time of the former track record at Saratoga Raceway.
Post time for the first race on Sunday is 1:15 p.m.
(with files from Batavia)