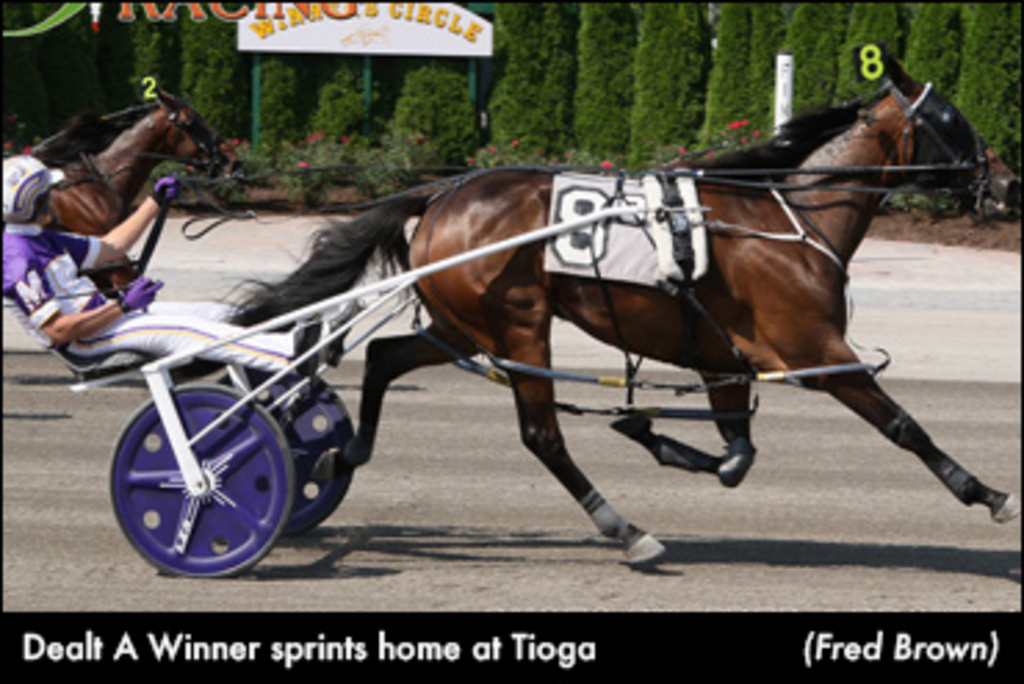 Dealt A Winner and Obvious Blue Chip lit up the Tioga Downs tote board on Sunday afternoon (August 20) with a pair of double-digit upsets in the $163,000 Roll With Joe open pace and the $257,850 Empire Breeders Classic for pacing fillies.
Dealt A Winner ($72.50) capped a nine-race card in the Southern Tier by upsetting as the longest shot on the board in the annual event for open pacers, defeating 2016 Confederation Cup champion Rockin Ron in 1:47.4. After landing in mid-division on approach to the first turn and stalking Sunfire Blue Chip's :26.1 first quarter from five lengths adrift, David Miller angled the five-year-old Cams Card Shark gelding second-over behind the cover of favourite Wakizashi Hanover on approach to the clubhouse turn. As Wakizashi Hanover pressed Rockin Ron – who worked clear with a circuit to go – to a :26.3 third split, Dealt A Winner was towed into striking range, mounting his three-wide push on the far turn.
As Wakizashi Hanover faded off the home turn, Dealt A Winner found more – working to the lead with fifty yards to go and drawing away by 1-1/2 lengths. Rockin Ron protected second, and Sunfire Blue Chip stayed on for third after yielding to the pocket in the early development of the race.
Mark Silva trains Dealt A Winner for owner Jeffrey Snyder.
The $257,850 Empire Breeders Classic for New York-sired three-year-old pacing fillies (race eight) saw Mark Steacy trainee Obvious Blue Chip ($57.50) spring a 27-1 upset using similar second-over tactics. Scott Zeron angled the Roll With Joe filly behind the cover of Clear Idea (Mark MacDonald) into a :54.4 half mile, and flipped three-wide at the apex of the far turn as Clear Idea worked onto level pegging with odds-on pacesetter Tequila Monday (Brian Sears). Obvious Blue Chip pounced on duelling leaders with a sixteenth to go, and drew off to best the first-over Clear Idea by a length in 1:50.2. Ameraway (Corey Callahan) emerged from midpack traffic, splitting rivals in deep stretch to reach third.
Stephen Klunowski of Ontario shares ownership of Obvious Blue Chip with the NLG Racing Stable.
In the $263,100 Classic three-year-old pacing colts and geldings (race seven), favourite Heavens Gait ($4.50) swept to the fore at the sixteenth pole after stalking a cutthroat :26 third-quarter duel between In A Single Bound (Billy Dobson) and Funknwaffles (Callahan). David Miller drove the Rock N Roll Heaven colt to a 1:49.2 victory for trainer Nick DeVita and owner John Cummins. Miso Fast (Matt Kakaley) and Music Is Art (Tim Tetrick) likewise improved from far off the pace to take second and third respectively as the front flight tired.
Tim Tetrick swept the undercard events with a pair of favoured trotters: Repentance ($4.20) in the $53,700 Arthur Tomkins Memorial for two-year-old fillies and Pasithea Face S ($3.40) in a $40,000 Miss Versatility preliminary for older distaffers.
In the Tompkins (race two), Repentance enjoyed a clear pocket trip behind Seven Karats (Yannick Gingras) through splits of :29.2, :58.4, and 1:28 before angling out in upper stretch and reaching by half a length for a 1:56.1 score. Linda Toscano trains the daughter of Chapter Seven and Swan Hot Mama for Diamond Creek Racing.
In the Miss Versatility (race five), Pasithea Face S stalked early leavers Oho Diamond (Brett Miller) and Side Bet Hanover (David Miller) before brushing to the fore with a circuit to go and holding her ground under stern first-over pressure from P L Jill (Callahan) through the final three-eighths of a 1:50.4 mile. Jimmy Takter trains the five-year-old Muscle Hill mare for Courant, Inc.