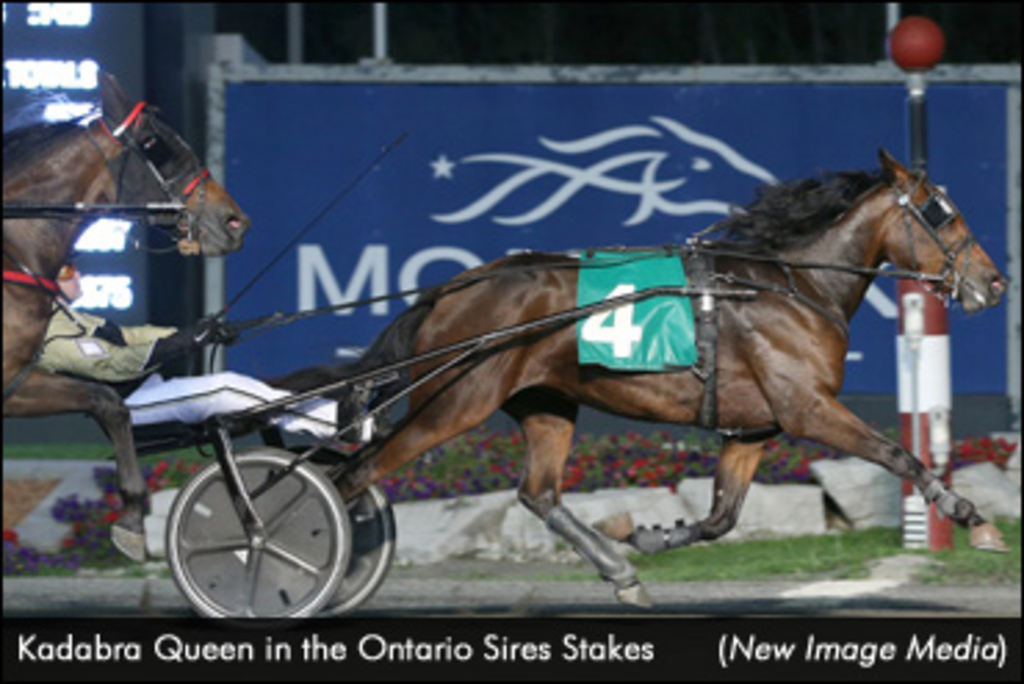 Mohawk Racetrack hosted the two-year-old trotting colts and fillies on Friday evening (August 18) and the novices put on an impressive show in a trio of Gold Series divisions.
The fillies jump started the evening and Apprentice M's effort had trainer Jonas Czernyson's heart beating a little quicker than normal as she toured the Mohawk oval on the front end.
Starting from post five, Apprentice M was sitting fourth when Sorceress Seelster reached the opening quarter in :28.3, but driver Doug McNair of Guelph, Ont. soon moved the fan favourite to the front and Apprentice M sailed through fractions of :59 and 1:28 on her way to a three-quarter length win in 1:57.2 Sorceress Seelster finished second and Miss Mimi was third.
"I was hoping for a come-from-behind trip with her and not being in the lead, but she did it and she got the job done from there, so I'm very happy with that," said Czernyson, adding that his concern about her early move to the front was rooted in an equipment change made after her August 4 runner-up effort at The Meadowlands. "A green horse and the first time open bridle too, so it was a little like 'I don't know if this is going to work,' but she got it done."
The win was Apprentice M's first after a pair of runner-up finishes, the other coming in the July 25 Gold leg at Mohawk. A Kadabra half-sister to $1.3 million winner Charmed Life, Apprentice M was an $85,000 yearling acquisition at last fall's Lexington Selected Sale by Menhammar Stuteri AB of Paris, Kentucky, and Czernyson had high expectations for her early in the training process.
"She's done everything right from Day 1, pretty much, so I've been very pleased with her," said the New Jersey-based trainer. "She's kind of a nice going filly and pretty easy to get along with."
The winner of the second $94,800 trotting filly division is also pretty easy to get along with, and just over an hour after her third straight Gold Series win Kadabra Queen was gobbling down her dinner and heading back outside to her paddock.
"We're sitting here waiting for her to eat her dinner so I can turn her back out with her girlfriend and she'll go and spend the night outside tonight," said trainer Chad Milner. "She lived outside all winter, no blanket, the whole nine yards. I think she's maybe spent five nights in the barn this year."
The natural life clearly suits the Kadabra daughter, who has not been worse than third in six starts through her freshman campaign.
On Friday, she and driver Scott Coulter of Brantford, Ont. went gate-to-wire from post four, rolling through fractions of :29.1, :58.3 and 1:27.2 on the way to a one-length victory in a personal-best 1:57.1. Northern Lightning and favourite Smoke And Mirrors finished second and third.
"We're very happy with her, first time on the front end, wire-to-wire, real happy," said Milner, adding that he had considered making his own equipment change after the filly made a brief bobble at the start of an overnight event at Mohawk on August 4 that resulted in a third-place finish.
"I was too scared to change anything," Milner admitted with a laugh. "I tried all week and I warmed her up in the [ear] plugs and she was fine, but I was like, you know what, she's already won two Golds without them, I'm just going to leave them out."
Owned by breeder Harness Horsepower Inc. of Campbellville and Frank Monte of Markham, Ont., Kadabra Queen boosted her earnings to $150,900 with the win and stretched her lead out to 50 points in the two-year-old trotting filly division standings.
In the $124,200 trotting colt Gold division, Perfetto got a steady steer from Arthur, Ont. resident Trevor Henry, who sat mid-pack with the fan favourite for much of the race, waiting until the stretch to ask the novice trotter for a second gear. Perfetto responded with a sharp finishing kick that propelled him to a two and three-quarter length victory over Winning American in 1:57.3. Union Jack was well behind the leaders in third.
"I think he's going to be a really nice colt. He's very green and he's a little goofy, as we saw last week when he kind of made a break," said trainer Richard "Nifty" Norman. "He's just a little unsettled yet, but Trevor did a fantastic job driving him, and kept him really quiet. You know, the main thing was just to get him around in one piece and try and teach him something, and he did that and got paid for doing it, so it worked out really good."
Friday's outing was just Perfetto's second lifetime; he finished third in the August 1 Gold leg at Mohawk, recovering from a bobble going to the half. The Majestic Son gelding, who was a $32,000 purchase from the Harrisburg Yearling Sale, is owned by Norman's Enzed Racing Stable of Allentown, New Jersey and his partners David McDuffee of Delray Beach, Florida and Joe Hansford of Foothill, Alta.
The two-year-old trotting fillies and trotting colts will return to Mohawk Racetrack for their fourth Gold Series starts on September 25 and 26 after a series of open stake events, starting with the Champlain Stakes on August 31 and September 1.
On Saturday, the Campbellville oval will host the two-year-old pacing colts and fillies as they battle in their third Gold Series event. The pacing fillies will compete in Races 2 and 8, while the colts duel in Races 5 and 7. Mohawk Racetrack's first race goes in behind the starting gate at 7:30 p.m.
To view Friday's harness racing results, click on the following link: Friday Results - Mohawk Racetrack.
(OSS)