Swedish-bred Pasithea Face was making just her second stateside start in the $176,250 Dr. John R. Steele Memorial TVG Free-For-All for trotting mares, but expect to see more of this talented mare on North American soil.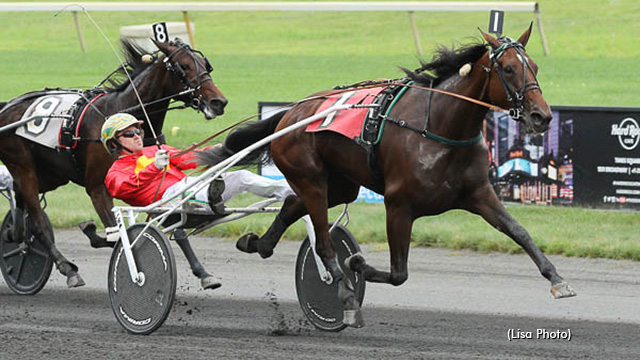 Wearing the colours of owners Courant AB, a red-clad Tim Tetrick guided Pasithea Face to a forwardly-placed pocket spot behind Emoticon Hanover (Daniel Dube). That mare was in front through the :27.3 quarter but yielded to favoured Hannelore Hanover (Yannick Gingras), who was right-lined from third and cleared to the lead before the :54.4 half. Caprice Hill (Brian Sears) started the outer flow, flushing Pasithea Face from third and into first-over around the final turn.
Three-quarters was reached in 1:23.3 with Pasithea Face stride for stride with Hannelore Hanover. As the field turned for home, Pasithea Face began to edge away from the field and hit the wire in an impressive 1:51.2. Caprice Hill closed strongly on the outside to finish second with Emoticon Hanover sliding up the rail to complete the triactor. Hannelore Hanover finished fourth.
"I got to drive her two weeks ago (in a second place finish in the Ms. Versatility) and I just loved her," said Tetrick. "It was her first start here and thought we'd go nice and easy with her and she trotted strong to the wire. She did her job today. Hannelore Hanover was the one to beat today. She didn't have the best day, but take nothing away from my mare, she was awesome."
With her first win on North American soil, Pasithea Face now boasts 10 career wins for Courant AB. Jimmy Takter trains the five-year-old daughter of Muscle Hill - Jovelinotte, bred in Sweden by Lutfi Kolgjini and Anna Svensson.
"This horse is really strong," said Anders Strom, who races the five-year-old mare under his stable name of Courant, Inc. "I thought she would do great by the mile track and so did her trainer, Lutfi Kolgini in Sweden. We are friends with Jimmy (trainer Takter), so of course this is a great option to come over and try to get a big record for her before she goes to the breeding barn."
Pasithea Face races in the red and gold silks of her owner, designed for a simple reason, said Strom, "It's because my mom can't really find my horses in the race, so that's why we wear this colour for the horse."
Stay tuned with all the happenings on Hambletonian Day with updates posted in the 2017 Hambletonian Day News Centre.
(with quotes from The Meadowlands)