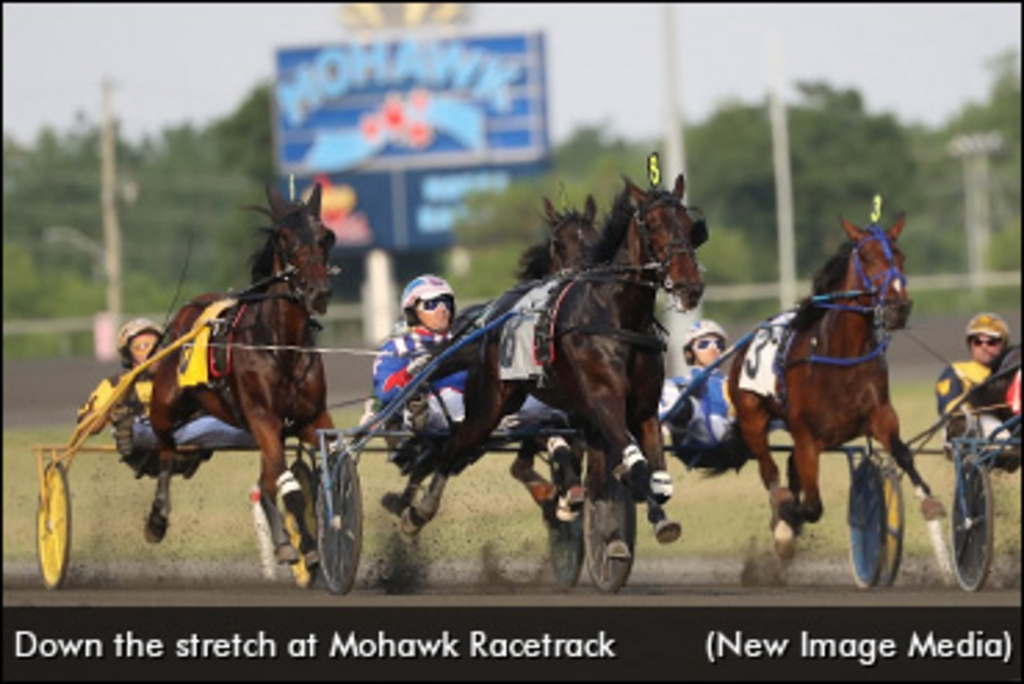 Nearly $800,000 will be up for grabs at Mohawk Racetrack on Saturday night as the Campbellville oval showcases the best of the Ontario Sires Stakes sophomore crop. Pacers and trotters, colts and fillies will line up behind the Mohawk starting gate in nine Gold Series divisions.
"All the best three-year-olds are there," said the program's leading driver Sylvain Filion. "I think fans will enjoy watching all the good three-year-olds in the same night. They should have one heck of a race card to watch."
The three-year-old trotting fillies will kick things off at 7:30 pm in the first race and the absence of division heavyweight Magic Presto -- currently competing stateside -- gives the other fillies a chance to pad their point tally in the quest for a season ending Super Final berth. Filion will drive one filly in each of the $96,400 divisions, guiding July 7 Gold Leg winner On A Sunny Day from Post 6 in the first race and last year's division champion Winter Sweet Frost from Post 3 in the third.
"I feel lucky to get the opportunity to drive those two fillies," said the Milton, Ont. resident, who is the regular pilot for On A Sunny Day and will make his debut in Winter Sweet Frost's race bike. "On A Sunny Day, she raced real big last time at Georgian (July 2); that was one heck of a trip. She fought off [Magic Presto] there. That was a really, really super mile."
Filion will also steer trotting colts Magic Night, Post 6 in Race 6, and R First Class, Post 6 in Race 8, pacing colts Yogi Bayama, Post 3 in Race 2, and Tymal Peacemaker, Post 8 in Race 9, and pacing fillies Soiree Seelster, Post 5 in Race 11, and Yaris Bayama, Post 2 in Race 12. The four-time winner of the Lampman Cup award as the top driver in the Ontario Sires Stakes, Filion noted that Tymal Peacemaker could be poised for a big effort in the third pacing colt division. The Stephane Larocque trainee heads into the event off a 1:51.2 victory in an overnight event at Mohawk on July 15.
"Tymal Peacemaker really raced good his last start. His first Sires Stakes this year (July 1) I shut his air off, so he didn't race that good that night, but he bounced back pretty good, and he felt really good the other night," said Filion. "I know he drew the outside post (8), but I think if he races the way he did last time he should be really tough to beat in there."
Looking at the nine Gold Series events, Mohawk announcer Ken Middleton sees a variety of interesting wagering propositions for fans looking for selections beyond the expected favourites.
"Saturday's card should offer a number of value play possibilities in the Gold Series events. Especially with horses that are on a roll, but have yet to prove themselves at this elite level," said Middleton. "A prime example of a horse that fits the bill is Bills Fella (Post 2 in Race 5). He's a bit of a late bloomer who has started to come into his own in recent weeks for trainer Gregg McNair.
"He'll hook up with two of last year's big name pacing colts in Sports Column and Arsenal Seelster, but it looks like he might be catching them at a good time," Middleton continued. "He's one I'd take a rip at if the price was 4-1 or higher."
Saturday's contest marks the midway point in the sophomore Gold Series season, so all 74 hopefuls should be in top form as they battle for points toward a berth in their respective $225,000 Super Final. The top 10 point earners from each division will qualify for a spot in the Oct. 14 Super Finals at Mohawk.
The OSS action won't be the only fun going on Saturday evening. Fans on-track can sign up for "Drive With Us" for a chance to take part in sulky rides between races.
The sign-up for "Drive With Us" is available at the Customer Service/Program desk and is available on a first come, first serve basis. Spots do fill up quickly, so fans are encouraged to inquire immediately upon arrival.
There will also be a drawing Saturday evening for a Pepsi North America Cup poster autographed by all 10 drivers from this year's race. Ballots will be available at the Program desk and the drawing will take place after Race 6.
Doors open Saturday at 5:30 p.m., with the Terrace Dining Room and Trackside Bar opening at 6:30 p.m. Live racing begins at 7:30 p.m., with the three-year-olds starring in Races 1, 2, 3, 5, 6, 8, 9, 10 and 11.
To view entries for Saturday's card, click one of the following links:
(with files from OSS and WEG)