Harrah's Philadelphia kicked off its Summer Racing Series Friday with a Liberty Bell Park Reunion Night at the track that was enjoyed by all in attendance.
It was the first of three Friday-night live race cards with reunion events for former Delaware Valley harness tracks. The next is Garden State Park Night on Friday, August 11, followed by Brandywine Raceway Night on Friday, September 8. Post time each Friday is 6:30 p.m.
There was live racing on the track Friday, live music on the patio area, a mechanical rodeo bull for people to try and ride, games for both children and adults, outdoor barbecue and more.
Meeting racing stars and former employees from Liberty Bell Park was the main attraction for the many racing fans that crowded the Harrah's patio. Other draws included an outstanding memorabilia show with a contest for $300 in betting vouchers judged by legendary sports talk show host, Jody McDonald of WIP Sports Radio and video clips of past races from Liberty Bell.

McDonald, also on hand to greet fans and answer questions, will return to host the next two reunion nights. He was assisted in the judging contest by John Polvinale.
The Summer Series Reunion Nights were developed by Harrah's Philadelphia and the Pennsylvania Harness Horsemen's Association (PHHA).
Steve Ross, the former track announcer at Liberty Bell Park, was the emcee for the night, and after each live harness race showed video clips of top races from Liberty Bell Park and then interviewed drivers, trainers and former employees from the winner's circle.
Eddie Davis, the all-time winningest driver/trainer at Liberty Bell Park and Brandywine Raceway – nine titles at both tracks, plus a national dash-winning title one year – was trackside, meeting horsemen and women, former employees and race fans.
"This was so great tonight," Davis said. "I saw people from Liberty Bell that I haven't seen in 30 years. What a great idea. When they called and invited me to come to the track for this, I could not say no. Now I am really looking forward to coming back for the Brandywine Reunion Night."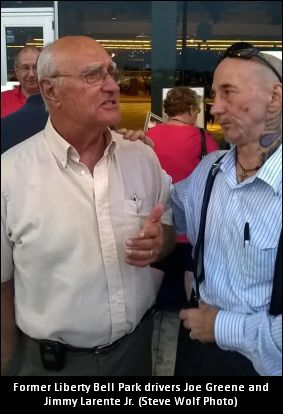 "We were pretty worried that people would not come out because of the severe thunderstorms and rain we had earlier in the afternoon," said Barry Brown, director of racing operations at Harrah's Philadelphia. "But the rain ended by 5:30 p.m. and we had a great crowd come out and everyone really enjoyed themselves."
Other horsemen and owners from the Liberty Bell Park days that came out included Joe Green, Jimmy Larente Jr., Alvin Stafford, Kim Hankins, John Polvinale, Rick Wyatt and Dave Krelow. Former employees in attendance were Hall of Famers Marv Bachrad, Jerry Connors and Steve Wolf along with Judy Davis Wilson, Peter Lawrence, John Pantalone, Al Kraszewski and former Philadelphia Inquirer horse racing writer Jack Chevalier. Representing the PHHA were Peter Marinari and Ed Kobesky.
The memorabilia contest featured hundreds of items including race programs, photographs, giveaway items, even an original letter from the owner of Liberty Bell Park to Herve Filion congratulating him on winning that year's driving title. The top prize of $150 went to Alvin Stafford's family, who brought in the original first-race finish and win circle photo of Majestys Knight from opening night in 1963.
"Tonight, was so overwhelming to me," said horseman Jimmy Larente Jr. "I had not been back to a racetrack since 1989 and had forgotten so many people. When I saw someone I thought I knew, and they looked at me the same way, we introduced ourselves and then hugged and talked about the old days. It kept bringing tears of joy to my eyes. I will not miss the next two reunions for sure."
Details for the Garden State Park Reunion Night (Aug. 11) will be announced shortly. For the Brandywine Raceway Reunion Night (Sept. 8), the first 400 race fans to purchase a Harrah's race program, will get a special Summer Series T-Shirt.
For more information, visit caesars.com/harrahs-philly.
(Harrah's Philadelphia)