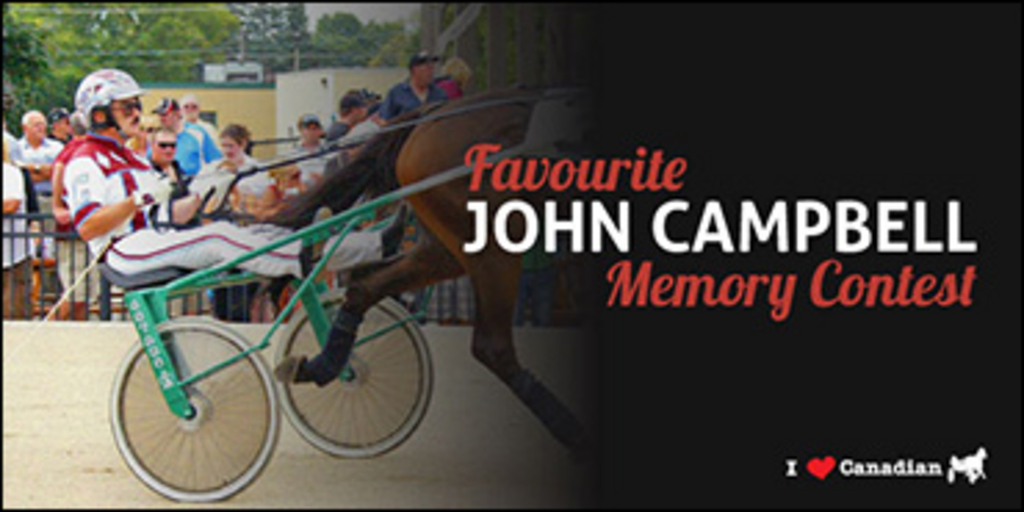 Joey Leonardis, of Toronto, Ont., shared a great memory of his Dad's (Joe Leonardis) mare, Jays Table, winning the 1998 Breeders Crown in world record time with John Campbell at the helm, and was declared the winner in the Fan Club's John Campbell Memory contest.
Joey currently owns two racehorses, both homebreds, with his mom and two brothers – three-year-old pacing filly Thats Mia Bad and four-year-old pacing mare Mia Oh My.
The last time Joey watched Campbell race, in person, was the 2015 Breeders Crown at Woodbine Racetrack.
Joey's favourite racetrack to watch live racing is Kawartha Downs. "Such a wonderful grassroots racing experience for a fan," he said. "To be that close to the track and they usually have lots going on to involve those watching. Nice to see people bring out their kids (something my parents did with us and what has me hooked on racing)."
Jays Table was a homebred for Joe Leonardis (who passed away in December, 2010) and during her race career started 119 times with a record of 40-17-12 and a mark of 1:49.3 to go along with $840,511 in career earnings.
Here is Joey's submission:
August 1, 1998. Breeders Crown at the Meadowlands. My father's horse, Jays Table, was entered in the Open Mare Pace. First time at such a big event in his 30+ years of owning horses. John was the catch driver and he had never sat behind her, she had never raced outside of Ontario until that day. His first interaction was in the front paddock minutes before the post parade. Our family was a bag of nerves for weeks leading up to this and here walks in Mr. Campbell all calm and collected as if it's just a maiden race. I remember John asking my father what he should know about her. My father told him, 'she doesn't like to be touched by the whip.' He said 'ok don't worry.' I can recall his smile, he is still as calm as can be and here we all were nothing but a wreck in anticipation! The race is on and with just some shaking of the lines and perfect placement the race is over and here we are with the fastest female in harness racing history. World record of 1:49.3 and a Breeders Crown champion!
What an incredible moment that our family still cherishes and holds as a once in a lifetime race. The horse wasn't even in the winner's circle yet before my father ran on to the track! I remember Mr. Campbell, still as calm as he was before the race, with that same smile and offering a handshake! Needless to say and as you can see in the picture (below), my father grabbed Mr. Campbell with a huge hug and wouldn't let him go! Proof is in the photo of a huge kiss on the cheek as well! I can't think of a better memory to have of John Campbell, knowing that for one race, he helped my father's dream come true. His relaxed demeanour and 'golden' hands is incomparable. He was our hero that day and still remains. We thank him dearly! John, best of luck in your retirement!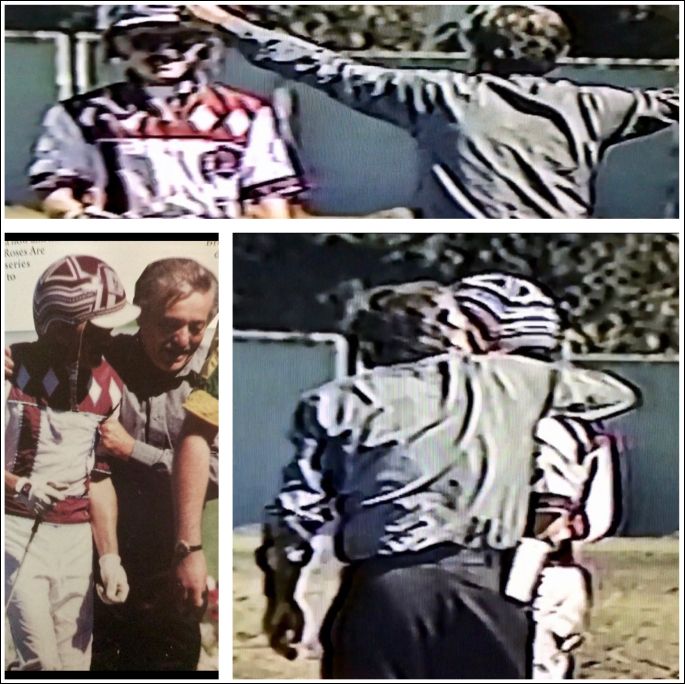 For winning the contest Joe has won a special Legends Day package which includes a $25 betting voucher, two tickets to the chicken BBQ, a photo with John and some FC swag.
Thanks to everyone who submitted their favourite memories! We'd like to share a few more excerpts from some of our favourites.
1988 at Garden State Park in New Jersey. I am in a wheelchair training horses and was qualifying one at Garden State. I was in the paddock wrestling to put equipment on my horse. I saw a set of feet on the other side of the horse. A voice said, "Amazing what you do (referring to media coverage on me at the time), Can I help?" I said "sure." Not knowing who it was. I rolled around to the other side and WOW, there was John Campbell helping with my horse and saying I was an inspiration, yet I admired and looked up to him. MADE MY DAY, WEEK, MONTH, YEAR. An amazing and humble man. Submitted by Jerome Bouvier
John drove my horse Keystone Lowdown in the Provincial Cup at Windsor. After finishing third to Jennas Beach Boy and Village Connection we were very happy. The groom asked him for his driving whip after the race; John said, "Sorry but I promised it to a little boy in the grandstand." "What about your gloves," he asked, "It's for my son back home in the Maritimes." There was no hesitation, John took his gloves off and handed them over to him. I asked him, "What are you going to do, you have more drives." "No problem," he said, "I'll just borrow a pair for the rest of the night." A very class act and always has time to say 'hi' when I see him in the paddock on race nights. Submitted by Nicky Comegna
Being from a harness racing family in southwestern Ontario, and growing up in the same era as John Campbell, following John's career from the early days at Western Fair and on to the Meadowlands has been a favourite past time of mine. Last year, to celebrate my father's 80th birthday, my brothers and I decided to treat dad to a week in Delaware, Ohio for the Little Brown Jug. This trip produced my favourite John Campbell moment with his win on LA Delight in the Jugette. The obvious southwestern Ontario connection of John Campbell driving a Bob McIntosh filly to a victory in the Jugette would have been memorable in itself. But the show of emotion from John just after the wire, with an uncharacteristic fist pump, showed just how special that win was and how much meant to him. Being an amateur photographer, my goal for the week was to get a few good shots to remember the occasion. The photos I got of John and LA Delight will always be a reminder of my favourite John Campbell moment. My only regret is that I was so excited to see the finish that I didn't capture that great 'fist pump.' Submitted by Don Lilley
John Campbell, for those who have not had the pleasure to personally interact with, is a very modest man. My memories are having watched him drive many successful wins while driving my Grandfather James and Uncle Bill Cadman's horse Derbys Gent all over Ontario in the '70s (John drove Derby also in the US, but being young at the time, never attended with my parents). John began a huge career and shared many winning moments and created lifetime relationships with owners and trainers.
John will always remember you and take the time to engage in a conversation, a man who respected his many fans. I treasure a whip he used in a drivers challenge at Elmira Raceway in 1979, the same whip I took to Western Fair Raceway when he was honoured many years later, to my delight his first words were "where is this the whip I gave you in Elmira?"
John has had a very successful career with many achievements, his stamina and ability to drive for well over 40 years shows his commitment to his love of Standardbred horses and the industry.
Congratulations John! Now is your time, wishing you a healthy retirement, and remembering all the memories with family and friends. Submitted by Heather Wells (Maguire)
It was 1987, and I only know that because the great Mack Lobell was a three-year-old. I was a young kid and was going to Lexington to the sales and to watch the races. I flew alone on a connecting flight from Toronto to Lexington with a stopover in Cincinnati. Just one problem, upon arrival in Ohio the pilot came on and said that the plane would not continue to Lexington. Oh no what would I do? Surprisingly, John stood up and asked who was going on to KY. Well it was Mr. Campbell, Bill O' Donnell, Trevor Ritchie and myself. It was only 100 miles to Lexington and John said that he would rent a car and the four of us would drive. I was beside myself with envy. Mack was scheduled to try for the Triple Crown in mere hours, and here I was taking a road trip with two of the participants. Well, we pulled into the Red Mile and John hands me the keys to the car. He asked me to return it when I could. Who would do that? He was such a gentleman and had my admiration from that day as a person. By the way, Napoletano went on to beat 'Mack' in three heats that day. I, on the other hand, left with a memory of a lifetime. What a career for such a great man! Submitted by Kelly Winacott