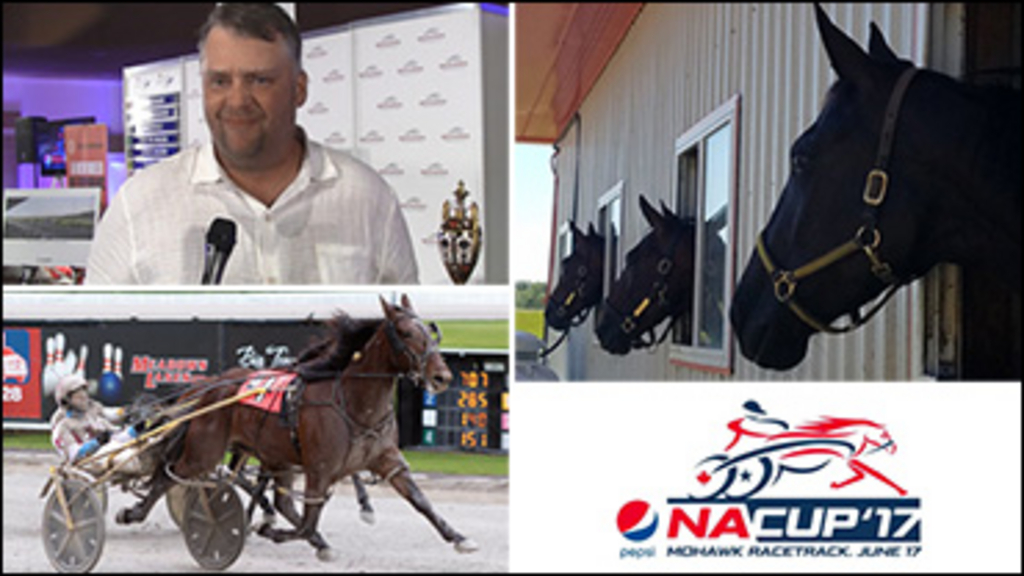 "It's going to come down to if we get some battling up early that maybe we can pick up something on the outside on the back end of it. But you know, it's the NA Cup, anything can happen and people will drive it in ways you just don't expect sometimes."
The Ron Burke stable's assistant trainer Mickey Burke Jr. discussed 2017 Pepsi North America Cup starters Filibuster Hanover and Miso Fast with Trot Insider at the post draw on Tuesday, June 13. The $1 million final will be contested this evening at Mohawk Racetrack.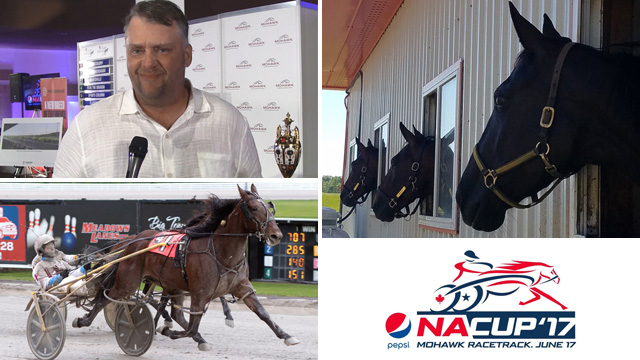 Both with strong closing kicks, Filibuster Hanover (:27.2) finished second to Fear The Dragon in his elimination while Miso Fast (:26.4 -- the fastest final quarter in the elims) drew into the final off a fourth-place finish in the elimination won by Huntsville. The post position draw was not kind to the Burke trainees, who drew posts eight and 10, respectively. Matt Kakaley will retain the drive on Miso Fast for his first start in the North America Cup while Canadian rising star Louis-Philippe Roy will make his Cup debut picking up the catch-drive on Filibuster Hanover.
"My friend Francis Richard called me to tell me that Burke was going to put me down on the horse. He called Francis as he didn't have my number," Roy told Trot Insider, commenting on receiving the news. "I was really happy as last week I was disappointed about my drive in the elims with Hurricane Beach. I then watched some replays of Filibuster Hanover and I can't wait to sit behind him."
Burke has sent out six past Cup starters himself and this is the second straight year he's had a pair of entries in the final. He hoisted the trophy for the first time in 2014 when JK Endofanera pulled off a 12-1 upset from post nine defeating favourite Tellitlikeitis.
Burke Racing Stable and J And T Silva Stables are part of both Cup contenders' ownership groups with Joseph Di Scala Jr. and Weaver Bruscemi also partners on the Somebeachsomewhere gelding Filibuster Hanover and Our Horse Cents Stables co-owning the Roll With Joe colt Miso Fast.
In addition to discussing his Cup hopefuls, Burke commented on a few of his undercard contenders including Goodtimes Trot starters Southwind Cobra and Southwind Woody and Armbro Flight favourite Hannelore Hanover.
The post positions for the 2017 North America Cup Final appear below.
$1 MILLION PEPSI NORTH AMERICA CUP
(Post – Horse – Driver - Trainer - Morning Line Odds)
1 – Ocean Colony – Yannick Gingras – Jimmy Takter – 10-1
2 – Downbytheseaside – Brian Sears – Brian Brown – 3-1
3 – Huntsville – Tim Tetrick – Ray Schnittker – 8-5
4 – Fear The Dragon – David Miller – Brian Brown – 2-1
5 – Sports Column – Chris Christoforou – Blake MacIntosh – 25-1
6 – Classic Pro – Trevor Henry – Dr. Ian Moore – 20-1
7 – Ozone Blue Chip – Brett Miller – Ron Coyne Jr. – 25-1
8 – Filibuster Hanover – Louis-Philippe Roy – Ron Burke – 15-1
9 – Western Hill – Doug McNair – Tony Alagna – 20-1
10 – Miso Fast – Matt Kakaley – Ron Burke – 20-1
To view the entries for Saturday's card at Mohawk or a free program, courtesy of TrackIT, click on one of the following links: Saturday Entries / Saturday Program Pages.
The Pepsi North America Cup headlines Mohawk's mega-stakes Saturday card of harness racing that will also feature a $75,000 Cup Consolation, the $440,000 Fan Hanover Stakes (for three-year-old pacing fillies), $365,000 Roses Are Red Stakes (pacing mares), $253,000 Armbro Flight Stakes (trotting mares), $251,000 Goodtimes Stakes (three-year-old trotting colts), and $100,000 Mohawk Gold Cup (invitational pacers).
First race post time is 6:30 p.m. The 34th edition of the Pepsi North America Cup will go postward at 10:40 p.m. EDT and will be broadcast live on TSN3 and TSN5 from 10 p.m. to 11 p.m. ET.
(Photo credits: stable shot of Hannelore Hanover, Miso Fast and Southwind Cobra -- Kim Calenda; Filibuster Hanover -- Chris Gooden)