Back by popular demand, one of the biggest events of the live horse racing season at Grand River Raceway features four-legged warriors of a markedly different kind.
The third annual Ren's Pets Depot Wiener Dog Races at Grand River Raceway are set for Friday, July 7. Dachshund registration opened June 7, and is limited to 30 spots at $50 per dog. Based on past years' reception, officials expect the spots to fill up within a few days.
A Wiener Costume Contest has been added to the bill, affording participation for 30 Dachshunds with less athleticism and more theatrical flair than their racy counterparts. The Wiener Costume Contest is limited to 30 spots at $50 per dog. The top three finishers will be determined by popular vote, via ballot in the race program and online poll.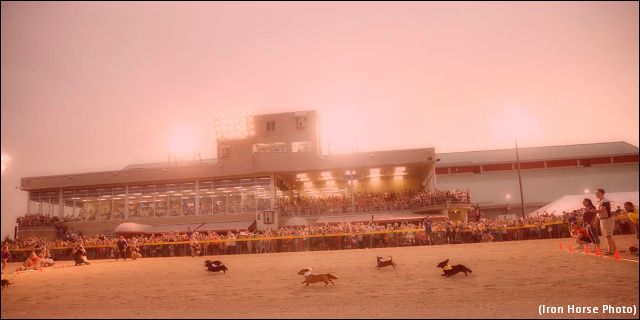 2016 Ren's Pets Depot Wiener Dog Races at Grand River Raceway (Iron Horse Photo)
While parking and admission is free for the general public — with several food and beverage options onsite — Grand River Raceway has introduced an exclusive VIP Wiener Wrangler Experience for discerning wiener dog enthusiasts.
Only two teams of four are available for the VIP Wiener Wrangler Experience. For $100/person, Wiener Wranglers have exclusive on-track access to watch and participate in the Wiener Dog Races. Wiener Wranglers are responsible for encouraging and catching stray wieners. They also receive a Wiener Wrangler t-shirt and VIP window seating and buffet dinner in the (sold-out) Captain's Quarters Dining Room. VIP Wiener Wranglers are recognized with a horse race named in their honour and recognition on the TV broadcast.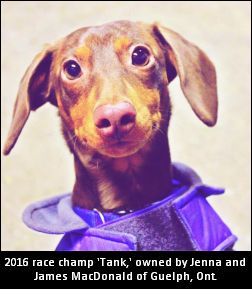 The event is supported by title sponsor Ren's Pets Depot, the OLG Slots at Grand River Raceway and Legendary Canine.
In all, the evening offers spectators four dog races, a Wiener Costume Contest and 10 horse races.
The horse races begin at 6:30 p.m. on July 7. The Wiener Costume Contest will be showcased after horse race #3 (7:15 p.m.). The three qualifying heats of wiener dog races will be contested consecutively starting at 8:00 p.m. The top three finishers from each dash will advance to the race final at 8:45 p.m. All races are 20 metres in length.
All participating dogs will receive a swag bag compliments of the event sponsors. All winners of the qualifying race heats receive a small gift. The runner-up and third-place finisher in the costume contest and race final receive a $50 gift. The champion of the costume contest and race final wins a trophy and more than $300 in prizes. All dogs will be profiled in the evening's race program and on the TV broadcast.
See the Grand River Raceway website for complete event details, rules and online dog registration.
(Grand River Raceway)