Driver George Napolitano Jr. and trainer Chris Oakes combined to win both $25,000 winners-over pacing features Saturday night (June 3) at The Downs at Mohegan Sun Pocono, as the duo first clicked with Scott Rocks and then with Split The House.
Split The House was in the tougher of the two divisions, but nonetheless was sent off at 3-5 odds and justified the confidence of his backers by posting a four and three-quarter-length victory in 1:48.2, a personal mark, the fastest mile of the season at Pocono, and believed to be the fastest mile of the year on a five-eighths-mile track, bettering by a tick the number put up by Rockeyed Optimist at Philly last Sunday.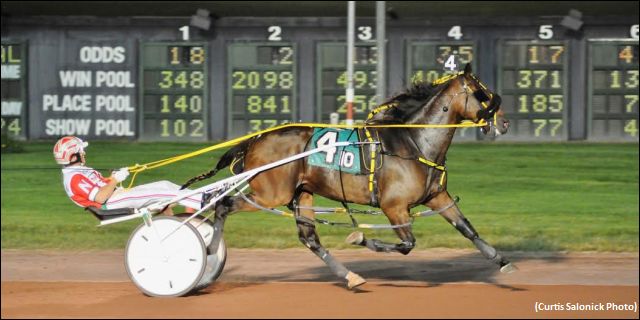 Split The House, victorious at Pocono on June 3, 2017 (Curtis Salonick Photo)
The winning Rocknroll Hanover gelding was 'outleft' by Ideal Cowboy early, but George Nap was soon doing his own rock 'n roll behind the horse, kicking the plugs out before the first turn and urging the horse to go on to the top, which he made by the :26 first quarter. Split The House made the half in :53.3, and then opened a big lead down the backstretch to and past the 1:20.3 three quarter, keeping the open margin to the wire. Barimah A, the Van Rose Pace winner here, nosed out The Real One for second behind the winner, who now sports a bankroll of $392,833 under the ownership of Crawford Racing Farms.
GNap, Oakes, and Rocknroll Hanover also combined to take the other $25,000 pace, as the gelding Scott Rocks, an even money shot, quarter-moved to command, laid down a pedestrian half, then sprinted home in :54.1 to withstand the 'Pocono Pike' charger Betting Exchange by a neck in 1:50. Scott Rocks, who took his mark of 1:48 at Pocono last year, shows earnings of $548,079 for the partnership of Susan Oakes and Chuck Pompey.
(PHHA / Pocono)