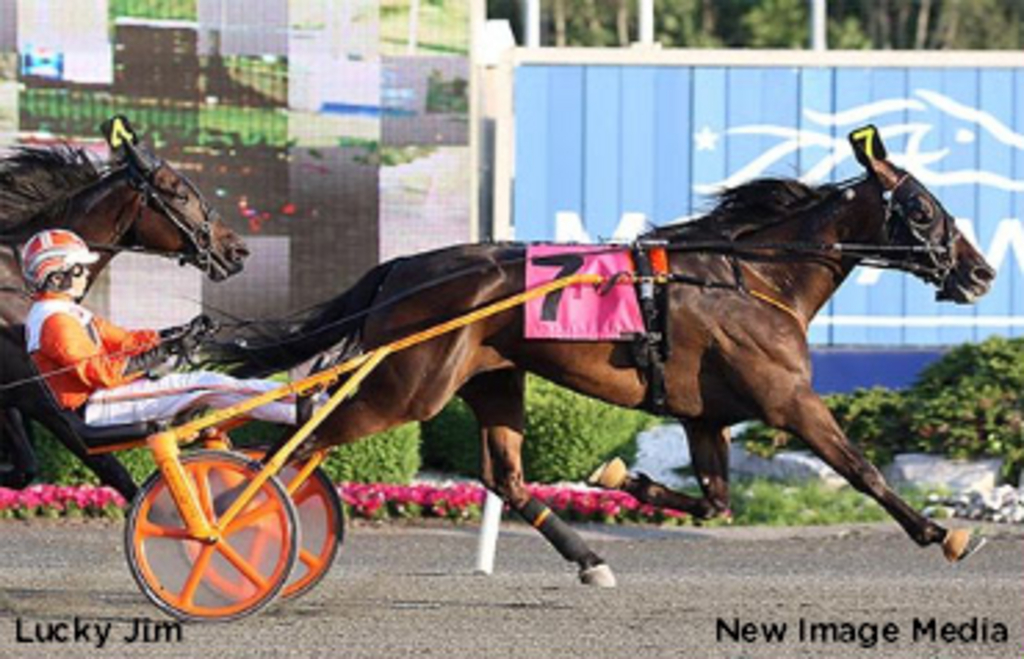 Some of harness racing's top contenders converged at Mohawk Racetrack on Saturday night for a chance to earn a spot in the finals of the Maple Leaf Trot, Canadian Breeders Championships and Roses Are Red Stakes
.
Maple Leaf Trot Elims In The Books
The buzz was all about Lucky Jim, the Pennsylvania-bred who is currently riding a phenomenal 14-race winning streak, and the gelding did not disappoint tonight at Mohawk Racetrack in the first of three $50,000 eliminations for the July 25 Maple Leaf Trot.
Though local hero, San Pail (Randy Waples) battled tenaciously with him from the three-quarter pole on, it was Lucky Jim, with Andy Miller in the bike, who emerged one and a quarter lengths ahead at the wire in a smart 1:51.4, and earned himself the right to choose his post position for next week's lucrative final.
Rose Run Hooligan (Rick Zeron) was third, and the Swedish entry, Amour Ami, who is co-owned by NHL stars Daniel and Henrik Sedin, failed to fire and finished sixth in the field of seven.
Lucky Jim, who couldn't get out of his own way at three, has blossomed into one of North America's top trotters at four, under the tutelage of Julie Miller. Husband Andy commented, "He just kind of coasted his way to the front. He's such a professional. He just loves to win races."
A son of S Js Photo, Lucky Jim is owned by David and John Prushnok of Punxsutawney, Pennsylvania, and William Gregg of Indiana, Pennsylvania. He returned $2.60 and $2.10 for the win.
Five-year-old Sakic Seelster (Mario Baillargeon) proved the toughest in the second of the three elims this evening, holding off all comers and front-stepping his way wire to wire in 1:54. Swedish millionaire, Triton Sund, with Jorgen Sjunnesson in the bike, proved far more comfortable on the Canadian footing than his compatriot Amour Ami, and put up a strong challenge to finish second, two and a quarter lengths back, while 40-1 longshot, Nureyev (Jack Moiseyev) was a determined third.
Sakic Seelster, who made breaks in his previous two starts in the Masters Series at Georgian Downs, is now outfitted with trotting hopples, which Baillargeon explained are loose, but give the gelding confidence in the turns. "He didn't like the footing there (at Georgian), so we decided to skip the final there and qualify him with the hopples. He had them on a couple years ago. Tonight he had an easy middle half, 58 seconds, and that did the trick.
"I didn't know much about that overseas horse (Triton Sund) – he's a pretty good horse, he's made $800,000 this year, and I thought he was the horse to beat. He came first up and (Sakic Seelster) fought off a good horse I think.
"(Choosing my post position) is the part I like. I won't choose the 10 hole, that's for sure. Two or three would be good for him."
Ben Baillargeon, the WEG circuit's leading trainer of 2009, conditions Sakic Seelster, who is by Eager Seelster out of the King Conch mare, Armbro Super. Santo Vena of Brampton, Ont. and Nunzio Vena of Bolton share ownership. This was the gelding's 10th win this season in 19 tries. He returned $8.40 for the win.
The 9-5 favourite, Arch Madness, set himself up to defend his Maple Leaf Trot title tonight by roaring to victory in the final of the three elims. Trainer/driver Trond Smedshammer played a waiting game with the five-year-old gelding while Define The World and Paul MacDonell seized the early lead, with Ericskarri and Jody Jamieson in their wake. Andy Miller, looking for a second MLT elim score, hustled Four Starz Speed past the pair at the half-mile marker, and the Conway Hall gelding led the field into the stretch with Define The World pocket-sitting and In Focus (Trevor Ritchie) on the move but unable to reach the leaders through the far turn.
In the stretch, Smedshammer put Arch Madness in motion from the far outside, and accelerated past a tiring Four Starz Speed to win by a head in 1:53.4. In Focus tagged along for second with Four Starz Speed hanging on for third. The third of the Swedish invitees, Glen Kronos, was never a factor and finished fifth for Luc Ouellette.
Arch Madness, by Balanced Image, is owned by Marc Goldberg and Willow Pond LLC and is closing in on $2 million in earnings after what some might call a difficult childhood. He was second in last year's MLT elimination and came back to win over Enough Talk by two and a half lengths.
Smedshammer explained his strategy tonight thusly: "He's been on the front end enough, this horse, and he hasn't been quite himself, so we decided to race him from off the pace and try to get his confidence back.
"If he was on his A game, I wasn't worried about qualifying even from far back. I wasn't sure if I was going to be able to reach the win, but if he was on his A game he should be able to beat most of those horses from anywhere.
"I'm very happy with the way he raced today and last week, so I think he's heading in the right direction."
The $730,000 (est.) final of the Maple Leaf Trot will be the marquee event on a stakes-studded card next Saturday, July 25 at Mohawk. The top three finishers from each of the eliminations tonight, plus one fourth-place finisher, will advance.
Equity An Asset; I Wont Dance Refuses To Lose In CBC Trot Elims
Equity was without equal for the fifth consecutive start, winning Saturday's first division of the Canadian Breeders Championship eliminations for three-year-old trotting colts and geldings by three-quarters of a length.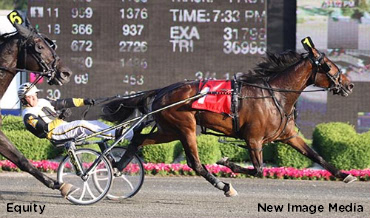 The son of Kadabra is now a seven-time winner from nine career starts, all of which have come this season.
Into the first turn in third, Equity rushed quickly to the lead during the second quarter and was never relinquished his advantage. He carved out a half-mile in :55.4 and three-quarters in 1:26.2, before crossing the wire in a career-best 1:55 flat.
The top five trotters in the $35,760 event qualify for next weekend's final.
Winning Mister (Sylvain Filion) closed stoutly down the lane to finish second. Angeldrive (Rick Zeron), who set the pace into the first turn, finished third. Hour Lavec, who was second over on the second turn, finished fourth.
Equity is owned and trained by Charalambos Christoforou and was driven to victory by Jack Moiseyev, who has partnered the gelding for three straight efforts, including an Ontario Sires Stakes Gold Final at Georgian Downs on July 11.
"He's a nice horse to drive. He's good-gaited. You can race him anywhere you want. He's pretty game," said Moiseyev.
Equity needed to be game to hold off the late trot of runner-up Winning Mister, but Moiseyev explained that the winner has a tendency to loaf when he gets to the lead.
"He's a lazy horse. When you ask him he goes on," added Moiseyev. "It's pretty windy tonight. That was a good mile. I feel pretty confident going in. You still have to get the right trip."
As one of the elimination winners, the connections of Equity will have the luxury of selecting his post position for next week's final.
Equity returned $3.10, $2.40 and $2.10, combining with Winning Mister ($6.30, $5.60) for a $22.60 exactor. Angeldrive ($7.90) rounded out a triactor worth $309.60.
I Wont Dance rediscovered his winning form by taking Saturday's second elimination of the Canadian Breeders Championship. The gelded son of Angus Hall overcame a difficult trip from post eight to win his first race since a conditioned event on June 12.
Now a five-time winner from nine starts, the M. Biasuzzi Stable-owned gelding was driven by Trevor Ritchie and is trained by Per Henriksen.
Parlay, who finished second for Jack Moiseyev, and Structure Fire (Jason Brewer), third, rallied late and supplied the $35,760 event with deep-stretch drama. Neither was able to pass I Wont Dance, the odds-on favourite.
I Wont Dance left hard and was hung outside for most of the first quarter (:28.2) by Parlay, the eventual second-place finisher. Nearing the start of the second quarter, Ritchie was able to angle across to the cones, at which point he was tackled from the outside by Zero Boundaries, who had also endured an outside trip on the first turn.
The front-end pressure caused I Wont Dance to carve out a half-mile in :57.3. The gelding stayed on through the third quarter and began to pull away on the second turn.
The trip took its toll in the stretch as I Wont Dance began to show signs of fatigue. Despite a final quarter in :29.4, the wire arrived in time and the brown gelding prevailed by a quarter of a length.
Henriksen was pleased with the performance of I Wont Dance, who was under the wire in 1:56.3.
"He's on his way back now," he said, explaining that illness had caused his pupil's form to sour in his couple of starts. "I think if he can get a trip, I think he might be better than these horses. We know he can beat them on the front end. We get to pick the post and I know we can get better than eight."
I Wont Dance and Equity, the winner of the first elimination, will pick their posts for next week's $166,880 final.
I Wont Dance returned $4.30, $3.80 and $2.80, combining with Parlay ($4.40, $3.70) for a $20.30 exactor. Structure Fire ($4.10) rounded out a triactor worth $85. The $1 superfecta was worth $668.15.
CBC Elims For Pacers To Fast Pay, Stonebridge Terror
Stonebridge Terror squeaked by OK Boromir to win by a whisker in the first of two $37,740 eliminations for the Canadian Breeders' Championships for three-year-old pacing colts and geldings tonight at Mohawk, while Fast Pay paid off in the second elim to advance to the July 25 final.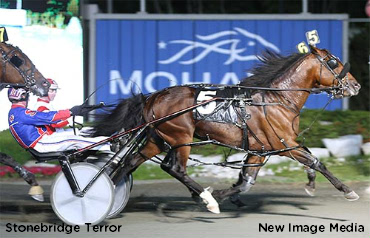 Both Waffles And Cream (Jack Moiseyev) and Thepaninsulahotel (Randy Waples) rolled off-stride behind the gate in the first of the two contests, leaving a field of eight with a clean start. Strand Hanover seized the early lead for Jody Jamieson, with 70-1 shot Pictonian Pride and Paul MacKenzie pocketing up and 4-5 favourite, OK Boromir, positioning himself in third for Luc Ouellette. Ouellette wasn't content to cruise for long, putting OK Boromir in motion just past a :26.4 first quarter and on to a one-length lead by the half in :54.3. Strand Hanover followed in second, but Stonebridge Terror (Mike Saftic) soon appeared at his wheel and took over second spot, then went after OK Boromir on the outside. It looked as if the favourite had enough to hang on to the wire, but a last-stride surge from Stonebridge Terror stole the victory by a nose in a new lifetime best time of 1:51.1, with Mild Mannered (Sylvain Filion) a surprise third and Strand Hanover, fourth.
Jack Darling owns and trains Stonebridge Terror, a three-year-old son of Western Terror out of the Ambercrombie mare, No Paradise. This was the colt's fourth win in 10 tries this season.
"It was a pretty good horse race," commented the understated Saftic. "Those two colts (Stonebridge Terror and OK Boromir) have been battling back and forth all year. He seems to be getting the best of (Stonebridge Terror) in these finals, so maybe I'll get some luck next week.
"He's a real nice colt and he comes to race every week. We had enough (at the wire). It was a pretty good mile and we'll take it."
Another Western Terror son, Fast Pay, paid off for his connections in the second CBC elim, pacing home in 1:51.4 to triumph over the favoured Kid Carson by three-quarters of a length.
Blue Suede Shoes and Luc Ouellette hustled off the gate to set the early fractions of :27.4 and :56.3, with Lyons Horace (Randy Waples) pocket-sitting, but Allamerican Extra and Mark MacDonald tipped out just past the half from fourth, and Paul MacDonell used his cover to move Fast Pay up at that point as well. Fast Pay brushed to the front and from then on it was a game of catch-me-if-you-can, as MacDonell opened up a three length lead with Allamerican Extra in second. In the stretch, 8-5 choice, Kid Carson, began to close for Jody Jamieson, but Fast Pay held on for the win with Lyons Horace coming up late for third.
David Menary trains the three-year-old Fast Pay for Larry Menary, Denis Breton, Phil Silvestri, and Joseph Settimi. Like Stonebridge Terror, the colt is out of an Abercrombie mare, Speedy Shopper. This was his fourth win in eight trips in 2008.
"He's got automatic speed," said MacDonell. "He's good-gaited and he's quick. It's not a surprise to me (that he went in 1:51.4). It's not his best race when he clears that early – normally he likes to come off cover and he's got a hard kick coming home. But tonight we had to do what we had to do, to get to the final and get the win."
The top five in each of tonight's eliminations will advance to the $176,120 final of the Canadian Breeders' Championships for three-year-old pacing colts, next Saturday night at Mohawk. The connections of Stonebridge Terror and Fast Pay have earned the privilege of choosing their post positions.
Darlins Delight Fresh In Roses Are Red Elims
Coming off a month's break, Darlins Delight was fresh and eager tonight as she captured the first of two $50,000 eliminations for the July 25 Roses Are Red Stakes for mature pacing mares.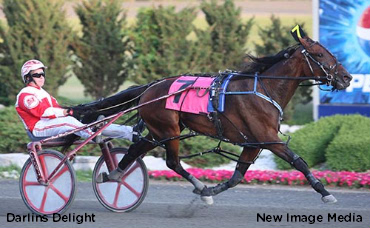 Four Starzz Meliss and Luc Ouellette led the charge off the gate, but quickly lost that advantage to Btwnyurheartnmine (Andy Miller), with Knock Three Times (Jody Jamieson) tucking into the pocket spot through a brisk early fraction of :25.4. Four Starzz Meliss fought back, locking horns with Knock Three Times, whereupon Jamieson put the hammer down, sending Knock Three Times to the front.
The half-mile time of :53.4 started to tell on Knock Three Times as the field went to the three-quarter marker, and she couldn't hold off a charge from Darlins Delight and Paul MacDonell, who came firing from the backfield to overtake, with Tidewaterdragonfly (Jack Moiseyev) riding her cover. Darlins Delight then kicked off to a three-length lead, stopping the timers in 1:51.1, with Tidewaterdragonfly winning the photo for second and Btwnyurheartnmine settling for third.
An inquiry posted for possible interference between Btwnyurheartnmine and Hana Hanover in the stretch was dismissed after the tape was examined by the judges.
Darlins Delight, a homebred six-year-old daughter of Bettors Delight out of Hall of Famer, Town Pro, is bred and owned by the White Birch Farm of Allentown, New Jersey, and conditioned by Jeff Stafford. She has contested the Roses Are Red stakes twice before. She was fifth in the 2007 edition, and distanced in the eliminations for the 2008 version, thus failing to advance to the final. Tonight, however, she was clearly on her game and paid $6.20 for her efforts.
MacDonell commented, "A couple horses left pretty hard and they were pacing hard up to the half. It was setting up pretty nice for me, but then Luc's horse started to stop on the outside flow and I had to go three-wide earlier than I thought. She's just such a great mare that she overcame that."
The hot middle fractions didn't hurt Darlins Delight's chances, as MacDonell attested. "That was a pretty tough half for Knock Three Times. My mare is closing in on $3 million lifetime, she knows how to get by horses. I was pretty confident. She'll be better for (this start) next week, going into the final."
Soft early fractions set 1-5 favourite, Southwind Tempo, and challenger, Tug River Princess, up for a speed duel in the second of the the two Roses Are Red eliminations, from which millionairess Tug River Princess emerged victorious.
It was 2008 Breeders' Crown champion, A And Gs Confusion, who took command off the gate for Mark MacDonald, while Jody Jamieson tucked Southwind Tempo into the pocket spot and Tug River Princess followed in third for Steve Condren, who had picked up the drive from John Campbell. Jamieson angled out to overtake by the 3/8 marker and let Southwind
Tempo roll through an easy :56.1 half and 1:24 third-quarter with A And Gs Confusion in her wake, but Tug River Princess was perfectly positioned in third through that portion of the mile and lit up in the stretch, overtaking a tiring Southwind Tempo and crossing the line to win in 1:51. A and Gs Confusion stepped up for second and Southwind
Tempo was third.
A four-year-old daughter of Badlands Hanover, Tug River Princess is beginning to find her footing among the older mares and can now boast three wins in five starts this year. She has never been worse than second going back to August, 2008. Darren McCall trains for owners the Let It Ride Stables of Delray Beach, Robert Cooper Stables LLC of Boca Raton, and Jerry Silva of Long Beach, New York.
Tug River Princess returned $10.80, $4.30, and $2.30 for the win.
The $373,600 final of the Roses Are Red Stakes goes next Saturday, July 25, with the top five finishers in tonight's eliminations advancing.
To view Saturday's harness racing results, click here.
(With files from WEG)