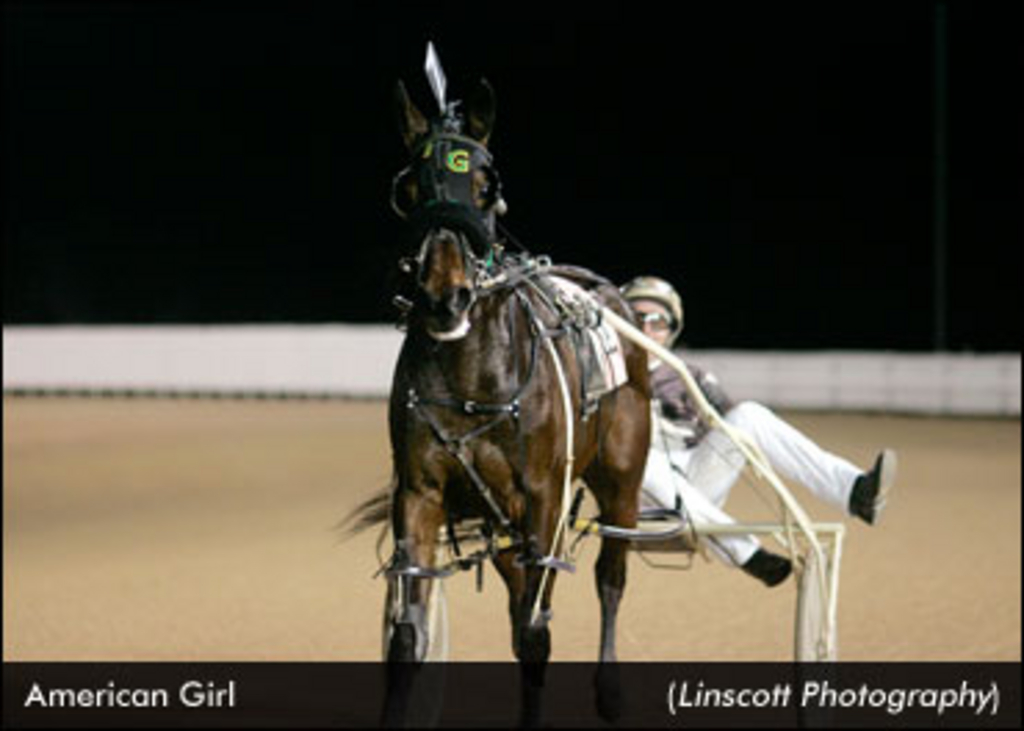 When trainer Tyler George planned to ship his filly Angelinmyway to Yonkers Raceway for the Petticoat Series, he knew he'd have room on the trailer for another horse. Rather than waste the opportunity, George nominated aged pacing mare American Girl to the Blue Chip Matchmaker Series and planned to ship her east for the first time.
"The races in Ohio are getting tougher all the time, so I thought, 'well, since I'm coming, I'll bring [American Girl] along and give her a shot in there,' " George explained. "If she can catch a break here and there, maybe we can make some good purse money with her because she's tough and she has pretty good gate speed to get into position."
Although she's never raced outside Indiana and Ohio and has never competed on the Grand Circuit, American Girl has the credentials to take on the sport's best mares in the Matchmaker Series. The eight-year-old has won 39 of her 149 races and hit the board in another 70. The daughter of Arts Chip out of the Dragon Again mare L Dees Lourdes has earned $765,388 and posted a mark of 1:50.3 last year at Hoosier Park.
Early in her 2017 season, American Girl boasts one victory from seven starts and another six on-the-board finishes in Miami Valley Raceway's Filly and Mare Open Pace. George credits American Girl's remarkable consistency over the years to her mental and physical toughness.
"She's a very sound horse; she doesn't take a lot of work and she's just really smart," he explained. "She loves her job every day. I've had her for almost a year and a half now. I gave her a little rest over the summer, but she just doesn't ever really seem to mind doing her work. She likes to race. She's a real competitive animal."
Since shipping to Mark Ford's Training Center in Middletown, New York, American Girl and her trainer have adapted well to the east coast. While American Girl will get her first taste of the Hilltop Oval in Friday's $50,000 Filly and Mare Open Handicap Pace, George acclimated Monday night when Angelinmyway charged from a 13-length deficit to finish second beaten just one and a quarter lengths in the first division of the opening leg of the Petticoat Series at odds of 12-1.
"This is my first time here. It's great. The ship to Yonkers wasn't bad at all from here. It took me about an hour; it's a piece of cake," he said. "The track was good at Yonkers, the people were nice. So far so good."
American Girl drew Post 5 for her Yonkers debut and she'll encounter a host of new challenges Friday night. She's never shipped this far to race, she's never raced on a half-mile track, and she'll have a new driver in the sulky as Scott Zeron will take the lines for the first time. One by one however, her trainer dismissed them all. While the 30-year-old isn't cocky, the confidence and admiration he holds for his mare is apparent.
"She shipped out here well; she handled that good, she's eating and all that stuff. She'll take it all in stride like she has pretty much everything else in her life," George began.
"Before she started going to Ohio in 2015, she had never been on a five-eighths and she seems to handle that really well. She's phenomenally gaited. She wears boots, but she doesn't really need them, doesn't seem to run in and out at all. I don't think the half-mile track will be a problem at all," he continued.
"She's easy to drive. If you pull her hard, she'll come right back to you. She's pure class. She's made a lot of money in her life and she's had a few different drivers, not a ton, but she's easy," he finished.
While American Girl does her best work racing on or near the lead, she has shown versatility in Ohio. She's won from the pocket and from first-over and races well from nearly any position in the Buckeye State, where the racing action can be intense. George thinks that versatility will be even more apparent on a half-mile track.
"With her gate speed, if she draws right that would be beneficial for her because I think if they tend to race more conservatively here, she would be a lot more versatile than she will be in Ohio just because they race so much harder," he explained. "I think she can be a little more versatile here if she has to race up into some slower fractions compared to first-up into 1:22."
American Girl is a 15-1 outsider on the morning line in Friday's Filly and Mare Open Handicap, the final regular distaff feature before the Matchmaker Series commences next week (March 17). Regil Elektra, who drew the comfortable Post 2, is the race's 2-1 favourite and seeks her second victory of the season for trainer Keith Armer. Fifty-time winner and earner of $1.8 million, Krispy Apple will make her first start of 2017 for Bamond Racing at odds of 5-2, but must negotiate post position eight. Change The Rulz N, Empress Deo, Sail To The Beach, Know It All, and Delightful Dragon complete the field. First post time is 7:10 p.m.
(SOANY)