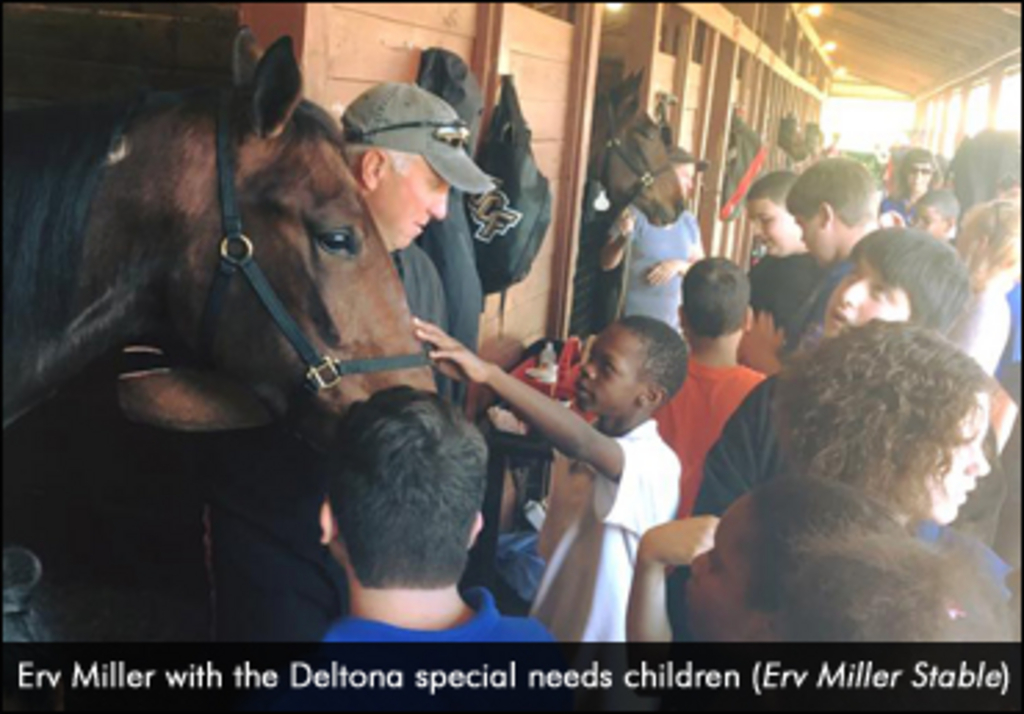 Mornings are always bustling with harness racing activity at Southern Oaks Training Center, but it's not every day that it is bustling with more than 50 excited middle school students.
Earlier this month on the morning of Thursday, Feb. 2, trainer Erv Miller and his wife Heidi welcomed Deltona Middle School's special needs students to their Florida stable for a day filled with unforgettable experiences.
The children -- with varying special needs including physical disabilities, autism, Down syndrome, and attention-deficit hyperactivity disorder -- were able to interact with the horses and even experience what it's like to jog a Standardbred racehorse.
"We had a great day showing the kids the horses and giving a few of them rides on a two-seated jog cart," Erv Miller told Trot Insider, noting the assistance provided by his caretakers Atlee Bender and Jenny Leslie in creating some of the memorable experiences for the children. "They had lunch out there and there was a spot where they could play a little kickball afterwards, but mainly we just showed them the horses."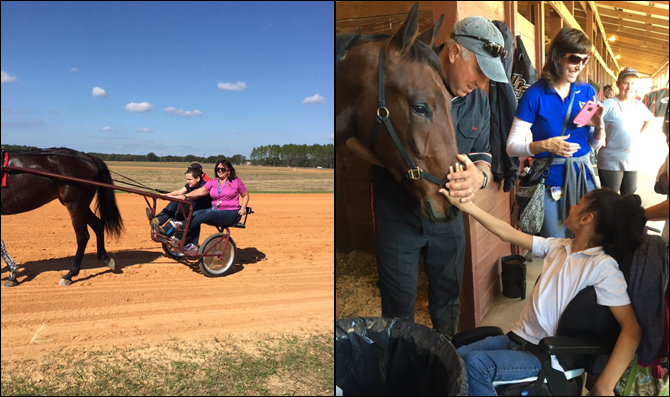 Left: A Deltona Middle School student enjoying a ride in a jog cart with Atlee Bender and Karen Davis.
Right: A young girl from Deltona Middle School petting three-year-old pacing colt Geez Joe with the assistance of Erv Miller.
"I would say maybe 60 per cent of those kids have never seen a horse or even been near a live horse and so it was really a wonderful experience," said the students' teacher, Karen Davis. "Erv and Heidi Miller were gracious hosts. The children got to ride on the sulky and it was just the most enjoyable day and the children learned so much about harness racing and about the horses and how they train."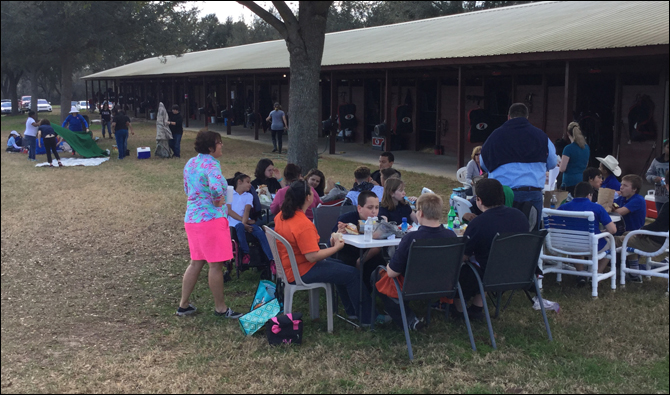 Heidi Miller interacting with the students from Deltona Middle School on their field trip to Southern Oaks Training Center.
Several years ago, Davis' department had visited Spring Garden Ranch, and after learning of the Millers' involvement in racing while playing tennis with Heidi, arrangements were made for the students to visit their stable at Southern Oaks Training Center for a Community Based Instruction field trip.
"The Community Based Instruction trips help the children to be able to act appropriately in public and to learn about different aspects of life that they would not be exposed to normally," explained Davis. "It was a beautiful day and we hope to do that if we're invited back next year. We hope to make it an annual trip for our children. You should have seen their eyes just looking at these horses!"
(Photos courtesy Erv Miller Stable)