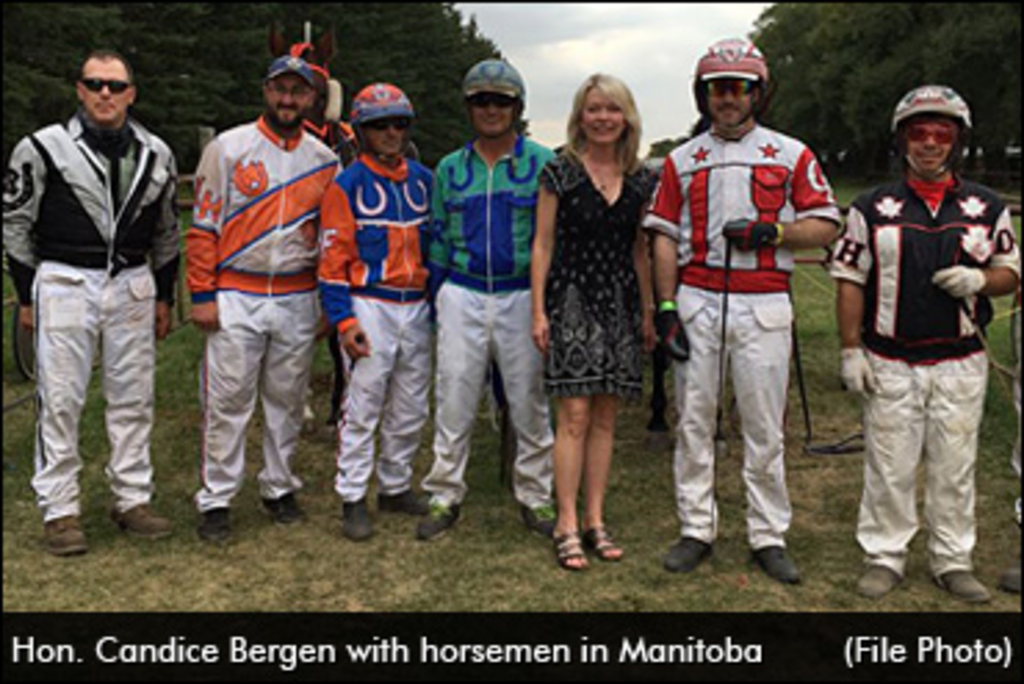 How is an award-winning Manitoba-bred horse -- currently competing successfully in Ontario -- connected to one of Canada's Members of Parliament?
This past weekend, Redonkulous was named the Aged Manitoba-Bred of the Year at the province's awards banquet. The five-year-old son of Armbro Baylor -- a familiar face on the WEG circuit in the 2000s -- recently lowered his lifetime mark with a 1:51.2 win for trainer/driver Travis Cullen on February 6 at Woodbine.
Cullen purchased Redonkulous this past summer from fellow Manitoban Roland Rey. Just before Redonkulous left Rey's care, he was one of the many Standardbred horses introduced to the Hon. Candice Bergen, MP for Rey's riding of Portage-Lisgar and the Official Opposition House Leader for the Conservative Party of Canada.
"Summer is a chance for me to get out into areas of the riding that I don't always get to go to, some of the smaller places. And I wanted to see smaller businesses. So I was actually visiting a number of not just farms but small businesses in some of the communities," Bergen told Trot Insider. "I had received an invitation to visit Roland Rey's farm some time ago but hadn't been able to do it between weather and scheduling. We were looking at the summer schedule, I love horses and the girl that works for me in Portage, they train thoroughbreds. So she's very interested in horses. So we thought, 'this is great, let's go visit Roland's horse operation' but I didn't know much about it."
Bergen's introduction to the horse racing industry provided her with exposure to both of the province's horse racing entities. Starting at Rey's farm in St. Claude, Bergen also visited the Manitoba Great Western Harness Racing Circuit's stop in Miami before ending with an afternoon at Assiniboia Downs in Winnipeg.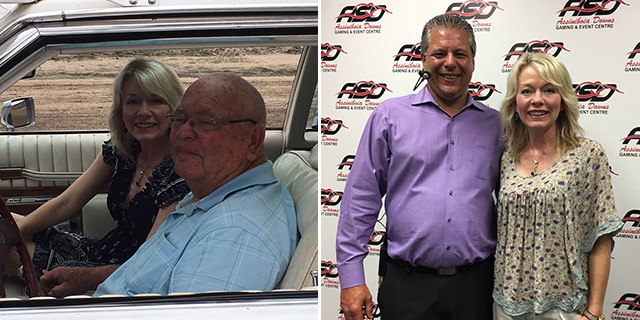 Left: The Hon. Candice Bergen in the starting car at Miami. Right: Bergen with Assiniboia Downs' announcer Kirt Contois.
A self-professed rookie in terms of horse racing knowledge, Bergen admitted she's also not much of a gambler and had mentally linked the two together. Now she understands that while the two are inseparable, there's more to the product than just a wagering component.
"What I really saw and took away was...this is a community, that's what I took away from it. The whole horse racing industry is like a family and a community and they're very inter-connected. And then how that affects what they do. The breeders and the trainers know the drivers and how they all work together, I found that to be very interesting."
A federal Member of Parliament and thus not directly involved in her home province's political process, Bergen told Trot Insider she would "encourage the provincial government to continue to support horse racing in Manitoba" while also contemplating ways in which government should not get involved.
"It's important for me to know and to be able to bring back what government can do to support industries that create jobs and stimulate our economy, and help our economy grow. That's one of my focuses. When the Canadian economy is doing well, when the province is doing well, when small towns and rural Canada are doing well...obviously being from rural Manitoba, I really like supporting and advocating for our rural parts of Canada.
"I wanted to see what government can do or not do...right? Sometimes there's value in what government doesn't, like 'get your hands out of certain things', 'don't create more red tape or problems', so that was really my goal with all of the visits: to ask these small businesses and people who are creating jobs and helping rural Manitoba thrive, what can the government do to help you and what should the government not be doing so that we don't cause you a hindrance."
Bergen thoroughly enjoyed her week with the horse racing industry, even placing a modest wager or two on the horses. The equine stars and the devoted individuals that care for them left a lasting impression on her.
"The other thing I know I'll take away -- I was telling some friends and family after I'd been to the races -- it's a really fun thing to do....we had so much fun doing our $2 bets. The races at Miami, lots of local people there ... again, the horse racing community is very interwoven.
"The other part I really enjoyed seeing was the love that these people have for their horses. At Roland's farm, he talked about his horses...we went right out into the pasture and these horses were running all around us but they were so gentle, and yet so powerful and strong. And he loves those horses. The care...we should be so proud of our rural way of life and the connectivity with animals and what the animals give back to us. It was enjoyable, it's why I didn't want to leave and why we made the plans to go back again."